---
Album info
Album including Album cover Booklet (PDF)
Wolfgang Amadeus Mozart (1756 - 1791): Fantasia in C Minor, K. 475:

1

Mozart: Fantasia in C Minor, K. 475

12:17

Piano Concerto in E-Flat Major, K. 482:

2

Mozart: Piano Concerto in E-Flat Major, K. 482: I. Allegro

14:05

3

Mozart: Piano Concerto in E-Flat Major, K. 482: II. Andante

07:28

4

Mozart: Piano Concerto in E-Flat Major, K. 482: III. Allegro

11:58

Ch'io mi scordi di te, concert aria, K. 505:

5

Mozart: Ch'io mi scordi di te, concert aria, K. 505

10:08

Sonata for Piano Four Hands in F Major, K. 497:

6

Mozart: Sonata for Piano Four Hands in F Major, K. 497: I. Adagio

02:03

7

Mozart: Sonata for Piano Four Hands in F Major, K. 497: II. Allegro di molto

05:14

8

Mozart: Sonata for Piano Four Hands in F Major, K. 497: III. Andante

07:26

9

Mozart: Sonata for Piano Four Hands in F Major, K. 497: IV. Allegro

07:57

Total Runtime

01:18:36
Info for Mozart à l'opéra

The voice! The voice which, even if absent from the score, insinuates itself between the two hands of a pianist playing Mozart. In this music, all is dialogue, mingled avowals and passions, on the threshold of the opera house. All Mozart's forms are nurtured by the same source, that of vocal melody. 'I like an aria to be as precisely tailored to a singer as a well-cut suit', he declared when he composed an aria. And what an aria this one is! Ch'io mi scordi di te! The keyboard enters into dialogue with the soloist. And then we leave the world of the aria for that of the concerto, unless it be an imaginary sonata . . . Directed from the piano by Philippe Cassard, the Concerto no. 22 borrows the same 'suit'. Here is a piece of 'wordless theatre', composed at the period of Le nozze di Figaro, which portrays first drama, then meditation, and finally carefree joy. The divine spectacle continues with the Fantasia K475, which foreshadows the worlds of Beethoven and Schubert, with their cries and whispers and things unsaid.
Let us complete these imaginary dialogues with the finest of the sonatas for piano four hands, K497. Two voices in unison, enamoured of beauty.
Philippe Cassard, piano
Natalie Dessay, soprano
Orchestre National de Bretagne
Cedric Pescia, conductor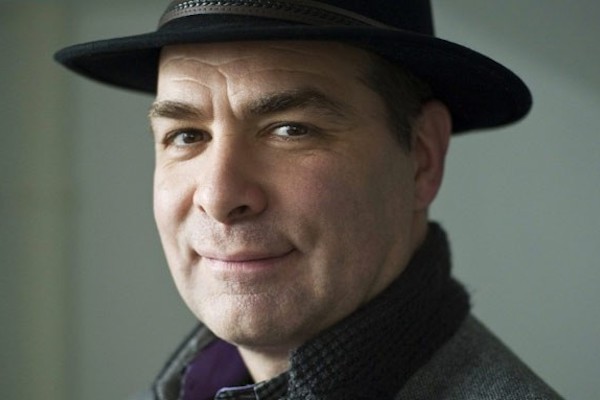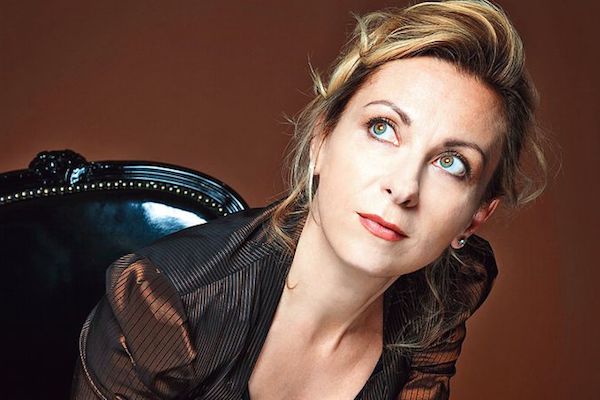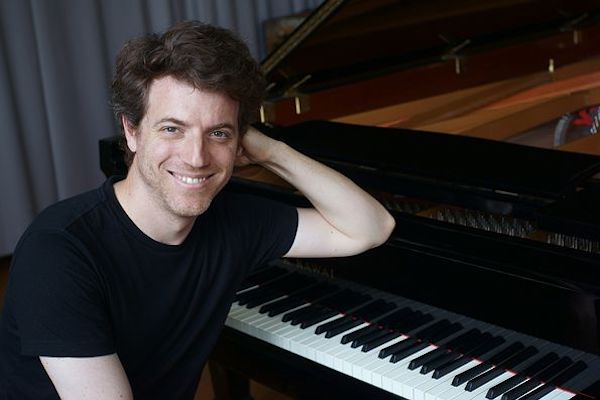 Philippe Cassard
Considered by his colleagues, the critics and the public as one of the most captivating allround musicians of his generation, Philippe Cassard trained with Dominique Merlet and Geneviève Joy-Dutilleux at the Conservatoire National Supérieur de Musique de Paris, where he obtained Premiers Prix for Piano and Chamber Music in 1982. He went on to advanced study for two years at the Hochschule für Musik in Vienna, and subsequently received guidance from the legendary Nikita Magaloff. He was a finalist at the 1985 Clara Haskil Competition, and won first prize at the Dublin International Piano Competition in 1988.
After this success he was invited to appear with the leading European orchestras (London Philharmonic, City of Birmingham Symphony Orchestra, BBC Philharmonic, Orchestre National de France, Orchestre Philharmonique de Radio France, Orchestre National du Capitole de Toulouse, Budapest Philharmonic, Danish Radio Symphony Orchestra, etc.), playing under the direction of such conductors as Sir Neville Marriner, Marek Janowski, Charles Dutoit, Yan-Pascal Tortelier, Armin Jordan and Vladimir Fedoseyev. His penchant for chamber music and his passion for the voice have led him to perform with such artists as Christa Ludwig, Natalie Dessay, Angelika Kirchschlager, Stéphanie d'Oustrac, Wolfgang Holzmair, Donna Brown, Michel Portal and David Grimal, the Ébène and Modigliani quartets, and the actors Philippe Torreton, Roland Bertin, Judith Magre and Micheline Dax.
Philippe Cassard has published an essay on Schubert (Actes Sud) and a book of interviews about cinema and music, Deux temps trois mouvements (Capricci). He founded the festival Les Estivales de Gerberoy (1997-2003), and was artistic director of Les Nuits Romantiques du Lac du Bourget (1999-2008). Since 2013 he has been responsible for the classical programme of the Festival de Fontdouce (Charente Maritime). He has presented nearly 430 programmes in the radio series Notes du Traducteur on France Musique since 2005; in 2007 the series received the Prix SCAM for 'best sound work of 2007'.
Natalie Dessay
spent all her youth in Bordeaux, but was born in Lyon: is that why, when it comes to wine, she prefers Saint Joseph to Saint Émilion? Nobody knows what was put in her bottle as a baby, but it finally led her – after she had considered being a butterfly vet, a clown, Catherine Deneuve, a prima ballerina, a German-French translator and a member of the Comédie-Française – to become an opera singer.
For twenty-three years she travelled the world's stages, serving Handel, Mozart, Strauss, Offenbach, Donizetti, Bellini and Verdi. After six Victoires de la Musique and the Laurence Olivier Award in London in 2008, she is very proud to have been the first Frenchwoman, in 2010, to receive the title of Kammersängerin from the Vienna State Opera.
In 2013 she decided to embark on a new life, leaving the operatic stage to sing French mélodies and German lieder with the pianist Philippe Cassard and continuing to perform roles. And so she began appearing as an actress in the spoken theatre. Even before that, in 2008, thanks to the example and inspiration of Michel Legrand, she had begun to tackle the world of chanson, and discovered another voice, deeper, gentler, more intimate.
In 2019, she joined Yvan Cassar, another magnificent musician who knows no borders, to record a tribute album to one of her favourite French singers, Claude Nougaro.
She is preparing a number of new theatrical shows for future seasons.
Cédric Pescia
was born in Lausanne and holds joint Swiss and French nationality. He studied at the Conservatoires of Lausanne (Christian Favre) and Geneva (Dominique Merlet), the Universität der Künste in Berlin (Klaus Hellwig) and the Lake Como International Piano Academy (Dmitri Bashkirov, Leon Fleisher, Andreas Staier, William Grant Naboré, Fou Ts'ong). Alongside this he received advanced tuition from Pierre-Laurent Aimard, Daniel Barenboim, Dietrich Fischer-Dieskau, Irwin Gage, Ilan Gronich, Christian Zacharias and the Alban Berg Quartet. He won first prize at the Gina Bachauer International Piano Competition 2002 in Salt Lake City, USA. Cédric Pescia appears in recital and with orchestra in Europe, the USA, China and South America. His notable engagements have included the Philharmonie and Konzerthaus in Berlin, the Vienna Konzerthaus, the Wigmore Hall in London, the Salzburg Mozarteum, Carnegie Hall in New York, the Shanghai Oriental Art Center, the Tonhalle in Zurich, the Prague Spring, the Lucerne Festival, the Menuhin Festival Gstaad, the Schleswig- Holstein Musik Festival, the Davos Festival and Klavierfestival Ruhr.
He enjoys a longstanding artistic partnership with the violinist Nurit Stark and is artistic director of the Lausanne chamber music series Ensemble enScène.
Cédric Pescia has been awarded a scholarship from the Fondation Leenaards of Lausanne and the Music Prize of the Fondation Vaudoise pour la Culture. In 2012 he was appointed professor of piano at the Haute École de Musique in Geneva.
The Orchestre National de Bretagne (ONB)
was founded in 1989 as the result of a resolute policy uniting the Brittany Region, the City of Rennes, the French Ministry of Culture and the Ille-et-Vilaine and Morbihan départements in a single project.
The ONB, placed under the musical direction of Grant Llewellyn since 2015, stands out in the French orchestral landscape for its open-mindedness and determination to innovate. Through numerous cross-disciplinary projects implemented alongside regional, national and international cultural players, the ONB has broken down the barriers of genres, styles and expressions, without ever abandoning its classical repertory and its striving for excellence.
A key protagonist on the music scene in Brittany, the ONB has worked with Breton and Celtic artists, as well as with artists from traditional music backgrounds all over the world, to offer daring and fertile crosscurrents. Its interest in jazz has made it one of the best-known orchestras in that field. The ONB constantly pushes the limits of its expression, building bridges between music and other artistic and intellectual disciplines, including dance, cinema, history, the visual arts and the natural sciences.

Booklet for Mozart à l'opéra