---
Album info
Album including Album cover
Joseph Küffner (1776 - 1856): Introduction, Theme & Variations, Op. 32 (Attrib. C.M. von Weber):

1

Introduction, Theme & Variations, Op. 32 (Attrib. C.M. von Weber) [Live]

10:22

Ludwig van Beethoven (1770 - 1827): Septet in E-Flat Major, Op. 20:

2

Septet in E-Flat Major, Op. 20: I. Adagio - Allegro con brio (Live)

10:16

3

Septet in E-Flat Major, Op. 20: II. Adagio cantabile (Live)

08:53

4

Septet in E-Flat Major, Op. 20: III. Tempo di menuetto (Live)

03:10

5

Septet in E-Flat Major, Op. 20: IV. Tema con variazioni. Andante (Live)

07:07

6

Septet in E-Flat Major, Op. 20: V. Scherzo. Allegro molto e vivace (Live)

03:04

7

Septet in E-Flat Major, Op. 20: VI. Andante con moto alla marcia - Presto (Live)

08:29

Johann Strauss II (1825 - 1899): Frühlingsstimmen, Op. 410 (Arr. E. Johnson for Chamber Ensemble):

8

Frühlingsstimmen, Op. 410 (Arr. E. Johnson for Chamber Ensemble) [Live]

02:30

Perpetuum Mobile, Op. 257 (Arr. E. Johnson for Chamber Ensemble):

9

Perpetuum Mobile, Op. 257 (Arr. E. Johnson for Chamber Ensemble) [Live]

03:44

Total Runtime

57:35
Info for Beethoven, Küffner & Strauss: Chamber Works

Emma Johnson & Friends – the ensemble led by the outstanding clarinetist and one of the UK's best-selling classical artists – returns to SOMM Recordings for an entertaining programme of chamber music led by Beethoven's magisterial Septet. The group's second release for SOMM follows 2016's well-received coupling of Schubert and Crusell, when MusicWeb International noted: "With an hour and a quarter of delightful music in first-rate performances, this album is a winner". Composed in 1800, Beethoven's Septet is one of the cornerstones of the chamber repertoire. Caught on the cusp between the Classical era and fast-emerging Romanticism, as Robert Matthew-Walker's booklet essay notes, "it abounds in felicitous light fancy and delicious invention... standing apart as a work of unquestionable independence of expression, already looking towards the initial decades of the new century". The Septet was the first work to pair clarinet, horn, bassoon, violin, viola, cello and double bass, its six movements "filled with sunny gaiety" (Matthew-Walker again) and realized here with exquisite delicacy and definition by Johnson in the company of the Carducci String Quartet, Peter Francombe (horn), Philip Gibbon (bassoon) and Christ West (double bass). For clarinet and string quartet, the Introduction, Theme and Variations, originally thought to have been Carl Maria Weber's but now ascribed to Joseph Kuffner, boasts an "inherent musicality and the beauty and cut of its themes and their treatment demonstrate quite clearly that this beautiful piece is well worth the attention of all lovers of music from the early Romantic period". Two delightfully playful and poetic arrangements by Emma Johnson of Johann Strauss II's Fruhlingsstimmen and Perpetuum Mobile provide surprising encores to a recording of chamber music at its most elegant and eloquent.
Emma Johnson, clarinet
Philip Gibbon, bassoon
Peter Francomb, horn
Matthew Denton, violin
Eoin Schmidt-Martin, viola
Emma Denton, cello
Chris West, double bass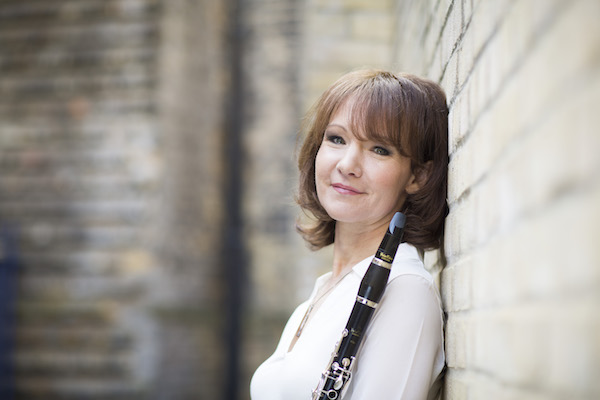 Emma Johnson
is one of the few clarinetists to have established a busy career as a solo performer which has taken her to major European, American and Asian venues as well as to Africa and Australasia.
She is one of the UK's biggest selling classical artists, having sold well over half a million albums. Her recent recording of sonatas by Brahms and Mendelssohn with John Lenehan was described as "definitive…triumphant…a landmark disc" in The Observer, and follows on from her classical chart-topping successes: Voyage and The Mozart Album on the Universal label. Her much admired recording of the Finzi Concerto was nominated for a Gramophone Award and Pastoral was chosen as CD of the Year by BBC Music Magazine.
Emma has appeared as soloist with many of the world's leading orchestras in repertoire which includes all the major clarinet works as well as pieces written especially for her by Sir John Dankworth, Will Todd and Michael Berkeley amongst others, a selection of which can be heard on her recent album with the BBC Concert Orchestra, English Fantasy.
Emma has collaborated with artists such as Sir Yehudi Menuhin, Dame Cleo Laine and the Takacs Quartet and she directs her own group, Emma Johnson and Friends, whose recent live recording of the Schubert Octet was described as "a winner" by Music Web International. She is also increasingly in demand to give talks about music and to curate concert series. Her programmes about composer, Gerald Finzi and poet, John Milton on BBC Radio 4 were both chosen as Pick of the Week.
An exciting collaboration with composer Jonathan Dove has seen Emma working with UK school children in workshops and performances to recreate the story of The Pied Piper. She has also given masterclasses throughout the world and was a professor at the Royal College of Music, London.
Enthusiastic audience response to her jazz playing has inspired Emma to develop Clarinet Goes to Town, an entertaining programme of music tracing the origins of traditional jazz. She arranges music of many styles for the clarinet and books of her compositions and arrangements have been published by Music Sales and Faber Music. Her piece Georgie is currently on the Associated Board syllabus and she has also recently been commissioned to write a Christmas Suite for clarinet and choir.
Emma Johnson's TV appearances range from a recital for Sky Arts TV to gala concerts including a recent televised Prom celebrating the BBC Young Musicians programme. She featured in the Channel 4 documentary about the late Sir John Dankworth and played the popular hit theme tune for The Victorian Kitchen Garden on BBC TV (winning a Novello Award). Her radio work includes Artist of the Week for both BBC Radio 3 and Classic FM as well as for radio stations around the world and she has been interviewed on programmes such as Woman's Hour and World at One on BBC Radio 4.
Emma grew up in London and her career was launched when at the age of 17 she won BBC Young Musician of the Year followed by the Young Concert Artists Auditions in New York. However, she decided to study Music and English at Cambridge University before embarking fulltime on a musical path. A Patron of ClicSargent, the childhood cancer charity, Emma was also the first woman to be made an Honorary Fellow of Pembroke College, Cambridge and to have her portrait painted for the college. She was honoured by the Queen with an M.B.E. in 1996. Emma plays an instrument made by the English clarinet maker, Peter Eaton.

This album contains no booklet.