---
Album info
Album including Album cover
Antonín Dvořák (1841-1904): Piano Quintet No. 1 in A Major, Op. 5:

1

Piano Quintet No. 1 in A Major, Op. 5: I. Allegro ma non troppo

08:05

2

Piano Quintet No. 1 in A Major, Op. 5: II. Andante sostenuto

09:33

3

Piano Quintet No. 1 in A Major, Op. 5: III. Finale (Allegro con brio)

08:55

Bagatelles, Op. 47:

4

Bagatelles, Op. 47: I. Allegro scherzando

02:48

5

Bagatelles, Op. 47: II. Tempo di minuetto - Grazioso

02:24

6

Bagatelles, Op. 47: III. Allegretto scherzando

02:44

7

Bagatelles, Op. 47: IV. Canon (Andante con moto)

02:24

8

Bagatelles, Op. 47: V. Poco allegro

04:22

Piano Quintet No. 2 in A Major, Op. 81:

9

Piano Quintet No. 2 in A Major, Op. 81: I. Allegro ma non tanto

13:45

10

Piano Quintet No. 2 in A Major, Op. 81: II. Dumka (Andante con moto)

13:57

11

Piano Quintet No. 2 in A Major, Op. 81: III. Scherzo - Furiant (Molto vivace poco tranquillo)

04:13

12

Piano Quintet No. 2 in A Major, Op. 81: IV. Finale (Allegro)

07:31

Total Runtime

01:20:41
Info for Dvořák: Piano Quintets & Bagatelles

After two earlier Dvořák releases, the Trios nos.3 and 4 (Dumky) and the two Piano Quartets, Omri Epstein, Mathieu van Bellen and Ori Epstein are joined by one of their teachers at the Queen Elisabeth Music Chapel, the violist Miguel da Silva (founder member of the famous Quatuor Ysaÿe) and the violinist Maria Milstein, who was also an artist in residence at the Music Chapel from 2011 to 2014. Together they continue this recording of the Czech composer's complete chamber music with keyboard, this time in the two Piano Quintets and the Bagatelles. There is an obvious close rapport between these musicians, who share with us their passion for this repertory and their enjoyment of playing together. A gap of fifteen years separates Dvořák's two Piano Quintets, which have few features in common except a shared home key: the First marks the debut of a youthful composer, while the Second shows him at the peak of his art. The Bagatelles, originally scored for two violins, cello and harmonium, are among his bestknown short pieces. A recording scheduled for release in autumn 2018 will complete this quadriptych of Dvořák's piano trios, quartets and quintets.
Maria Milstein, violin
Miguel da Silva, viola
Busch Trio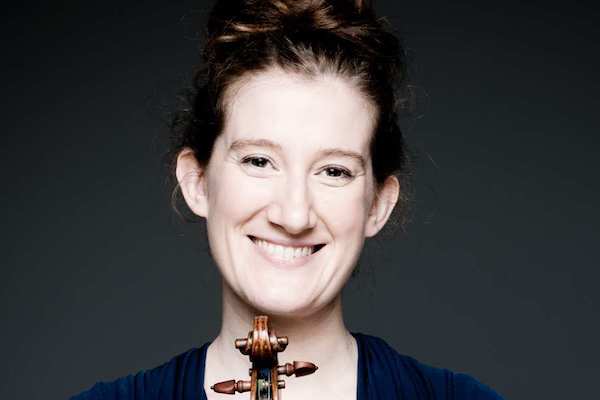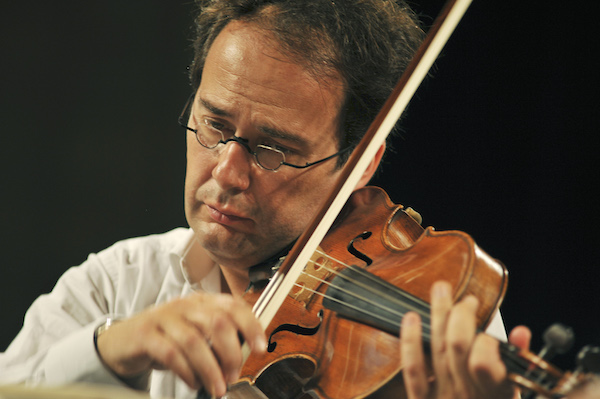 Maria Milstein
Born in Moscow into a family of musicians, Maria Milstein studied in Amsterdam with Ilya Grubert, in London with David Takeno and at the Queen Elisabeth Music Chapel in Waterloo (Belgium) with Augustin Dumay.
Maria is a prizewinner of major international competitions both as a soloist and as a chamber musician, such as "Città di Brescia" and "Premio Rodolfo Lipizer" in Italy, the ARD Competition in Munich, the Lyon Chamber Music Competition and the Kersjes Prize in the Netherlands. In 2016, Maria is awarded the Fellowship of the Borletti Buitoni Trust, and in 2018, she receives the Dutch Music Prize - the highest recognition for a classical musician in the Netherlands awarded by the Ministry of Culture.
Maria performs extensively across Europe in halls such as the Concertgebouw in Amsterdam, BOZAR in Brussels, Musikverein in Vienna, the Philharmonie of Cologne and Cité de la Musique in Paris. She has appeared as a soloist with a.o. The Netherlands Radio Philharmonic Orchestra, the National Orchestra of Belgium, the Hague Philharmonic, the Brussels Philharmonic and Amsterdam Sinfonietta, and worked with conductors such as Vasily Petrenko, Giancarlo Guerrero, Michel Tabachnik, Jean-Jacques Kantorow, Christian Arming and Reinbert de Leeuw.
A keen chamber musician, Maria formed the succesful Van Baerle Trio together with pianist Hannes Minnaar and cellist Gideon den Herder, one of the leading trios of its generation. After winning the ARD Competition and the Lyon Chamber Music Competition, the Trio made the ECHO Rising Stars Tour in 2014, peforming in famous concert halls all over Europe. The Trio already released two CD's, both praised in the international press, and is presently recording the complete works for piano trio by Beethoven for Challenge Records.
Maria's own debut CD « Sounds of War », recorded with pianist Hanna Shybayeva for Cobra Records and featuring Sonatas by Poulenc, Janáček and Prokofiev, received lavish reviews in the international press and won the Edison Klassiek Prize 2015 in the category "best chamber music album". In October 2017 her second album "La Sonate de Vinteuil", recorded with pianist Nathalia Milstein is released on the French label Mirare, and is voted "best CD of 2017" by the Dutch press. ​
Maria plays on a violin by Michel Angelo Bergonzi (Cremona, ca. 1750), on loan from the Dutch Music Instruments Foundation, and holds a teaching position at the Conservatory of Amsterdam.
Miguel da Silva
Franco-Swiss musician, Miguel da Silva was born in Reims in 1961. He started studying at the Conservatoire of his native city before moving to Paris where he was a student at the Conservatoire National Supérieur de Musique with Serge Collot. He was awarded first prize in chamber music and also for viola (unanimously with special vote by the jury). In 1985 he won the first Prize of the International chamber music competition in Paris (sonata).
His passion for string quartet led him to found the Ysaÿe Quartet with 3 of his friends. The Ysaÿe Quartet has then studied with the Amadeus String Quartet. After winning the first prizes in Evian, the members of the Ysaÿe Quartet soon started an international career that led them throughout the world, from Japan to America. This brillant thirty year carrer was brought to an end in January 2014, after a major series of concerts, with a special emphasis on the music of Beethoven.
In the past few years, engagements either as a solo player or with his quartet have led him to the Wigmore Hall in London and most of the greatest concert halls in Europe (Munich/Herkulesaal, Venice/Teatro della Fenice, Copenhague, Helsinki, Amsterdam/Concertgebouw, Hannover, Basel, Baden-Baden, Salzburg/Festspielhaus, Leipzig ) and he has toured in Belgium, USA, Japan and Italy.
Miguel da Silva has appeared as a soloist with the Paris Chamber Orchestra, the Polish Chamber Orchestra, the Orchestre d'Auvergne, the Franz-Liszt orchestra of Budapest, the Orchestra de Bretagne, and the Orchestre "Les Siecles". As a very sought for chamber music player, his partners are Michel Portal, Jean-Claude Pennetier, Paul Meyer, Leonidas Kavakos, Pierre Amoyal, Augustin Dumay, Nikita Boriso-Glebksy, Antonio Meneses, Jean-François Heisser, Truls Mork, Henri Demarquette, Gary Hoffmann, Emmanuel Pahud, Christophe Coin…
Parallelly to his Cds with the Ysaÿe Quartet, Miguel da Silva has recorded under the labels Accord, Valois-Auvidis, Philips, Harmonia Mundi etc… He also founded his own record company : Ysaÿe Records, and under the label Nascor, offers young musicians the opportunity to make their very first recording.
In 1994, he started a class of string quartets (premiere in France !) and has since then been teaching a whole new generation of french and european quartets and chamber music groups at the Conservatoire National de Région in Paris. In 2008, he was appointed as a professor in Luebeck's Musikhochschule (Germany)- where he took over Walter Levine's position, as a tutor at the European Chamber Music Academy (ECMA) and for Vienna Music University's Summer Academy (ISA). In 2009, he joined Geneva's Haute Ecole de Musique (Switzerland) as a viola and chamber music teacher, and became the artistic director of Villecroze' Académie musicale (France).
He is Master in Residence at the Queen Elisabeth Music Chapel in Belgium, where he joins Jose van Dam (barytone), Augustin Dumay (violin), Louis Lortie (piano), Gary Hoffman (cello), and the Artemis Quartet.
Busch Trio
Named after the legendary violinist Adolf Busch, this young piano trio has emerged as one of the leading piano trios among the new generation, receiving enthusiastic responses from audiences and critics across Europe. Omri Epstein "the group's marvellously sensitive pianist", Mathieu van Bellen, whose "silvery gleam darted eloquently", and Ori Epstein, with whom "you felt in the grip of a warm hug", have all won prizes in solo international competitions. Brought together by a shared deep passion for chamber music and inspired by Mathieu's possession of the "ex-Adolf Busch" G.B. Guadagnini violin (Turin, 1783), they have been recognized for their achievements and their playing with "incredible verve".
Since its formation in London in 2012 the trio has developed an extensive performing schedule across Europe's leading concert halls and festivals. Their recent Wigmore Hall appearance was received to critical acclaim, The Times commenting: "…what impressed most was the group's effortless musicianship and unity of thought and attack. The threesome even seemed to be breathing in synch." Recent seasons included a tour of China, collaborations with Michael Collins, Bruno Giuranna and recitals in London's Purcell Room, King's Place, Brussels's Bozar and Amsterdam's Concertgebouw. Their recent performance in Brussels of Beethoven's Triple Concerto with the Warsaw Symphony Orchestra and Karina Canellakis was broadcast live on Belgium's Musiq3, and they frequently perform on BBC Radio3, Dutch Radio4, Radio France and Germany's Deutschlandfunk, NDR and WDR.
In 2016, the trio released their debut CD of Dvorak's trios to critical acclaim, receiving a 5-stars review in the Diapason magazine and remarked upon by the Gramophone as: "…the youthful Busch Trio can boast one of the most notable features of their namesake: a pooled decision to put the music, and only the music, first." The CD is part of a 4-CD project of the complete chamber music for piano and strings by Dvorak, after French record label Alpha Classics engaged the trio in 2015. Part of the success of their debut CD saw it being selected as CD of the week by several radio stations across Europe and helped win the trio the 2016 Kersjesprijs, the Netherlands' premier chamber music award. The second CD, featuring Dvorak's piano quartets with violist Miguel da Silva, was hailed by the Sunday Times as "an outstanding disc".
Winners of the 2012 Royal Overseas League Competition, the trio went on to win several prizes at international competitions including the Salieri-Zinetti Competition and the Pinerolo Competition in Italy as well as at the International Schumann Chamber Music Award in Frankfurt. Receiving guidance from distinguished artists such as Eberhard Feltz, Andras Schiff and the Artemis Quartet, the trio are currently based at the Queen Elisabeth Music Chapel in Brussels, where they are trio in residence.
Highlights of 2018 will include the release of their third CD featuring Dvorak's piano quintets with violist Miguel da Silva and violinist Maria Milstein, a return to Amsterdam's Concertgebouw and debut performance at the Phillips Collection in Washington.

This album contains no booklet.