---
Album info
Album including Album cover
Luys Milán (1500 - 1561): Fantasia XXI:

1

Milán: Fantasia XXI

02:57

Fantasia X:

2

Milán: Fantasia X

02:32

Fantasia I:

3

Milán: Fantasia I

01:40

Pavana I:

4

Milán: Pavana I

01:28

Fantasia XI:

5

Milán: Fantasia XI

03:49

Fantasia II:

6

Milán: Fantasia II

01:47

Pavana II:

7

Milán: Pavana II

01:54

Fantasia XII:

8

Milán: Fantasia XII

03:13

Fantasia III:

9

Milán: Fantasia III

01:59

Pavana III:

10

Milán: Pavana III

02:47

Fantasia IV:

11

Milán: Fantasia IV

01:23

Pavana IV:

12

Milán: Pavana IV

01:09

Fantasia V:

13

Milán: Fantasia V

02:09

Pavana V:

14

Milán: Pavana V

01:04

Fantasia XIV:

15

Milán: Fantasia XIV

01:35

Fantasia VIII:

16

Milán: Fantasia VIII

02:45

Pavana VI:

17

Milán: Pavana VI

01:02

Tentos IV:

18

Milán: Tentos IV

06:33

Luys de Narváez (1490 - 1547): Fantasia II:

19

Narváez: Fantasia II

01:27

La cancion del emperador:

20

Narváez: La cancion del emperador

03:55

Fantasia III:

21

Narváez: Fantasia III

02:25

Veynte y dos diferencias de conde claros:

22

Narváez: Veynte y dos diferencias de conde claros

04:33

Fantasia V:

23

Narváez: Fantasia V

01:38

Fantasia VI:

24

Narváez: Fantasia VI

01:26

Quatro diferencias sobre guardame las vacas:

25

Narváez: Quatro diferencias sobre guardame las vacas

01:57

Otras tres diferencias hechas por otra parte:

26

Narváez: Otras tres diferencias hechas por otra parte

02:11

Baxa de contra punto:

27

Narváez: Baxa de contra punto

01:37

Total Runtime

01:02:55
Info for Milán & Narváez: Spanish Renaissance Music

Two 16th-century masters of the Spanish vihuela, speaking afresh to the 21st century through the modern guitar of Giuseppe Chiaramonte.
In 2020, Giuseppe Chiaramonte starred in a SKY TV documentary about the solo-guitar fantasias of the 19th-century Hungarian composer Johann Kaspar Mertz. These pieces formed the subject of his debut in Brilliant Classics (95722), for an album which won acclaim in the specialist-guitar press for the warmth of Chiaramonte's sound, the palette of his tonal colours and his adventurousness in reviving the music of a composer deservedly once known as the 'Liszt of the guitar'.
Mertz's 16th-century equivalent was undoubtedly Luys Milán (1500-1560), who referred to himself without false modesty as 'El Maestro' and a second Orpheus. Published under his name in 1536, El maestro is the first printed collection of music for the vihuela; the earliest Spanish collection of solo instrumental music and accompanied songs; and the first printed example of guitar tablature in Spain.
Milán was a guitar (vihuela/lute) storyteller par excellence, and they call for performers of commensurate skill. His fantasias evolve from the very nature of the instrument for which he composes, being composed at the instrument as elaborate improvisations and then later committed to paper.
The six pavans in Milán's collection resemble the dances of the same name from further north in Europe, though less afflicted by melancholy. They illuminate in turn the more intricate polyphony of the fantasias and tientos composed by a shorter-lived contemporary, Luys de Narváez, who died in 1550, barely into his mid-20s. Thus deprived of further experience, Narváez was still writing in a more restrained idiom than Milán, though no less affecting in its way.
It was largely thanks to these two composers that the vihuela attained such popularity in 16th-century Spain, and modern audiences may appreciate the poetry of their music once more thanks to the inspired advocacy of Giuseppe Chiaramonte, who introduces the life and work of both composers in a detailed booklet essay accompanying the album. 'The best performances of Mertz's solo pieces that I have heard… revelling more wholeheartedly in the virtuosity of the music. The instrument played by Giuseppe Chiaramonte is a joy in itself.' MusicWeb International
The vihuela experienced its heyday in the 15th and 16th centuries, and the first book of music written for this instrument appeared in Valencia in 1536. This was El Maestro by Luys Milán, followed by Luys de Narváez's Los seys libros del Delphín (Valladolid, 1538). This recording includes works from the first two publications, Milán's "Libro de música de vihuela de mano intitulado El Maestro" and Narváez's "Los seys libros del Delphín de música de cifras para tañer vihuela", played on a Hauser-model guitar built by Italian luthier Mario Grimaldi in 2020.
These fantasias derive from the same techniques used by composers of motets and masses, and are conceived as though the vihuela were an ensemble of three or four contrapuntal voices, blending the abstract polyphonic ideas with the idiomatic instrumental possibilities of the vihuela. Other works show improvised traditions, especially the diferencias ("variations") on the formulas associated with the recitation of romances and in improvisations on cantus firmus from well-known hymn melodies.
Giuseppe Chiaramonte is one of today's most outstanding guitarists, a winner of several international competitions. He plays a 6 string guitar by Mario Grimaldi. His previous recording for Brilliant Classics of guitar music by Johann Kaspar Mertz received excellent reviews in the international press.
Giuseppe Chiaramonte, classical guitar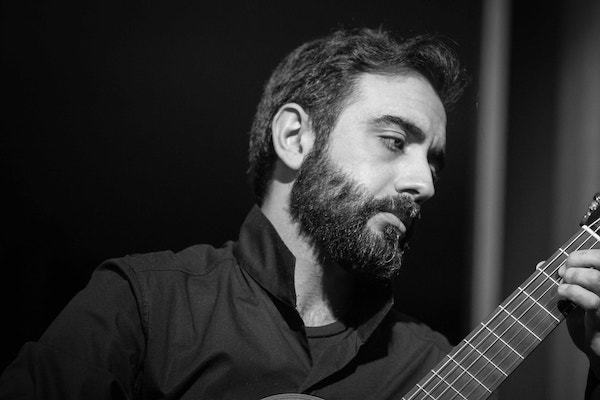 Giuseppe Chiaramonte
Born in 1985, Giuseppe Chiaramonte made his concert debut at the age of 15. Since that time he has conducted an intense concert schedule which has brought him to perform in prestigious venues across Austria (Vienna), Germany (Berlin, Schweinfurt, Vaihingen an der Enz), Switzerland (Zürich, Winterthur), Spain (Madrid, León), Ireland (Dublin), Italy (Milan, Venice, Bergamo, Brescia, Bologna, Campobasso, Crotone, Vibo Valentia and many other cities), consistently achieving a remarkably favourable response both from the public and from the critics. He performed the inedited "Bosco Sacro", for solo guitar and orchestra, by Federico Biscione in 2015 in Milan (Chiesa dell'Assunta in Vigentino).
He has also performed various concerts live on radio programmes dedicated to him.
Giuseppe Chiaramonte has been the winner of National and International Guitar Competitions and a growing number of contemporary composers have dedicated solo guitar music to him, which he has premiered during his concerts: "Sarabanda e Giga" (F. Biscione), "Variazioni notturne" and "Narciso e l'Edera" (P. Coggiola), "Bacalabra" (F.D. Stumpo). By F.D. Stumpo he has recorded on CD a previously inedited selection of solo guitar music, for the Italian label "Sinfonica" in 2015.
As a winner of the "Sony Classical Talent Scout", his interpretation of Johann Kasparz Mertz's Elegie, live recorded during Sony Talent Scout at the Madesimo Music Festival 2013, was selected to be included in a compilation CD by Sony Classical Italia label.
In May 2017, the Japanese label Da Vinci Classics released his solo guitar album "Soul of Strings", containing pieces from baroque period to contemporary music.
In March 2019, the Dutch label Brilliant Classics released his monographic CD "Mertz: Fantasias for solo guitar" which collects the most important Johann Kaspar Mertz's fantasias, very technically demanding pieces that contributed to have Mertz defined as "the Franz Liszt of the guitar".
Giuseppe Chiaramonte completed his classical guitar studies with Angelo Capistrano, and further perfected his skills with Pavel Steidl, Giovanni Puddu, Emanuele Segre, Zoran Dukic, Stefano Grondona, Andrea Dieci and, at the International Accademy of Music in Milan, with Aldo Minella, who wrote about him: "Giuseppe Chiaramonte is a refined musician, who combines his innate and highly developed musical sensibility with an impeccable and in many respects innovative technique, in particular with regards to tone production. It is truly a pleasure to listen to him."
He earned his Guitar Diploma (Master of Arts Degree) at "Luca Marenzio" Conservatory of Music in Brescia (Italy).
Recently, he realized a concert-documentary for SKY television (Channel Classica HD) focused on Johann Kaspar Mertz Fantasias for solo guitar (July 2020).
In August 2020 he was jury member of the XVI International Guitar Competition "Guitartalent" in Brno (Czech Republic).
He earned his Bachelor Degree in Biomedical Engineering in 2006 and his Master Degree in Electronics Engineering in 2009 with full marks at Politecnico di Milano.
He is currently Guitar Professor at the International Music School in Milan, Italy.

This album contains no booklet.