---
Ravel, Escaich, Liszt, Rachmaninoff & Ligeti: Works for Piano Kevin Jansson
Album info
Album including Album cover
Maurice Ravel (1875 - 1937): Miroirs, M. 43:

1

Miroirs, M. 43: I. Noctuelles

04:41

2

Miroirs, M. 43: II. Oiseaux tristes

03:57

3

Miroirs, M. 43: III. Une barque sur l'océan

07:58

4

Miroirs, M. 43: IV. Alborada del gracioso

06:42

5

Miroirs, M. 43: V. La vallée des cloches

05:59

Thierry Escaich ( b.1965): Trois Études Impressionnistes:

6

Trois Études Impressionnistes: I. Intermezzo – Hommage à C. Debussy

03:15

7

Trois Études Impressionnistes: II.

01:39

8

Trois Études Impressionnistes: III. Hommage à H. Dutilleux

04:51

Franz Liszt (1811 - 1886): Études d'exécution transcendante, S. 139:

9

Études d'exécution transcendante, S. 139: No. 9 Ricordanza

10:18

10

Études d'exécution transcendante, S. 139: No. 10 Allegro agitato molto

04:46

Sergei Rachmaninoff (1873 - 1943):

11

Études Tableaux, Op. 33, No. 2

02:26

12

Études Tableaux, Op. 39, No. 4

03:43

György Ligeti (1923 - 1006): Book 1 of Études:

13

Book 1 of Études: No. 4 Fanfares

03:42

14

Book 1 of Études: No. 5 Arc-en-ciel

03:15

Total Runtime

01:07:12
Info for Ravel, Escaich, Liszt, Rachmaninoff & Ligeti: Works for Piano

Kevin Jansson (born August 2000) is emerging as one of the finest musicians of his generation in Ireland. A student of Mary Beattie at the CIT Cork School of Music he has been the winner of numerous awards at competitions in both Cork and Dublin taking five first prizes in different categories at Ireland's most prestigious classical music festival Feis Ceoil in 2015.
He gave his first piano recital at the age of 12. One year later he made his concerto debut during the Cork International Choral Festival performing Mozart's Piano Concerto in D Minor with the CIT Cork School of Music Chamber Orchestra under the direction of Geoffrey Spratt. In 2014 he was one of 12 young pianists selected from around the world to participate in the Allianz Lang Lang Foundation Music Camp in Barcelona culminating in a concert masterclass with Lang Lang.
Kevin has participated in the William Finlay Mentoring Programme for Gifted Pianists run by the Dublin International Piano Competition. He has played at numerous festivals throughout Ireland including the West Cork Chamber Music Festival, the Westport Festival of Chamber Music and also at the launch of the New Ross Piano Festival. He has also performed at the National Concert Hall Ireland on several occasions. In August 2016 Kevin was a guest performer at the Dinard Music Festival in France.
Attending masterclasses in Ireland and throughout Europe Kevin has played for many eminent pianists and teachers including Alexei Grynyuk, Lang Lang, Joseph Moog, Pavel Nersessian, John O'Conor, Ewa Poblocka, Wolfram Schmitt-Leonardy and Andreas Weber. In February 2016 he was the youngest participant and joint winner of the Thierry Scherz prize at the Sommets Musicaux de Gstaad Festival in Switzerland which led to this wonderful opportunity to record his debut solo album.
Kevin Jansson, piano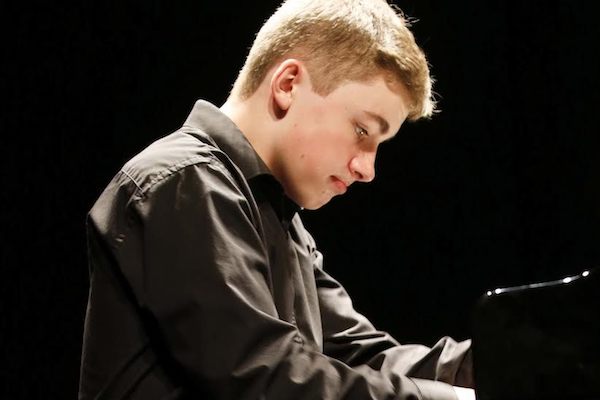 Kevin Jansson
A student of Mary Beattie at the CIT Cork School of Music, sixteen-year-old Kevin Jansson is emerging as one of the finest musicians of his generation in Ireland.
In February 2016 he was the youngest participant and joint winner of the Pris Thierry Scherz at the Sommets Musicaux de Gstaad Festival in Switzerland. As his prize he recently recorded his debut solo piano CD with the Swiss label Claves, which will be released in June 2017. In December Kevin went on to take his second international prize of the year being awarded first place in Category A at the 8th International Isidor Bajić Piano Memorial Competition in Serbia.
Over the years he has been the winner of numerous awards at competitions in both Cork and Dublin taking five first prizes at Feis Ceoil in 2015.
Kevin gave his first piano recital at the age of 12 and one year later he made his concerto debut during the Cork International Choral Festival performing Mozart's Piano Concerto in D Minor with the CIT Cork School of Music Chamber Orchestra under the direction of Geoffrey Spratt. In 2014 he was one of 12 young pianists selected from around the world to participate in the Allianz Lang Lang Foundation Junior Music Camp in Barcelona culminating in a concert masterclass with Lang Lang.
Kevin has participated in the William Finlay Mentoring Programme for Gifted Pianists run by the Dublin International Piano Competition. He has played at numerous festivals throughout Ireland including the West Cork Chamber Music Festival, the Westport Festival of Chamber Music, Music for Galway and also at the launch of the New Ross Piano Festival. He has performed at the National Concert Hall on several occasions, most recently alongside his sister Ellen, playing Saint-Saëns Carnival of the Animals with the National Youth Orchestra of Ireland under Gearóid Grant. In August 2016 Kevin was a guest performer at the Dinard Music Festival in France.
Attending masterclasses in Ireland and throughout Europe Kevin has played for many eminent pianists and teachers including Martina Bauer, Alexei Grynyuk, Robert Kulek, Lang Lang, Joseph Moog, Pavel Nersessian, John O'Conor, Ewa Poblocka, Wolfram Schmitt-Leonardy, Olga Solovieva and Andreas Weber.
Kevin is also a very accomplished violinist and chamber musician and is the current joint holder of the National Concert Hall of Ireland Young Musician's Award for Strings. A student of Ruxandra Petcu Colan he has won many prizes in Feis Maitiu Cork and Feis Ceoil Dublin and performed in the Feis Ceoil Gala concert at the National Concert Hall in 2015. He has also performed as soloist with the RTÉ National Concert Orchestra, CIT CSM Chamber Orchestra and the Cork Youth Orchestra. In March 2017 he performed the Bruch violin concerto with the Dublin Symphony Orchestra under conductor Elaine Kelly. He has played in masterclasses in Ireland, Austria and Romania for renowned violinists including Paul Roczek, Constantin Serban, Maxim Vengerov and Nicolaj Znaider. He has been a member of the National Youth Orchestra of Ireland since 2012.

This album contains no booklet.