---
Album info
Album including Album cover Booklet (PDF)
1

Prologue (feat. Ben Wendel)

04:02

2

Alkaline (feat. Ben Wendel & Justin Brown)

07:30

3

Pretenders (feat. Ben Wendel)

07:17

4

A Dream: No. 1. Introduction

04:10

5

A Dream: No. 2. Grave Mound (feat. Ben Wendel)

03:39

6

A Dream: No. 3. An Artist

02:10

7

A Dream: No. 4. Here Lies

04:21

8

A Dream: No. 5. He Began to Cry

02:11

9

A Dream: No. 6. At Long Last

01:38

10

Exquisite Corpse: No. 1. Foreshadow

03:46

11

Exquisite Corpse: No. 2. Flashback

04:05

12

Epilogue

03:31

Total Runtime

48:20
Info for Imaginist
The Le Boeuf Brothers' most recent project, 'imaginist', is a collaboration with JACK Quartet, one of New York's premier string quartets devoted to contemporary classical music. The album features a collection of longtime collaborators including tenor saxophonist Ben Wendel, bassists Ben Street and Martin Nevin, and drummers Justin Brown and Peter Kronreif.
Imaginist is structured to unfold like a book – complete with a prologue and epilogue. The term 'imaginist' refers to the early 20th century Russian poetry movement characterized by sequences of arresting images and long chains of metaphors.
"imaginist" is a concept album collaboration between genre bending jazz artists, the Le Boeuf Brothers, and the virtuoso contemporary music string quartet, the JACK Quartet. The album's centerpiece is a narrated setting of the Franz Kafka masterpiece short story, "A Dream," here narrated by Paul Whitworth. The score deftly integrates three seemingly disparate elements: the jazz quintet led by the Le Boeuf Brothers, a string quartet, and narration. The opening movement, "Josef K," weaves a canonic theme through the ensembles, before Whitworth sets the scene. Throughout the internal movements, weighty themes, evocative of Kafka's Central European heritage, fluidly transition into open improvised textures, often featuring the agile alto sax playing of Remy Le Boeuf. Subtle word painting colors the quixotic story, and string heavy sections highlight the JACK's well coordinated palette of extended timbres. The Kafka setting is bookended on either side by instrumental pieces that establish the album's symmetrical structure. The "Prologue" begins with a halo of harmonics functioning as a drone, and played by JACK as Ben Wendel's tenor saxophone wails plaintive figures, vaguely evocative of an Armenian duduk. "Alkaline" takes its name from the phenomenon of an aqueous solutions' ability to neutralize an acid. Extending this paradigm to social systems and the struggle for racial justice, Pascal Le Boeuf uses musical tools in his composition to ask, "what is the tipping point at which a system is no longer able to restore its own balance?" "Pretenders" opens with a multi-voiced texture centered around an aspirational, ascending line that evolves into a open improvised section featuring trading solos between Remy Le Boeuf's alto sax and Wendel before a snaking piano solo. The Exquisite Corpse series features a technique wherein subsets of the ensemble record guided improvisations independently, and the final musical composition is assembled by the composer in post-production. "Exquisite Corpse: Foreshadow" paints a resigned scene, with poignant microtonal material in the strings over a drone and scattered, disembodied figurations in the percussion. "Exquisite Corpse: Flashback" returns to the driving character of "Alkaline" while also recalling the string texture of "Prologue." A hopeful harmonic progression eventually emerges before the ethereal strings float away into the atmosphere. The "Epilogue" is a fitting coda, hearkening back to the multi-voiced texture of "Pretenders," as the saxophone plays soaring lines over the quartet's lush voice leading.
Le Boeuf Brothers:
Remy Le Boeuf, alto saxophone, bass clarinet
Pascal Le Boeuf, piano
Ben Wendel, tenor saxophone
Ben Street, bass
Martin Nevin, bass
Justin Brown, drums
Peter Kronreif, drums
JACK Quartet:
Ari Streisfeld, violin
Christopher Otto, violin
John Pickford Richards, viola
Kevin McFarland, cello
Produced by Pascal, Remy Le Boeuf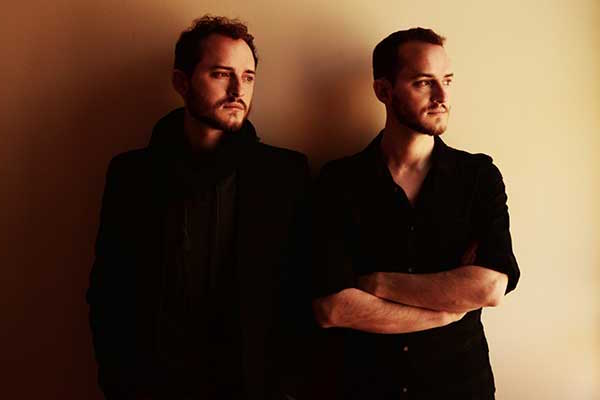 The Le Boeuf Brothers
are "talented musicians and award-winning composers who channel their influences, environments, and resources into works that reflect their own identities." (All About Jazz). Pianist Pascal Le Boeuf and saxophonist Remy Le Boeuf "pursue a hyper-fluent streamlined modern ideal" (New York Times) with "an impressive level of sophistication." (San Francisco Chronicle).
Their latest project imaginist is a full-length album in collaboration with JACK Quartet, one of New York's premier string quartets devoted to contemporary classical music. The hybridized 9-piece chamber ensemble also features a collection of longtime collaborators including Grammy-nominated tenor saxophonist Ben Wendel , alternating bassists Ben Street and Martin Nevin, and alternating drummers Justin Brown and Peter Kronreif. The term "imaginist" refers to the early 20th century Russian poetry movement characterized by sequences of arresting images and long chains of metaphors. Imaginist is structured to unfold like a book – complete with a prologue and epilogue. The album includes a piece based on Franz Kafka's short story, "A Dream" narrated by actor Paul Whitworth, an exquisite corpse series based on the imaginist-esque collaborative poetry game in which a collection of words or images are collectively assembled, and "Alkaline" a hard-driving polyrhythmic mosaic.
Past projects include House Without A Door (2009) "an impressively self-assured new album, which reaches for the gleaming cosmopolitanism of our present era" (New York Times); In Praise of Shadows (2011), which "deftly blends elements of electronica with touches of indie rock and sophisticated jazz writing on this genre-defying project" (JazzTimes); and Remixed an "open-minded and masterfully crafted precursor of things to come" (All About Jazz) featuring remix collaborations with David Binney, Knower, Tim Lefebvre, Nickel Cinco and others.
In addition to their work as performer/composers with Le Boeuf Brothers, Remy and Pascal take part in a number of diverse projects. Remy has performed as a sideman with Grammy Award-winning saxophonist Donny McCaslin, Bob Mintzer, and opened for Dirty Projectors. He has also received commissions from the Jerome Foundation and Chamber Music America. Pascal frequently tours with his trio featuring bassist Linda Oh and Justin Brown. He has played as support for D'Angelo's Black Messiah tour with Australian pop artist Meg Mac, jazz vocalist Allan Harris and the 15-piece gospel-funk band Jesus On the Mainline. Pascal composed music for the 2008 Emmy Award-winning movie King Lines, and is currently pursuing a Ph.D. in Music Composition at Princeton University as a Naumburg Doctoral Fellow.
The Le Boeuf Brothers' recent awards include Independent Music Awards for Best Jazz Album and Best Eclectic Album in 2015, New Jazz Works Commissions from Chamber Music America in 2011 & 2015, a Van Lier Fellowship in 2010, an Astral Grant from the National Foundation for Advancement in the Arts in 2008, 1st place in the International Songwriting Competition in 2010 and numerous honors from the ASCAP foundation. The Le Boeuf Brothers frequently tour internationally and have performed at the Monterey Jazz Festival, Umbria Jazz Festival, Montreal Jazz Festival, the Kennedy Center, Carnegie Hall, and Lincoln Center.

Booklet for Imaginist