---
Album info
Album including Album cover Booklet (PDF)
Ángel Barja (1938-1987):

1

Canción

01:29

2

Cazador

01:07

3

Caracola

01:08

4

Se Ha Puesto el Sol

03:00

5

Quedito, Pasito...

02:00

6

Del Rosal Vengo Mi Madre

02:10

7

Zagalejo de Perlas

03:04

8

¡Niño Dios!

03:50

9

Canción del Ruiseñor

02:08

10

Tan Sola Estoy

02:20

11

O Que Casa con Morena

01:44

12

Alalá

00:48

13

Alalá de Padrón

01:28

14

Cantiga

00:45

15

Romance

01:13

16

Prende, Salgueiriño

01:32

17

Ruiseñor de la Noche

05:03

18

Limones Van por el Río

01:46

19

Canción

01:32

20

Fino Cristal

01:48

21

Me Nación un Amor

03:22

22

Verde Verderol

02:41

23

¡Terra, Terriña!

00:57

24

Canto de Berce

01:00

25

Cuantas Savedes Amar. S.XIII

00:52

26

Cantar de Arrieros I

01:08

27

Cantar de Arrieros II

01:13

28

Barcala

01:23

29

Romance de la Luna Luna

07:50

Total Runtime

01:00:21
Info for Limones van por el río

This recording has selected almost all of the piano-voice songs by Ángel Barja, based on ancient Galician folklore, where the melody tames a very accomplished popular style, slenderised in a subtle and coloristic piano accompaniment that scrupulously observes the conventions of popular roots voice writing. Barja preserves the syllabic nature of the melodies and insists on maintaining the accentuations against the verse. He alternates in them the strophic song, with turns and repetitions, with the simplicity of the popular tune, in many cases with medieval roots, as happens in the Cantiga "Those who know how to love" («Cuantas savedes amar») with a 13th century melody. Another bloc groups exuberant Christmas songs and, last, a third group, very eclectic, assembles songs of different styles and subjects. The poetic anthology used by Barja in his songs is very successful regarding the rhythm and musicality of these verses. It is no coincidence that, despite the apparent aesthetical and geographical remoteness of Galicia and Granada, our composer chose Federico García Lorca to compose five of his songs. José María Pemán was the poet chosen by the composer to set two of his most beautiful and brilliant songs: "Lemons carries the river" («Limones van por el río»), title of this CD production. This sample of the best of his legacy clearly pretends to showcase his music, his talent as melody composer and his mastery to combine sonorities and tradition.
Miguel Bernal, tenor
Blanca Gómez, soprano
Héctor Guerrero, piano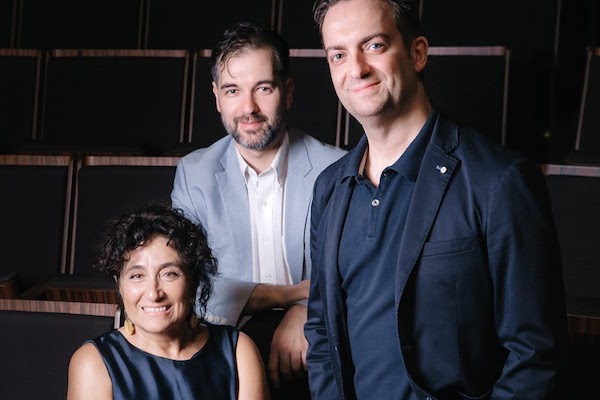 Miguel Bernal
From the year 1992 Miguel Bernal comes developing an important professional career that has led him to perform in more than fifteen Europa's countries, America, Africa and Asia. His repertoire includes from the medieval music up to the German Lied having interpreted from the liturgical medieval dramas up to the romantic song cycles.
He received his musical education in Malaga and Madrid, where there finishes his studies with the Extraordinary Prize Lucrecia Arana of the Royal Conservatoire of Music of Madrid. He continued his studies with masterclasses in Spain, Italy, England and Germany.
His interest for the ancient music has led him to collaborate with ensembles of recognized prestige: Regina Iberica, Alia Mvsica, Capella Reial of Catalunya and Hesperion XXI, Capilla Real de Madrid, Musica Ficta, Capilla Jerónimo de Carrión, The Josquin Circle, among others.
Miguel Bernal has centred his career as soloist on the interpretation of the Baroque, being nowadays a recognized specialist in the whole Bach's vocal work, specially in his Cantatas, being invited frequently to the Cycle of the integral of the Cantatas of J.S. Bach's that comes developing in Madrid from 2004.
Miguel's recordings career is very wide, having recorded multitude of works from the medieval music up to the contemporary music for labels as Sony Classical, Alia Vox, RTVE Música, Harmonia Mundi France, Verso, Stradivarius, Nar, Enchiriadis, Bongiovanni, etc.
Miguel Bernal is also interested in teaching, having been a teacher in the Royal Conservatoire of Music of Madrid and nowadays, teacher of singing in the Conservatoire "Jacinto Guerrero" of Toledo.

Booklet for Limones van por el río