---
Album info
Album including Album cover
Johannes Brahms (1833 - 1897): Cello Sonata No. 1 in E Minor, Op. 38:

1

Cello Sonata No. 1 in E Minor, Op. 38: I. Allegro non troppo

15:04

2

Cello Sonata No. 1 in E Minor, Op. 38: II. Allegretto quasi menuetto

05:33

3

Cello Sonata No. 1 in E Minor, Op. 38: III. Allegro

06:56

Cello Sonata No. 2 in F Major, Op. 99:

4

Cello Sonata No. 2 in F Major, Op. 99: I. Allegro vivace

09:09

5

Cello Sonata No. 2 in F Major, Op. 99: II. Adagio affettuoso

06:53

6

Cello Sonata No. 2 in F Major, Op. 99: III. Allegro passionato

07:27

7

Cello Sonata No. 2 in F Major, Op. 99: IV. Allegro molto

04:38

2 Gesänge, Op. 91:

8

2 Gesänge, Op. 91: No. 1, Gestillte Sehnsucht

05:36

9

2 Gesänge, Op. 91: No. 2, Geistliches Wiegenlied

05:24

Total Runtime

01:06:40
Info for Brahms: Cello Sonatas

On this new release the Fischer Duo beautifully performs the two Brahms Sonatas for Cello and Piano. This album also includes Two Songs for Alto, Viola (or Cello) and Piano, Op. 91, performed with cello alongside mezzo soprano Abigail Fischer. Since 1971 when they started playing together, the Fischer Duo has delighted lovers of chamber music across the country with performances described as ""boldly imaginative and technically assured,"" (Boston Globe), ""intense and persuasive"" (Gramophone), and ""Soaring lines with both beauty and intensity"" (New York Times). The Fischer Duo has been widely praised by music critics for its choice of repertoire. Thoroughly versed in the classical repertoire of Brahms, Beethoven and Schumann, the Fischer Duo has acquired an equally impressive reputation for rediscovering neglected works of the past and for commissioning new pieces from masters such as George Rochberg, Richard Wilson, Samuel Jones, Augusta Read Thomas, Pierre Jalbert and over 20 more.
Fischer Duo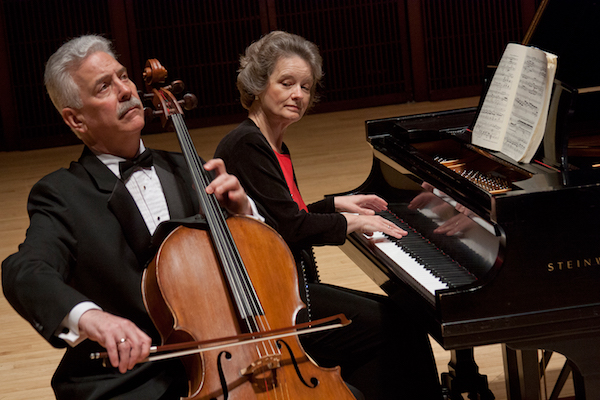 Fischer Duo
Since 1971 when they started playing together, the Fischer Duo has delighted lovers of chamber music across the country with performances described as "boldly imaginative and technically assured," (Boston Globe), "intense and persuasive" (Gramophone), and "Soaring lines with both beauty and intensity" (New York Times).
The Fischer Duo has been widely praised by music critics for its choice of repertoire. Thoroughly versed in the classical repertoire of Brahms, Beethoven and Schumann, the Fischer Duo has acquired an equally impressive reputation for rediscovering neglected works of the past (Busoni, Boulanger, Foote, Alfano, Pizzetti) and for commissioning new pieces from masters such as George Rochberg, Richard Wilson, Samuel Jones, Augusta Read Thomas, Pierre Jalbert and over 20 more. "One felt like applauding the Fischer Duo before they even played a note for programming rarely-heard cello music by Chopin and Liszt," wrote a reviewer in the Washington Post, A recital of this exact repertoire is available on Bridge Records (9187) and has received rave reviews from Strings Magazine and The Gramophone.
The Fischer Duo's extensive discography includes their CD debut, Imaginées: Music of French Masters, which was given Fanfare magazine's highest recommendation: "For fine sound, on top of probing duo teamwork and elegant program-making." They have three recordings available on the Gasparo label. American Music in the 1990s [GSCD-349] includes commissioned works for the duo by George Rochberg, Pierre Jalbert, Samuel Jones, and Augusta Read Thomas. The Strad magazine wrote of the disc, "The duo gives thoroughly persuasive performances of all four works, scratching through the surface gesture to get to the heart of the music's expressive potential." Also available on Gasparo is Robert Sirota: Works for Cello [GSCD-350] and Born in America in 1938 [GSCD-351] featuring works by William Bolcom, John Corigliano, Ellsworth Milburn, John Harbison, Joan Tower, and Charles Wuorinen. In addition, the Fischer Duo released Chopin & Liszt: Music for Cello and Piano, on the Bridge label (Bridge 9187). Strings magazine called the disc, "A most impressive record, both for the music and the playing." A new compilation of William Bolcom's cello music is now available on the Naxos label (a four star rave from BBC Music Magazine). In 2014, The Fischer Duo's most ambitious recording project to date, the 4-CD set Beethoven: Cello and Piano Complete (Centaur), was met with wide acclaim from the press.
The Fischer Duo is also known for enlightened residency work. The United States Information Agency (USIA) selected the Fischer Duo as Artistic Ambassadors and they toured South America and South Africa receiving the highest ratings for musical maturity and open access to audiences.
The critic from the Toledo Blade summed up a concert experience with the Fischer Duo: " If there was a prize for Most Elegant Sound by a Chamber Group, the Fischer Duo would surely win it. The two together have a sort of slow-burning combustion on stage that makes for some really exciting and spontaneous music. This is a pair that really knows their repertoire, and more importantly, knows how to absorb an audience into their own musical universe."

This album contains no booklet.