---
Album info
Album including Album cover
I`m sorry!
Dear HIGHRESAUDIO Visitor,
due to territorial constraints and also different releases dates in each country you currently can`t purchase this album. We are updating our release dates twice a week. So, please feel free to check from time-to-time, if the album is available for your country.
We suggest, that you bookmark the album and use our Short List function.
Thank you for your understanding and patience.
Yours sincerely, HIGHRESAUDIO
1

No One Compares To You

03:02

2

Lotta Love

02:50

3

Barcelona

02:44

4

April Gloom

03:02

5

Promise Me

03:38

6

Pose

02:45

7

Used To You Now

03:11

8

Day Dreaming

03:31

9

Meet U In The Sky

03:14

10

Tension

03:42

11

2 Cigarettes

03:45

12

Rise

03:14

Total Runtime

38:38
Info for A Good Friend Is Nice

Jack & Jack are finally releasing their debut album "A Good Friend Is Nice."
The dynamic duo – Jack Gilinsky and Jack Johnson – took to their Instagram accounts and posted a photo of the album cover featuring a photo of the boys from when they first met in Kindergarten. The adorable photo even features Johnson's five-year-old handwriting and the date 1-11-02. Fans have been speculating that this is a possible release date for the album, but we'll just have to wait and see!
Jack & Jack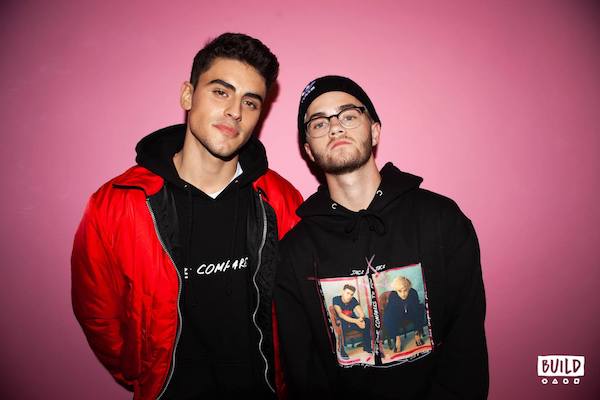 Jack & Jack
confidently and charismatically comprise two sides of a dynamic whole. On one side, you'll find Jack Johnson dexterously rapping, turning up, and occasionally adding his own personal touch to the production. On the other side, you'll find Jack Gilinsky carrying stadium-size hooks, moving with scorching swagger, and breaking hearts worldwide.
With over 1.5 million singles moved, countless worldwide gigs sold out, legions of adoring fans in tears, and the blessing of legendary trendsetters like Timbaland, the duo let both halves shine on their 2017 EP.
"The new music is everything we love," explains Gilinsky. "It's got R&B elements. It's soulful. It's pop. It's hip-hop. It comes from a real place. We wanted to bring those together in a conceptual project that speaks to where we are as 21-year-old guys living in Los Angeles."
"The artists that we love—whether it's Anderson Paak. and Daniel Caesar or Eminem and Lil Wayne—are one-of-a-kind, but we want to be two-of-a-kind," smiles Johnson. "That was the goal here!"
In order to achieve that goal, the boys put their heads down and devoted an entire year to realizing a distinct vision. They teamed up with a bevy of powerhouse producers, including Ryan Ogren [R. Kelly, Trey Songz], Halatrax [Selena Gomez, Gavin DeGraw], Harmony Samuels [Chris Brown, Ne-Yo], First Born [Trey Songz, Ludacris], Poo Bear [Justin Bieber, Big Boi], and Timbaland who dubbed them "The future."Throughout the process, Jack & Jack carefully assembled a five-song concept EPthat exploresthe downfall of a relationship via interconnected music videos.
"The project follows a relationship that went downhill—which is 99% of most relationships," affirms Gilinsky. "The lyrics and the videos convey the story. The first few tracks are about infatuation and falling for a girl. The later tracks are all about the breakup. It's going to make our fans feel some type of way. If you're in love or you're dealing with heartbreak, there's a song for you. We've been through all of that. It came from a real place."
"Since we took some time away, we knew the music had to be fire," adds Johnson. "We've learned a lot in the past few years, and those things have brought us to where we're at now. When we're in the booth, we know exactly who we are and what we want to sound like. It was all about delivering for the fan base."
Since emerging in 2013, Jack & Jack have quietly attracted one of the world's most rabid audiences, encompassing 28 million cumulative followers across social media platforms. Sending shockwaves through the industry, their 2015 independent Calibraska EP became something of an under-the-radar phenomenon and crashed multiple charts, landing at #1 on iTunes Overall Top Albums Chart, #3 on Billboard's Independent Albums Chart, and #12 on the Billboard Top 200. They would be invited to share the stage with superstars such as Fifth Harmony, Shawn Mendes, Demi Lovato, and many others. Among numerous nominations, they received nods at the Streamy's and Teen Choice Awards and released a book You Don't Know Jacksin addition to being featured by Forbes, Billboard, Huffington Post, and ABC's The View. Given this influence, Verizon, Dell, Disney, Pizza Hut, and more have sought them out for high-profile campaigns.
"It feels like a movement," says Gilinsky."When we were kids, we never could've imagined this happening!"
Jack & Jack grew up together back in Omaha, NE. Upon recognizing a familiar name on each other's nametag, they became instant best friends on the first day of Kindergarten. More than 15 years later, their bond is stronger than ever.
"We finish each other's sentences," exclaims Johnson. "We literally are on the same wavelength with everything. We learn and grow together. Each step of the way, we've been there for one another."
With the EP's impending release, extensive touring planned, and a multi-tier partnership with Samsung, Jack & Jack continually to prove why they're "two-of-a-kind."
"This music is what we've been waiting to show the world," they both agree. "We hope everybody can enjoy it on a deeper level and develop a genuine connection. We're serious about doing this forever. It's only the beginning."

This album contains no booklet.