---
Album info
Album including Album cover Booklet (PDF)
Ernest John Moeran (1894 - 1950 ): Prelude for Cello & Piano:

1

Prelude for Cello & Piano

05:00

Benjamin Britten (1913 - 1976): Cello Sonata in C Major, Op. 65:

2

I. Dialogo

06:53

3

II. Scherzo-pizzicato

02:20

4

III. Elegia

05:42

5

IV. Marcia

02:14

6

V. Moto perpetuo

02:42

Frank Bridge (1879 - 1941): Élégie for Cello & Piano, H. 47:

7

Élégie for Cello & Piano, H. 47

04:45

Richard Rodney Bennett (1936 - 1991): Cello Sonata:

8

I. Allegro

06:57

9

II. Allegretto leggiero

03:55

10

III. Feroce

03:25

11

IV. Andante - Molto vivo

07:07

Joe Cutler (b.1968): 2016 Was a Sad Year for Pop Music:

12

2016 Was a Sad Year for Pop Music

03:32

James MacMillan (b. 1959): Cello Sonata No. 2:

13

Cello Sonata No. 2

15:29

Kenneth Leighton (1929 - 1988): Elegy for Cello & Piano, Op. 5:

14

Elegy for Cello & Piano, Op. 5

07:36

Total Runtime

01:17:37
Info for The British Cello

This is an arresting collection of music for cello and piano by British composers, ranging from such masterpieces as Britten's seminal Cello Sonata (written for Rostropovich) to Joe Cutler's brilliant new showpiece '2016 was a Bad Year for Music', whilst taking in such superb recent works as James MacMillan's Second Cello Sonata and the Sonata by Richard Rodney Bennett – written for Alexander Baillie and first performed by him – alongside shorter evocative pieces by Frank Bridge, Kenneth Leighton and EJ Moeran. The album adds up to a terrific programme of familiar and lesser-known works by a galaxy of British composers, making it the first choice album of British Cello Music for music-lovers and students everywhere.
Richard Rodney Bennett wrote and dedicated his Sonata for Cello and Piano in 1991 to Alexander Baillie, who recalled: 'The composer had not heard my playing and I suggested he might like to listen in to a broadcast of the Dutilleux Concerto with me as soloist. He told me how much he loved the music. He waited till I had made my first acquaintance with the Sonata and then asked me knowingly "Well?" He was assuming I had already noticed an exquisite phrase paying homage directly to a memorable moment in the Dutilleux. It is not a direct quote. It is more like one great composer tapping into the same elixir which has nourished another.' Joe Cutler's short piece for cello and piano '2016 was a sad year for pop music' was also written for the artists on this CD and is a first recording. The composer explains: This piece was written at the request of Sandy and John, and is dedicated to them. It's less than five minutes long, and draws upon material from three great artists who very sadly passed away in 2016. David Bowie, Prince and Leonard Cohen. The songs of David Bowie and Prince were constant presences in the listening of my childhood, and I've always admired how lyrics and music entwine and coalesce in the songs of Leonard Cohen. In this small homage, the quiet block-like chords that form the piece's introduction are loosely taken from Prince's 1999. Then, in the main body of the piece, the 'verses' use the chord sequence of Leonard Cohen's Suzanne whilst the harmonic material of the 'choruses' come from David Bowie's Space Oddity. Throughout, the cello line floats over these harmonies with free-flowing melodic material.'
Alexander Baillie, cello
John Thwaites, piano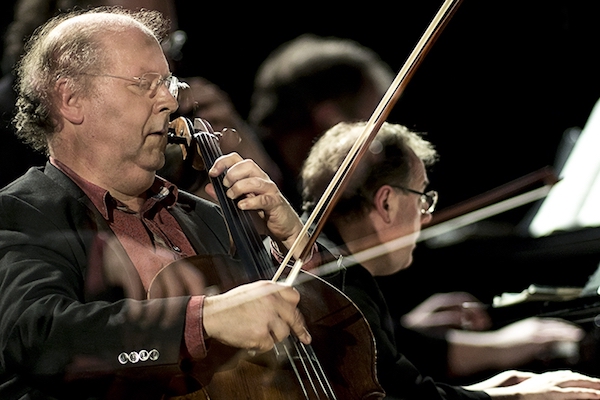 Alexander Baillie
is internationally recognised as one of the finest cellists of his generation. He began playing at the comparatively late age of twelve having been directly inspired by the late Jacqueline du Pré. He went on to study at London's Royal College of Music with Joan Dickson and Anna Shuttleworth and with André Navarra in Vienna.
Sandy has performed with many of the top orchestras and conductors, appearing regularly as cello soloist in concertos, recitals, masterclasses and festivals throughout the world, including several appearances at the BBC Proms.
Notable first performances of contemporary works, often written for him, have included Penderecki, Hans Werner Henze, Takemitsu, Colin Matthews and H.K.Gruber. Recordings include the Tippett Triple Concerto with the composer conducting, and the Shostakovich first Concerto with the Boston Philharmonic under Benjamin Zander. His recording of the Britten Cello Suites achieved the highest acclaim in the New York press, and of the performance of the Dutilleux Cello Concerto with the Boston Philharmonic, the composer was heard to say that it was the finest performance of his work that he had ever heard.
A passionate and motivational teacher, Sandy continues to be in demand as Professor of Cello at the Hochschule für Künste, Bremen in Germany and as visiting Professor at the Birmingham Conservatoire. He is founder member of the 'Gathering of the Clans' Cello School.
John Thwaites
is best known for his collaborative work with strings . He has worked over decades with cellists Alexander Baillie and Johannes Goritzki, and appeared with Pierre Doumenge, Louise Hopkins, Natalie Clein, Alexander Ivashkin, David Cohen, Oleg Kogan, Li Wei and others, and with the Martinu, Maggini, Dante, Schidlof, Emperor and Aurea String Quartets. Theatrical collaborations have included work with Simon Callow, Tony Britton and Tim Piggott-Smith.
John performs regularly in the major festivals across Europe, broadcasts for radio, and has issued a string of critically acclaimed recordings. His recording of Lyapunov's Piano Sextet with the Dante Quartet for Dutton Digital was a BBC Music Magazine 'Recording of the Month', as was a Double CD of British Twentieth Century Cello Sonatas with Alexander Baillie for SOMM. Concerto appearances include Grieg at St John's Smith Square and Tchaikovsky at the Royal College of Music. Whilst Head of Keyboard at Christ's Hospital, he programmed the complete Chamber Music of Brahms, taking the 17 piano parts – an abiding passion increasingly informed by historic performance study. Baillie/Thwaites have recorded the Brahms Cello Sonatas using period pianos in Vienna.
John's more recent teaching career includes posts at the Royal Conservatoire of Scotland and the Guildhall School of Music and Drama. He is Course Director of the Cadenza International Summer Music School, a piano and strings festival resident at the Purcell School, and Head of Keyboard Studies at Birmingham Conservatoire, where he has directed major Festivals of Ireland, Delius, Bax, Skryabin and Brahms as well as directing a celebrity-studded All Night Gala at Birmingham Town Hall.
Calum MacDonald, BBC Music Magazine Chamber Choice, October 2013
These are passionate, focused, full-blooded readings. Alexander Baillie and John Thwaites invest each work with the power of utter belief, and as a result these are probably the best current versions of the Bridge, Ireland, Rubbra and Delius Sonatas.

Booklet for The British Cello