---
Album info
Album including Album cover Booklet (PDF)
Curtis K. Hughes (b. 1974):

1

Hughes: Flagrant

03:40

2

Hughes: Antechamber

13:49

3

Hughes: Lesson Plan

02:30

4

Hughes: Merger

07:29

5

Hughes: Wingtones: I. With Giddy Ferocity

04:55

6

Hughes: Wingtones: II. Freely, Expectant

08:17

7

Hughes: Eight Unnamable Narratives: No. 3, It Was Not Raining

02:42

8

Hughes: Tulpa: I. Telophase

04:35

9

Hughes: Tulpa: II. Manufactured (For a Purpose)

04:04

10

Hughes: Tulpa: III. Un amour inconnu...

03:29

11

Hughes: Tulpa: IV. The Number of Completion

03:05

Total Runtime

58:35
Info for Curtis K. Hughes: Tulpa

Curtis K. Hughes' "Tulpa" is a collection of his rhythmically incisive music heard in solo, duo, and ensemble settings, and culminating in the title work for ten players and guest soprano. The Boston based Hughes writes from a deep collaborative connection with his performers, crafting pieces that balance harmonic adventure with stylistic diversity, and political subtext with sardonic humor. The music of Curtis K. Hughes (b. 1974) is characterized by its rhythmic restlessness, its harmonic adventurousness and its often volatile mix of diverse stylistic elements and political subtexts. It has been described as "fiery" in the New York Times, "well crafted" in the Phoenix, and "colorfully scored" in the Boston Globe. A professor of composition at the Boston Conservatory since 2008, Curtis was a student of composers Lee Hyla and Evan Ziporyn, and is a graduate of Oberlin College and Conservatory, and of the New England Conservatory (NEC), which honored him in 2010 with its Outstanding Alumni Award.
Rose Hegele, soprano
Boston Percussion Group
Matt Sharrock, conductor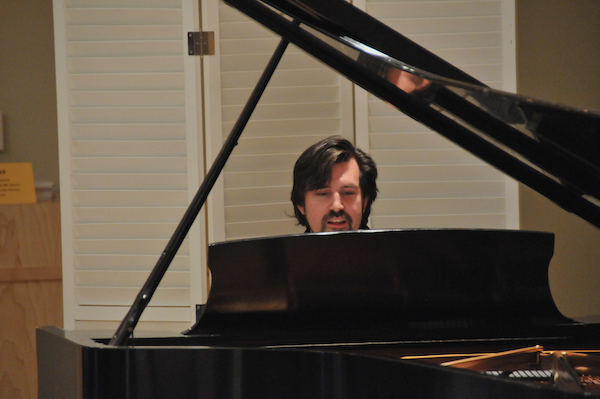 Curtis K. Hughes
The music of Curtis K. Hughes (b. 1974) is characterized by its rhythmic restlessness, its harmonic adventurousness and its often volatile mix of diverse stylistic elements and political subtexts. It has been described as "fiery" in the New York Times, "well crafted" in the Phoenix, and "colorfully scored" in the Boston Globe. A professor of composition at the Boston Conservatory since 2008, Curtis was a student of composers Lee Hyla and Evan Ziporyn, and is a graduate of Oberlin College and Conservatory, and of the New England Conservatory (NEC), which honored him in 2010 with its Oustanding Alumni Award.
Curtis's most recent endeavors have included new works for soprano Tony Arnold and pianist Jacob Greenberg, for the New Gallery Concert Series, for Transient Canvas and for Boston Musica Viva, as well as RareBit, a surreal chamber opera for Guerilla Opera, in a production that was rated the "moxt exhilarating premiere" of 2014 by the Boston Classical Review. This was Hughes' second collaboration with Guerilla Opera, who also premiered Say it Ain't So, Joe, his 2009 opera about the 2008 Vice Presidential Debate between Sarah Palin and Joe Biden (now available on CD).
Curtis's music has been performed across the US and internationally, from Los Angeles to Berlin, from Vermont's Yellow Barn to Bulgaria's Here/Now New Music Festival. He was a 2005 fellow at Tanglewood, and has served as composer-in-residence for Collage New Music and the Radius Ensemble. Recordings of his music for the Albany, GM, New Focus, and Cauchemar labels are available at all major online music retailers.

Booklet for Curtis K. Hughes: Tulpa