---
I`m sorry!
Dear HIGHRESAUDIO Visitor,
due to territorial constraints and also different releases dates in each country you currently can`t purchase this album. We are updating our release dates twice a week. So, please feel free to check from time-to-time, if the album is available for your country.
We suggest, that you bookmark the album and use our Short List function.
Thank you for your understanding and patience.
Yours sincerely, HIGHRESAUDIO
1

Star Eyes

04:07

2

Things Are Looking up Again

04:44

3

Some Day My Price Will Come

03:51

4

Home

04:45

5

Love in Letters

02:54

6

There Is No Greater Love

05:27

7

Till There Was You

03:02

8

Summer Morning

03:51

9

Close Your Eyes

04:47

10

Answer Me

03:47

11

Under a Blanket of Blue

05:01

12

When You're Not There

03:52

13

Stardust

05:16

Total Runtime

55:24
Info for Love Letters

Zufällig wiederentdeckte Liebesbriefe aus der Familie inspirierten Deutschlands erfolgreichste Jazzsängerin Lyambiko zu neuen eigenen Songs und einer frischen Sicht auf Jazzklassiker wie Close Your Eyes und Stardust.
"Ja, diese Nacht habe ich wieder einmal von Dir geträumt, was, weiß ich leider nicht mehr, aber ich war ganz glücklich erwacht. Überhaupt, auch am Tag, wenn meine Gedanken wegen der Arbeit ausfliehen können, da sind sie bei Dir. Vergangenes und Zukünftiges schwebt um mich. Glückselige Gedanken der Liebe."
Nein, das ist kein Songtext. Das ist ein Liebesbrief, geschrieben 1934 vom Großvater des Ehemanns der in der Schweiz lebenden deutschen Jazzsängerin Lyambiko. Nicht zuletzt ihre beiden jüngsten Alben Lyambiko Sings Gershwin (2012) und Muse (2015) haben gezeigt, dass die ECHO-Preisträgerin es liebt, einen roten Faden durch die Songs ihrer Alben zu spinnen. Zu Love Letters hat sie der zufällige Fund einer Kiste voller Liebesbriefe auf dem Dachboden des Elternhauses ihres Mannes inspiriert. Getrennt durch weit entfernte Arbeitsplätze und letztlich den Zweiten Weltkrieg, hatten dessen Großeltern in der Zeit von 1933 bis 1944 oft nur über diesen Briefwechsel die Möglichkeit, Kontakt zueinander zu halten, um sich ihrer Liebe zu versichern oder sich über Alltägliches auszutauschen.
"Ich habe diese Briefe innerhalb weniger Tage verschlungen. Das war, als würde man einen Roman lesen", erinnert sich Lyambiko. Beim Lesen der Briefe kam ihr die Idee zu Love Letters. "Ich begann, die damaligen Zeiten mit heute zu vergleichen. So kamen die beiden Ebenen von Alt und Neu zusammen. Daraus erwuchs das Bedürfnis, alte Stücke aufzunehmen, von denen ich mir hätte vorstellen können, die könnte sie vor sich hin geträllert haben, wenn sie an ihn gedacht hat. Dazu wollte ich neue Stücke schreiben, die besser auf mich passen."
Das Ergebnis ist eine Mischung aus eigenen Songs mit Klassikern wie Close Your Eyes, Stardust oder Someday My Prince Will Come, die vor dem Hintergrund der Liebesbriefe eine ganz neue Geschichte erzählen. Mit großem Feingefühl werden die Oldtimer und neue Lieder zu einem stimmigen Ganzen verwebt, das ohne kalkulierte Vintage-Patina authentisch die altmodischste und doch zugleich aktuellste aller Empfindungen auf zwei verschiedenen Zeitebenen beschreibt.
Mit Trompeter Martin Auer, Pianist Marque Lowenthal, Bassist Robin Draganic und Schlagzeuger Tilman Person gelingt Lyambiko das seltene Kunststück, das geheimnisvolle Funkeln einer versunkenen Welt hörbar zu machen. Sie lässt sich ganz und gar auf jedes Lied ein und nimmt sich so weit wie möglich zurück.
Love Letters ist ein zeitloser Kontrapunkt zur Kurzlebigkeit von Twitter und Facebook, ein hörbar gemachtes Gefühl und eine sehr persönliche Zeitreise mit Rückfahrkarte.
"Die Berlin Sängerin Lyambiko bereichert den Schatz der Liebeslieder um eigene Songs, in denen sie Gedanken aus Liebesbriegen der Großeltern ihres Mannes aus den Jahren 1933-1944 in Verse fasst. Klassiker des Jazz und Songs von Mitgliedern ihrer Band ergänzen das Repertoire. Und die neuen Lieder können neben Klassikern wie Star Eyes oder Someday My Prince Will Come nathlos bestehen. Lyambika und ihre vierköpfige Band unterlegen sie mit Swing-, Reggae- und Latinrhythmen, wobei durch den Trompeter Martin Auer eine weitere Farbe neben der warmen Stimme der Sängerin ins Spiel kommt." (Audio)
Lyambiko, Gesang
Martin Auer, Trompete
Marque Lowenthal, Klavier
Robin Draganic, Bass
Tilman Person, Schlagzeug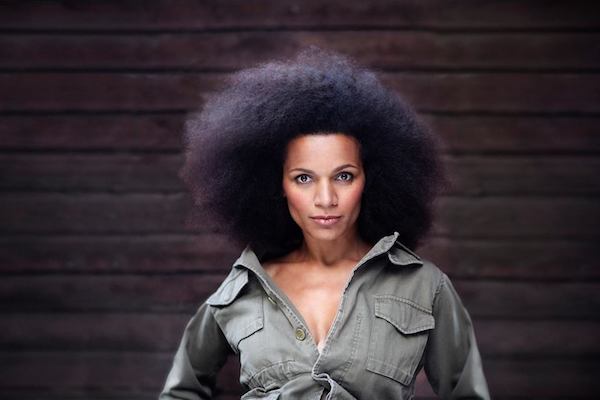 Lyambiko
The singer LYAMBIKO was born in the German state of Thuringia and grew up in a musically active family. Her grandfather was already a member of a jazz combo back in the 1930's, and her father sang in both a church choir and in jazz and world-music bands in his native Tanzania. As a child, LYAMBIKO took lessons on the saxophone and the clarinet and in classical singing, and played the tenor sax in her music school's big band. She was only 17 when she founded her first band as a singer (folk, pop and blues), and was the youngest entrant in a band contest where she won her first studio recording.
After a longer break from making music, LYAMBIKO moved to Berlin in 1999. As part of her preparations for the entrance exam for that city's College of Music she took singing and piano lessons, and rehearsed a small repertoire of jazz standards. Concerts in Berlin jazz clubs followed with different ensembles, and a regular spot in a guitar duo entitled "LYAMBIKO – Strange Fruit". Thanks to a recommendation from the singer Mark Murphy, LYAMBIKO had the chance to appear in the well-known club A-Trane in April 2000.
In April 2001 LYAMBIKO first gave her name to the successful quartet with which she then extended her concert activities to the rest of Germany, and later on to other European countries and to the USA. In 2003 the Boston Globe described LYAMBIKO as "the most promising vocalist jazz has seen in a long, long time". Two acclaimed CD's were released by Nagel/Heyer before the quartet signed with Sony BMG in 2005. These first two albums stayed in the top ten of the jazz charts for several weeks at a time, and after her move to the major label LYAMBIKO released her self-named CD, a "collection of beautiful jazz standards" and then with Love... and then "a sugar-free contemporary reflection on love" (Berliner Zeitung). Each of these two productions was awarded in Germany with the Jazz Award.
In February 2007 Sony BMG released LYAMBIKO's next album, Inner Sense, to which the singer contributed two songs from her own pen for the first time. Apart from two pop/rock covers, the album features solely original compositions, and was positively received by the press as a successful step towards musical independence: "LYAMBIKO exudes more charisma on 'Inner Sense' than ever before" (Jazzthing). In addition to her jazz projects, the singer with Tanzanian roots worked on a program of African music together with a youth choir for the first time in 2007.
February 2008 sees the release of her new CD Saffronia (Sony BMG). After five albums, LYAMBIKO now feels ready to bring out a tribute to Nina Simone, who inspired her in 2000 to embark on a career as a jazz singer.
After her tribute to Nina Simone, "Saffronia" (2008), which aroused the first substantial interest in the artist in France as well, Sony Music releases LYAMBIKO's new album "Something Like Reality" in June 2010.

Booklet for Love Letters