---
Album info
Album including Album cover
1

Six Feet Away (Francisco Torres Trombone Solo)

05:36

2

Six Feet Away (Brian Scanlon Tenor Sax Solo)

05:36

3

Six Feet Away (Eric Marienthal Alto Sax Solo)

05:36

4

Six Feet Away (Gordon Goodwin Keyboard Solo)

05:36

5

Six Feet Away (Jay Mason Baritone Sax Solo)

05:36

6

Six Feet Away (Jeff Driscoll Tenor Sax Solo)

05:36

7

Six Feet Away (Mike Rocha Trumpet Solo)

05:36

8

The Reset (Brian Scanlon Tenor Sax Solo)

06:41

9

The Reset (Eric Marienthal Soprano Sax Solo)

06:41

10

The Reset (Francisco Torres Trombone Solo)

06:41

11

The Reset (Gordon Goodwin B3 Organ solo)

06:41

12

The Reset (Jeff Driskill Tenor Sax Solo)

06:41

13

The Reset (Mike Rocha Trumpet Solo)

06:39

Total Runtime

01:19:16
Info for Six Feet Away

4-Time Grammy Winner Gordon Goodwin Returns With New 5-Song Ep: Gordon Goodwin's Big Phat Band release a special edition EP of singles "Six Feet Away" and "The Reset", originally featured on new EP The Reset. This edition features several of the band's stunning soloists blowing over the solo sections of each track!
From the 7-minute title track, which seems to channel the ethos of Chick Corea's Return to Forever, while unleashing its inner Dream Theater, to the funky sass and sizzle of "Six Feet Away," one thing is inherently certain, its calligraphy pulls back the curtains and soars into areas few big bands have ventured.
Honoring the late great arranger/composer Sammy Nestico, who passed away earlier this year at the age of 96, with a pair of songs, the first being "My Man Sam" which swings with the same buoyancy as his former employer, Count Basie, for his Orchestra, and "Cell Talk," which was the last chart Nestico wrote while in his early 90s. Sammy's voice can be heard at the beginning of the song. Lovingly done, both expositions feel classic, yet fresh, an address to the best of us and what's next.
The lone cover, and only vocal track, is a gorgeous reading of the David Foster-penned "Through the Fire," a song first made famous by Chaka Khan, this time beautifully delivered by vocalist Vangie Gunn, who, in addition to her career singing on TV and Film soundtracks, has performed with Johnny Mathis, Herb Alpert, Barry Manilow, Patti Austin, Justin Timberlake, Melissa Manchester and Take 6.
Gordon recalls the impetus for The Reset,. "Our collective experience dealing with the Covid-19 virus lead to a lot of change in our world. This composition was my attempt to reflect on some of the changes I felt in my life. It is fairly different from most of our other material. There is less emphasis on melody and structure with more free association, compositionally speaking. We also brought in more programming elements to enhance the performance of the Phat Band, like synth textures, drum loops, and SFX. But the focus of this track remains the amazing human beings that perform the music and this track represents one of our very best efforts."
As a companion piece, 11 alternate mixes of two of the tracks are being made available as bonus content via the official Gordon Goodwin online store at Bandwear. Fans can purchase the premium digital content as a stand-alone offering or buy any format of his most recent album, 2020's The Gordian Knot (on vinyl, CD, Blu-ray or flash drive) and receive a complimentary download of the tracks, 6 mixes of "Six Feet Away" and 5 mixes of the title track. Each mix highlights the solo efforts of a particular member of the Big Phat Band, so listeners can revel in the Marienthal soprano sax mix, the Rocha trumpet mix or the Goodwin Hammond B3 mix, to name a few.
Born in Wichita, Kansas, Goodwin's parents moved to Southern California when Goodwin was four. After completing his formal music education at Cal State University-Northridge, Gordon began working at Disneyland in the theme park's band. After a few years he was commissioned to work on a musical that featured past and present Mouseketeers (including Britney Spears and Christina Aguilera). Upon hearing his music, the master drummer and bandleader Louie Bellson recruited Goodwin to join his band. That exposure led to studio work with the likes of Gil Scott-Heron, Mel Torme, Ray Charles and legendary vocalist Johnny Mathis.
In 1999, Gordon founded the Big Phat Band for what he thought would be a single performance at his alma mater Cal State at Northridge. Since then, the Big Phat Band has recorded 10 albums, and in the process received 22 Grammy nominations. Goodwin won a Grammy for 'Best Instrumental Arrangement' for "Incredits" for the film The Incredibles and has been honored with 3 Emmy awards for his work on the Steven Spielberg-produced shows Animaniacs and Pinky and the Brain. His work has been featured/utilized in more than 80 film & TV productions spanning the gamut of pop culture:, amplifying the likes of National Treasure, Star Trek: Nemesis, Snakes on a Plane, Get Smart, Remember the Titans, The Sorcerer's Apprentice, The Majestic (starring Jim Carrey), The Lion King, and Ratatouille.
Last year, Goodwin released the full-length album The Gordian Knot, a nod to the Greek mythology of a knot impossible to undo. Highlights from the collection include "Kneel Before Zod" a song about the super villain who destroyed Superman's home planet, Krypton, "T.O.P. Adjacent," a blazing tribute to Tower of Power, "Sunset and Vine," a 6-minute stroll thru the looking mirror of the legendary Hollywood intersection, a re-make of "The Incredibles," a tribute to famed drummer Buddy Rich called "The Buddy Complex," and a sultry, sophisticated rendition of "Summertime," a take on the aria composed by George Gershwin for the 1935 opera, Porgy and Bess, with vocals by Vangie Gunn.
In addition to being a regular staple at venues throughout Southern California, Goodwin is also the host of the popular long-running radio program, "Phat Tracks with Gordon Goodwin," airing for the last 5 years on KJAZZ, America's jazz and blues station.
"The Big Phat Band provides potent testimony to the sheer exhilaration of big band jazz…a combination of crisp accuracy and fiery soloing." — Los Angeles Times
"I was immediately taken by Gordon's contemporary musical viewpoint, the dynamics of his "Big Phat Band," its bevy of superb soloists, and the exhilaration of its sound." — Quincy Jones
Gordon is an arranger of absolutely no limit of musical styles and composer of some of the best compositions ever. He is a man of exquisite musical taste. I am truly blessed to have him in my life." — Johnny Mathis
Gordon Goodwin's Big Phat Band
Vangie Gunn, vocals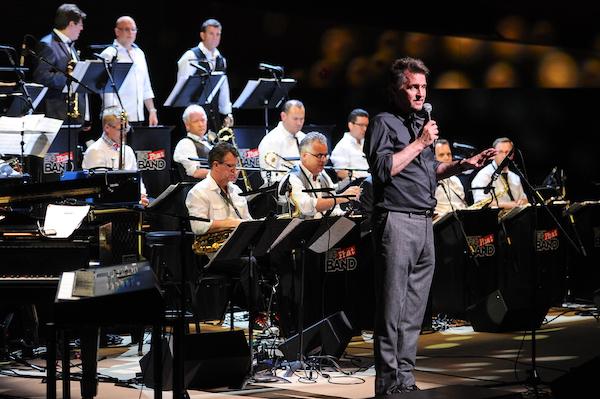 Gordon Goodwin
"Listening to Gordon Goodwin's Big Phat Band, I was immediately taken by Gordon's contemporary musical viewpoint, the dynamics of his "Big Phat Band," its bevy of superb soloists, and the exhilaration of its sound." —Quincy Jones
"The Big Phat Band provides potent testimony to the sheer exhilaration of big band jazz…a combination of crisp accuracy and fiery soloing." —Don Heckman, Los Angeles Times
"Gordon Goodwin has extended the possibilities of all the different kinds of music (all good) that can be played by a big band. The magnificent Big Phat Band and its multi-talented leader, Gordon, stretch the envelope even further." —Johnny Mandel
"Trying to describe the towering talents of Gordon Goodwin is one of my most frustrating but little secret pleasures. He is a gifted and creative pianist, an explosive and 'haul ass', 'kick butt,' sax player, an arranger of absolutely no limit of musical styles and composer of some of the best (and cleverly titled) compositions ever.
He is a man of exquisite musical taste. I am truly blessed to have him in my life." —Johnny Mathis
"Whenever I hear your music, I get the sudden urge to retire!" —Sammy Nestico
Even for a successful composer and arranger in Hollywood, Gordon Goodwin's numbers are impressive: A 2006 GRAMMY Award for his Instrumental Arrangement of "Incredits" from the Pixar film The Incredibles, three Emmy Awards, and thirteen GRAMMY nominations.
Here's another impressive number to add to the list: eighteen. As in the number of musicians in Gordon Goodwin's Big Phat Band, one of the most exciting large jazz ensembles on the planet. Populated by L.A.'s finest players, the Big Phat Band takes the big band tradition into the new millennium with a contemporary, highly original sound featuring Goodwin's witty, intricate, and hard-swinging compositions in a veritable grab bag of styles: swing, Latin, blues, classical, rock and more.
A steady, persistent audio diet of the giants of jazz, pop, rock and funk has nourished Goodwin's being since childhood. Count Basie, Duke Ellington, Buddy Rich, Thad Jones and Mel Lewis, Earth, Wind and Fire, and Tower of Power, among many others, filled the well for the music his band makes today. And like those other bands, Goodwin's music is nothing less than astonishing when experienced live.
Goodwin's ability to combine jazz excellence with any musical style makes his writing appealing to fans across the spectrum. That's why both beboppers and headbangers dig Gordon Goodwin's Big Phat Band.
Established in 2000, the Big Phat Band's debut recording, Swingin' For The Fences (Silverline Records), featured guest artists Arturo Sandoval and Eddie Daniels. It made history as the first commercially available DVD-Audio title ever released and the first DVD-Audio title to receive two GRAMMY nominations.
The band's second album, XXL (Silverline Records), was released on DVD-Audio and compact disc in 2003. Charting its first week, XXL garnered three GRAMMY nominations for Best Large Jazz Ensemble Album, Best Instrumental Composition ("Hunting Wabbits") and Best Instrumental Arrangement with Vocals ("Comes Love" with Brian McKnight and Take 6), while winning the Surround Sound Award for "Best Made for Surround Sound Title." The list of guest artists matched the high quality of the first release and featured, among others, Johnny Mathis and the incomparable Michael Brecker.
The Big Phat Band's third album, The Phat Pack (immergent Records), with guest stars Dianne Reeves, David Sanborn, Eddie Daniels and Take 6, received a GRAMMY nomination and spent 31 weeks on the Billboard jazz charts.
Released in September 2008, the Big Phat Band's fourth recording, Act Your Age, far outsold every other big band record in its path. Produced by acclaimed guitarist Lee Ritenour, it featured a host of terrific guests including Patti Austin, Chick Corea, Dave Grusin and even Ritenour himself, plus a special appearance by the late pianist Art Tatum on a stunning performance that had jaws dropping right and left. The critically acclaimed Act Your Age garnered three GRAMMY nominations.
A keyboardist and woodwind player, Goodwin has built a larger-than-life reputation throughout the music industry for his composing, arranging and playing skills. Ray Charles, Christina Aguilera, Johnny Mathis, Toni Braxton, John Williams, Natalie Cole, David Foster, Sarah Vaughan, Mel Torme, Brian McKnight and Quincy Jones are just a few of the artists with whom he has worked. Goodwin has also conducted world-renowned symphony orchestras in Atlanta, Dallas, Utah, Seattle, Toronto and London.
Goodwin's cinematic scoring and orchestration craft can be heard on such films as The Sorcerer's Apprentice, Escape to Witch Mountain, Get Smart, Glory Road, National Treasure, The Incredibles, Remember The Titans, Armageddon, The Majestic, Con Air, Gone In 60 Seconds, Enemy of the State, Star Trek Nemesis and even the classic cult film Attack Of The Killer Tomatoes. Goodwin's soundtrack to Looney Tunes' Bah HumDuck! – a wacky Bugs Bunny and Daffy Duck riff on the classic A Christmas Carol – also features the Big Phat Band's patented sound.
Gordon Goodwin's Big Phat Band joins Telarc International, a division of Concord Music Group, with the April 12, 2011 release of That's How We Roll. The band's first CD in over two and a half years features 10 new Goodwin originals and the Gershwin classic "Rhapsody in Blue." Special guests include Gerald Albright, Dave Koz, Marcus Miller and Take 6.
Big Phat Band
I assembled what would become the Big Phat Band in mid 1999 with the intention of recording a record and nothing more. I wanted to document the music I was writing for the big band genre, but no way did I want to hassle with doing live gigs and all the logistical problems and phone calls and…no way. But around the time of the release we got a call to play a concert at my alma mater Cal State University Northridge. I remember some of the guys had doubts we could even get through a whole concert of the charts I had written. But we did, and not only did the audience love it, we had a blast. For a bunch of session musicians, playing for a live audience again was intoxicating. It reminded me of why I started playing music in the first place, because the life of a session musician can get to be fairly isolated. You rehearse the cue, record the cue and move on to the next, and you don't hear it again until the film comes out months later. But here you had a live audience, reacting in real time! Not only reacting but interacting with the musicians! So, with that fun experience resonating in my mind, I started to dip my toe into the water and attempt to get some gigs for the band. Which was easier said than done. But little by little we built the organization and the band slowly started to congeal and get a sound of its own, a sound based on the talents of these fine musicians and whatever assets I could bring to my charts.
It started to become apparent to me that not just anybody could be in this band. Of course you needed to have top level musicianship, that went without saying. But I started to see that you also needed a certain personality to stick in the BPB. You needed guys that were willing to subdue their egos for the good of the band. You needed to be willing to dedicate yourself to the ensemble, to have pride and ownership in being a part of a tight-nit group. And you also needed to love the genre enough to lose money once in a while to play it! Hopefully not too often, but let's be honest, marketing this kind of music is a bit of an uphill climb nowadays. While a few very fine players fell out of the band as we were getting started, our personnel has basically been pretty stable over the past decade. And I've found that even when a change is made, the band benefits and things get a little fresher again.
The guys listed below are, to a man, absolute virtuosos. They can sight read almost anything, which is a good thing since we rarely get to rehearse. They are masters of any style of music, from swing to pop to classical. And they are all complete knuckleheads, with quick minds and lively senses of humor. And finally, and this is most important to me – they have an optimistic view on life and are mindful of what a gift it is to play music. It is this last that permeates everything we play and we try never to take it for granted.

This album contains no booklet.