---
Album info
Album including Album cover
I`m sorry!
Dear HIGHRESAUDIO Visitor,
due to territorial constraints and also different releases dates in each country you currently can`t purchase this album. We are updating our release dates twice a week. So, please feel free to check from time-to-time, if the album is available for your country.
We suggest, that you bookmark the album and use our Short List function.
Thank you for your understanding and patience.
Yours sincerely, HIGHRESAUDIO
1

On Track

08:14

2

Vignette

04:54

3

Pavanne

09:03

4

Nimjam

03:55

5

Voices

13:24

6

You've Said It

08:31

Total Runtime

48:01
Info for Live

A jazz event… and a packet of crisps, please! The energy exuded by the group bounces off the walls and magnifies their imaginative enthusiasm to new heights. Apparently the original tape wasn't in the best condition, so what we have here is a fine piece of archival reconstruction, though the slightly forward tone remains to ensure that we get to hear all of the instruments clearly. A nice chance to hear Carr and Rendell let off the leash.
Back in 1962, Don Rendell had a quintet with Graham Bond on alto. "Graham phoned up out of the blue and told me he was going to play the organ and sing," Don told me. "I wasn't thinking about having an organ and singing in the quintet, so we just parted. I had no notice about it." That band had not long released an album, Roarin', on the Jazzland label. Tony Archer, the group's bassist, suggested Don check out Ian Carr, newly arrived from Newcastle. "He was playing at the Flamingo Club with some band," Don explains. "I thought he's good, so I said to Tony, 'Yeah, we'll try and get Ian to come in.' It just changed over night from Graham Bond to Ian Carr."
Ian was playing with Harold McNair, the Jamaican reedsman. He takes up the story, "I'd come from the MC5 (Mike Carr Five) – a world class band – and Harold didn't really have any kind of policy and wasn't very well organised." Ian jumped at the chance to join what was then the new Don Rendell Quintet. Meanwhile, John Mealing had replaced original pianist John Burch, Trevor Tomkins was now the drummer and shortly after Dave Green took Tony Archer's place.
This band features on the Spotlite Records' album The Don Rendell 4 & 5 plus the Don Rendell-Ian Carr Quintet. The band recorded the sides for American Hank Russell, Howard Keel's musical director, in '64. Russell and Don were Jehovah's Witnesses and Don describes it as 'a friendship thing." Russell hoped to secure a release in the States but nothing came of it. Backed with three tracks from the group's appearance at the Antibes Jazz Festival in 1968, it reveals an already fine mature group but the contrast with the Antibes tracks is enormous. When Shades of Blue came out in '64, Colin Purbrook was on piano and the band had moved on artistically. Where the Russell record draws heavily on the Great American Songbook, Shades of Blue focuses on original compositions.
Dave Green feels the early quintet was 'very based on the Miles' thing'. "We were trying to emulate these great players," he laughs. "I was trying to do a Paul Chambers and Trevor was trying to do a Jimmy Cobb. John was influenced by Wynton Kelly but as time went on the band really matured a lot." For Dave, Michael Garrick's arrival later in '64 signalled the change. "We started utilising a lot of Indian type compositions Michael used to write and the whole band became really strong after Michael joined." Ian feels there was something uniquely poetic about the group's music. "I think that was one of the reasons people liked it so much. It wasn't hard-driving like a lot of American Jazz of the time. We had different kind of focuses than the Americans. We were into texture and different rhythms. And Michael Garrick was steeped in Indian Music as well. We found we could do so many things that we never thought of before."
Michael Garrick echoed this when we spoke last year. It was about one's own roots. As he said then, "Whether we like it or not we're English and I wasn't born in Chicago or New Orleans but in Enfield," he said. The recent release of The Rendell/Carr Quintet Live in London (Harkit HRKCD8045) shows how fast they were developing. Their compositions leapt from the group's shared identity. There was no policy decision to feature original material, as Don explained, "It was quite brave in a way because we had so many originals with Michael, Ian and me writing. Suddenly we'd gone a whole concert without using a standard. It just happened."...
Don Rendell, tenor saxophone, soprano saxophone, flute, clarinet
Ian Carr, trumpet, flugelhorn
Michael Garrick, piano
Dave Green, bass
Trevor Tomkins, drums

Engineered by Adrian Kerridge
Digitally remastered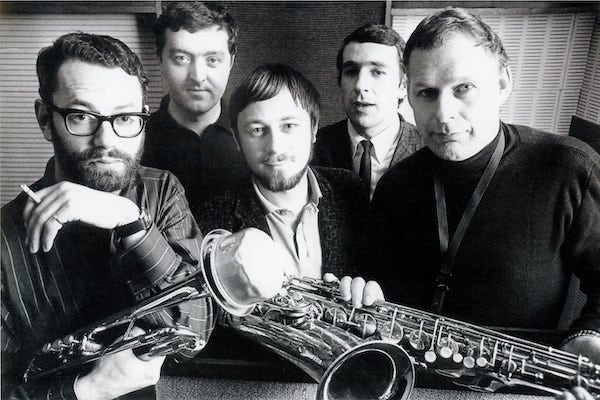 Don Rendell
born 4 March 1926, Plymouth, Devon, England. Rendell began playing alto saxophone as a child but later switched to tenor. He played in a number of dance bands during the late 40s, and in 1950 became a member of John Dankworth's septet. After leaving Dankworth in 1953 he formed his own small group but also worked with bands led by Tony Crombie, Ted Heath and others. In 1956 he joined Stan Kenton for a European tour, appearing on Live At The Albert Hall. In the late 50s he played with Woody Herman. During the 60s Rendell was again leading his own bands, featuring musicians such as Graham Bond, Michael Garrick and Ian Carr, with whom he was co-leader of a successful band. The four albums he recorded with Carr are highly recommended. Rendell has also recorded with Stan Tracey (The Latin American Caper), and Neil Ardley (Greek Variations).
A fluent improviser, with hints of post-bop styling overlaying a deep admiration for the earlier work of Lester Young, Rendell has long been one of the most admired of British jazz artists. For many years he has been tireless in the promotion of jazz through his activities as a sought-after teacher.
Ian Carr
has been on the cutting edge of the British jazz scene for nearly four decades. Self-trained as a musician, Carr played an important role in the development of jazz-rock fusion, playing with John McLaughlin in the early '60s, forming one of England's first electronic jazz-rock fusion groups, Nucleus, in 1969 and playing with the international band the United Jazz Rock Ensemble, since 1975. In 1982, Carr received a Calabria award in southern Italy for Outstanding Contribution in the Field of Jazz. Wire Magazine presented him a special award for services to British jazz in 1987. Carr has been equally influential as a music journalist and educator. The co-author of a jazz encyclopedia, The Essential Companion, Carr was also the author of Music Outside, an examination of contemporary British jazz published in 1973; Miles Davis: The Definitive Biography, published in 1982; and Keith Jarrett: The Man and His Music, published in 1991. Since 1992, Carr has written a monthly column for BBC Music Magazine. Carr is an associate professor at the Guildhall School of Music and Dance and lectures weekly on jazz history. Born in Scotland and raised in England, Carr thought little of a career in music until he was nearly 30 years old. Educated at King's College in Newcastle-Upon-Tyne, where he studied English literature, Carr served in the Army in the late '50s. Shortly after his discharge, he formed a band, the EmCee Five, with his brother Mike and John McLaughlin. Carr remained with the band for two years, leaving to form the Rendell-Carr Group with saxophonist Don Rendell in 1962. During the seven years he worked with Rendell, Carr helped the band record five albums.
In September 1969, Carr helped form the groundbreaking fusion band Nucleus. The group attracted international acclaim when it took the top prize in a competition at the Montreaux International Festival in 1970. Carr continued to play with Nucleus until 1989 when he left to tour the United Kingdom and Europe as a soloist on electric trumpet with an Anglo-American orchestra led by American composer George Russell. Old Heartland was recorded with the Kreisler String Orchestra in 1988 while Sounds and Sweet Airs was recorded with organist John Taylor in 1992. (Source: AMG)

This album contains no booklet.