---
Album info
Album including Album cover
I`m sorry!
Dear HIGHRESAUDIO Visitor,
due to territorial constraints and also different releases dates in each country you currently can`t purchase this album. We are updating our release dates twice a week. So, please feel free to check from time-to-time, if the album is available for your country.
We suggest, that you bookmark the album and use our Short List function.
Thank you for your understanding and patience.
Yours sincerely, HIGHRESAUDIO
1

What'll I Do

05:42

2

Only The Lonely

02:48

3

I'll Be Around

03:24

4

All The Way

05:49

5

I Think Of You

05:03

6

Where Or When

03:13

7

Without A Song

05:12

8

I Could Have Told You

04:54

9

Emily

05:52

10

Last Night When We Were Young

03:22

11

Fly Me To The Moon

04:16

12

Last Dance / Dancing In The Dark

05:24

Total Runtime

54:59
Info for Dancing In The Dark (Remastered)

Tierney Sutton has "paid her dues". This is her fourth Telarc recording in the in the past four years. Do not be surprised if this is the one that pushes her over the boundary that will enable her to be regarded as one of the generation's next great jazz vocalists.
This album's release, scheduled for February 10th, 2004 and her wide-ranging subsequent tour is likely to be the needed impetus. As usual here she is backed by her trio consisting of Christian Jacob on the piano, Trey Henry, bass and Ray Brinker, drums. Collectively they are (with Tierney) known as the Tierney Sutton Quartet. For this recording a few of the tracks have a string section added. That addition definitely can affect a listener's perception. Does it add a feeling of a richer, fuller more impressive production or does it seem to lose a sense of intimacy?
The subtitling of "Inspired by the music of Frank Sinatra" could just have easily been stated as "Honoring the music of Frank Sinatra. Tierney has said that she grew up with Sinatra's image as a happy-go-lucky guy but she had been more fascinated by his darker side. This directly led to the choice of mainly ballads for this album. As we all know, Sinatra literally recorded many hundreds of songs over his long and distinguished career. In no way is this album a "Best Of" or "Greatest Hits" release. Tierney claimed that her choices to record were based on Sinatra's seeming commitment to those songs as demonstrated by his multiple recordings of the selection or because his version has been widely regarded as "the standard". The dozen choices include "Fly Me to the Moon", What'll I Do, Only the Lonely, I Think of You, Without a Song and Last Dance. Obviously this well-rounded collection is not just Sinatra's big hits. A quote from Tierney Sutton should explain her feelings. "Thanks to Frank Sinatra whose singing represents what great mystical art aspires to: both the light of reunion and the fire of separation -- what more could we have asked?"
Her usual accompanying trio provides almost flawless performances as would be expected. Tierney's performances seem quite excellent to me and what I would call "quite classy". Many things, including intangibles and perhaps a bit of luck have to come together before she is considered to be one of the new generation's great jazz singers. She's her own person. On this recording, Tierney makes no effort to imitate any other vocalist that comes to my mind - male or female. Listen to her rendition of All the Way or I'll Be Around as prime examples of her stylish uniqueness. When used to a song performed a certain way, then when heard done in a somewhat different manner, any variations are perceived as unusual. Unusual can easily become "just not quite right". Listen to the songs you are not very familiar with first as you enjoy and evaluate this new release. Listen to them a few times before evaluating the ones you are familiar with. Evaluated in that manner I found her performances to be quite excellent right down to and including her personal inflections and shadings. She is not an imitator.
"This isn't Sutton's tribute to Sinatra, although all the material here was recorded and made famous by him. Instead, it's her working through the nooks and crannies of his songbook, and bringing things out and putting her own particular polish on them. It could be something with strings, such as "What'll I Do?" or the intimacy of "I'll Be Around," which is as much a plea as a reassurance and resignation. Her version of "I Think of You," whose melody comes originally from Rachmaninov, is gloriously subtle, the emotion as softly drawn out as the syllables. "I Could Have Told You" offers comfort and a shoulder to cry on, a gentle embrace that's almost a whisper in Sutton's hands. The music here is at its best when the orchestra keeps away -- they simply become overkill, the too-sweet icing on an already-delicious cake. Perhaps her biggest test, though, comes at the end of the album, tackling "Fly Me to the Moon," followed by a medley of "Last Dance" and "Dancing in the Dark," taking on some of Sinatra's most famous pieces. While on the former Sutton doesn't always dig to the absolute heart of the song, the arrangement is stunning, with some outstanding piano from Christian Jacob that frees the songs from its '50s shackles. Sutton does sparkle on the other piece, however, especially "Dancing in the Dark," where the orchestral contributions are kept to a minimum, and the tracks swings in a minimalist fashion, Sutton's voice imbued with the magic of the night. The album might have been inspired by Sinatra, but in her own way, Sutton has gone beyond her inspiration." (Chris Nickson, AMG)
Tierney Sutton, vocals
Christian Jacob, piano
Trey Henry, bass
Ray Brinker, drums
Christian Jacob, piano (on tracks 1, 4, 5, 7, 12)
Orchestra:
Gina Kronstadt, violin
Kathleen Robertson, violin
Sharon Jackson, violin
Susan Chatman, violin
Erica Walczak, violin
Kirstin Fife, violin
Eddie Stein, violin
Barbra Porter, violin
Cameron Patrick, violin
Juliann French, violin
Margot Aldcroft, viola
Harry Shirinian, viola
Jorge Moraga, viola
Lynn Grants, viola
Larry Corbett, cello
Armin Ksakajikian, cello
Audy Stein, cello
Brad Kintscher, horn
Gary Foster, flute
Vladimir Polimatidi, concert master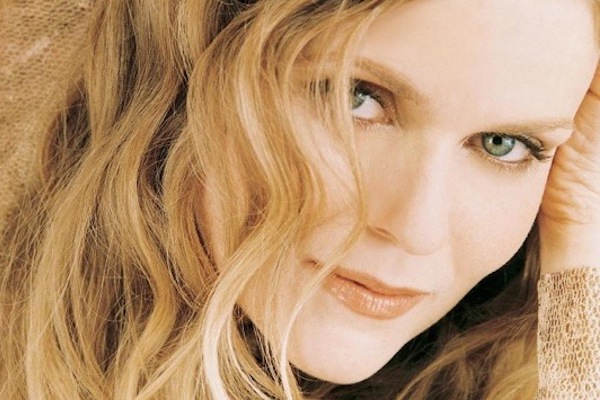 Tierney Sutton
(born June 28, 1963) is an American jazz singer who has received 8 Grammy Award nominations. Sutton was born in Omaha, Nebraska but grew up in Milwaukee, WI. She holds a BA from Wesleyan University in Middletown, Connecticut and also attended the Berklee College Of Music in Boston, Massachusetts. For over 20 years, she has fronted The Tierney Sutton Band featuring pianist Christian Jacob, bassists Trey Henry and Kevin Axt, and drummer Ray Brinker. The band is an incorporated unit and makes all musical and business decisions together. They tour throughout the world and have headlined at Carnegie Hall, The Hollywood Bowl, and Jazz at Lincoln Center. In 2012, Sutton embarked on a series of projects with collaborators outside of the Tierney Sutton band. Her 2013 release "After Blue" , a reimagining of the music of Joni Mitchell, featured flautist Hubert Laws, vocalist Al Jarreau, keyboardist Larry Goldings, cellist Mark Summer and drummer Peter Erskine. It earned Sutton her 5th consecutive Grammy nod for "Best Jazz Vocal Album". In 2016 Tierney and The Tierney Sutton Band composed and performed the score of Clint Eastwood's Box Office hit "Sully". The score features orchestrations and compositions by TSB pianist Christian Jacob as well as the end title song "Flying Home" with music by Eastwood and lyrics by Sutton and JB Eckl. For eleven years, Sutton taught in the Jazz Studies Department at the University of Southern California. In 2008, she became the Vocal Department Chair at Los Angeles Music Academy in Pasadena, California.

This album contains no booklet.