---
Album info
Album including Album cover Booklet (PDF)
César Franck (1822 - 1890): Prélude, Aria et Final, FWV 23:

1

Prélude, Aria et Final, FWV 23: I. Prélude

08:55

2

Prélude, Aria et Final, FWV 23: II. Aria

06:23

3

Prélude, Aria et Final, FWV 23: III. Final

07:10

Thierry Escaich (1965):

4

Les litanies de l'ombre

11:17

César Franck (1822 - 1890): Prélude, Choral et Fugue, FWV 21:

5

Prélude, Choral et Fugue, FWV 21: I. Prélude

05:28

6

Prélude, Choral et Fugue, FWV 21: II. Choral

07:24

7

Prélude, Choral et Fugue, FWV 21: III. Fugue

07:29

Johann Sebastian Bach (1685 - 1750):

8

Chaconne d'après la partita en Ré Mineur pour violon seul, BWV 1004

16:24

Camille Saint-Saëns (1835 - 1921): 6 Études, Op. 111:

9

VI. Toccata d'après le cinquième concerto

04:29

Total Runtime

01:14:59
Info for Marie-Ange Nguci: En Miroir

Both César Franck, Camille Saint-Saëns and Thierry Escaich represent emblematic personalities of a tradition of composers, united by the common characteristic of having counted among the greatest organists and improvisers of their time. This recording is designed to introduce a multiple portrait of their piano works, highlighting the strong imprint that this vocation marked on their pianistic creation. In this wake, the voice of J.-S. Bach will be represented here through F. Busoni, an eclectic personality, who devoted himself to the study of the specificities required for the piano transcription of the Cantor's organ works. From end to end, this program transcends the aesthetics and weaves links between past and present, so much does this literature hold a particular universe.
Marie-Ange Nguci, piano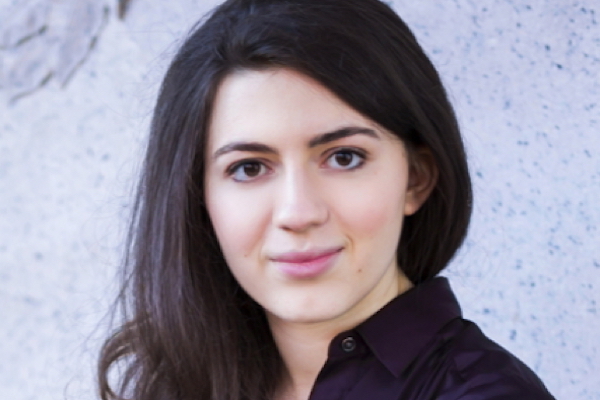 Marie-Ange Nguci
At the age of 18, Franco-Albanian pianist Marie-Ange Nguci has already positioned herself as an outstanding young artist of her generation. Her technical prowess and exceptional musicality has allowed her to develop a unique and poetic tonal quality, dazzling audiences in performance.
Nguci's talents were recognized early on when she was awarded First Prize at the Lagny-sur Marne International Piano Competition in 2011. After winning the 2015 Dorothy MacKenzie Competition at the International Keyboard Institute and Festival in New York (IKIF), Nguci has been invited to give a solo recital at the French Consulate of New York in 2016.
Performing frequently as a soloist, chamber musician and with orchestra, Nguci enjoys engaging with contemporary classical music and worked directly with composers Thierry Escaich, Graziane Finzi, Alain Abbott, and Fabien Touchard. Most recently, she recorded works by French composers César Franck, Camille Saint-Saëns, Gabriel Fauré, Olivier Messaien and Thierry Escaich, examining different historical periods and aesthetics.
Nguci received her Bachelor's degree in Musicology at the Paris-Sorbonne University and her Master's degree in Piano performance with highest honors at the Paris Conservatoire. She is currently enrolled in the Paris Conservatoire's prestigious Artist Diploma course in piano while studying ondes Martenot and completing additional Master's degrees in musical analysis and music pedagogy. She is a recipient of major grants from the Meyer and L'Or du Rhin Foundations and the French-American Piano Society in New York.

Booklet for Marie-Ange Nguci: En Miroir