---
Album info
Album including Album cover
1

Unbind

05:02

2

A Different Kind of Love

03:38

3

Upend

01:30

4

Plans We Make

03:32

5

Glimmer

01:40

6

Come Recover

05:13

7

Sever

05:56

8

The Hour

05:30

9

Embrace

01:44

10

Vacancy

05:49

Total Runtime

39:34
Info for Tomorrows III

Arriving at a time of considerable uncertainty in the world, Son Lux's multi-album 'Tomorrows' is ambitious in scope and intent. Born of an active, intentional approach to shaping sound, the music reminds us of the necessity of questioning assumptions, and of sitting with the tension.
Ryan Lott, Rafiq Bhatia, and Ian Chang train their sights on volatile principles: imbalance, disruption, collision, redefinition. But for all of its instability, Tomorrows' exploration of breaking points and sustained frictional places is ultimately in service of something rewarding and necessary: the act of questioning, challenging, tearing down and actively rebuilding one's own identity.
At the start of "A Different Kind of Love" bell tolls of a detuned guitar clang out a warning. "I need a different kind of love," Lott sings, but what reads as a self-serving plea turns on its head as the song becomes a confession. "What loudly righteous prayers from this coward's lungs," Lott sings in the final moments, in what feels like an admission of the many things that are said to be done in love that hurt others.
From the start, Son Lux has operated as something akin to a sonic test kitchen. The band strives to question deeply held assumptions about how music is made and re-construct it from a molecular level. What began as a solo project for founder Ryan Lott expanded in 2014, thanks to a kinship with Ian Chang and Rafiq Bhatia too strong to ignore. The trio strengthened their chemistry and honed their collective intuition while creating, releasing, and touring five recordings, including LPs (2015) and >em class="">Brighter Wounds (2018). A carefully cultivated musical language rooted in curiosity and balancing opposites largely eschews genre and structural conventions.
And yet, the band remains audibly indebted to iconoclastic artists in soul, hip-hop, and experimental improvisation who themselves carved new paths forward. Distilling these varied influences, Son Lux searches for equilibrium of raw emotional intimacy and meticulous electronic constructions.
'Tomorrows' will culminate in physical editions of all three volumes to be released together in 2021 - details to follow in the new year.
Son Lux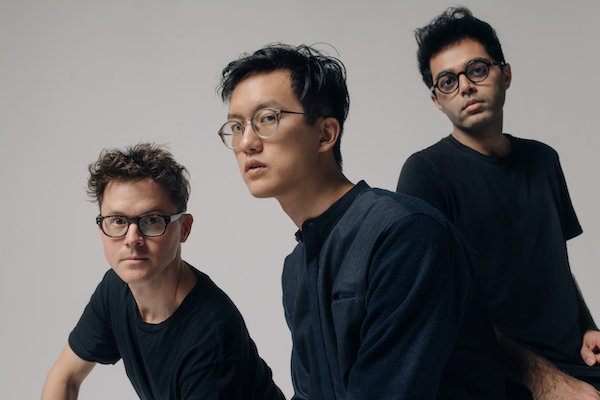 Son Lux
is the grand genre-less dream of Los Angeles composer Ryan Lott brought to roiling, vivid life with the help of two New Yorkers, guitarist Rafiq Bhatia and drummer Ian Chang. Each is a writer, producer, and performer with omnivorous taste and a penchant for wild improvisation. The band's unique mix of electronic pop, unusual soul, and outright experimentalism feels more inviting than ever on their fifth album, Brighter Wounds. The songs therein leave behind Son Lux's typical universal themes for deeply personal fare. While making Brighter Wounds, Lott became a father and lost a family member to cancer. Days of "firsts" were also days of "lasts," and the normal fears that accompany parenthood were compounded by a frightening new reality—Lott's son arrived shortly after Election Day. These songs draw on all of that: warm reflections of a fading past, pain wrenched from a still-present loss, and a mix of anxiety and hope for a future that is promised to no one.
Lott's voice, which ranges from ghostly whisper to choir-backed shout, is propelled by the trio's most dynamic score yet. Listen to the anthemic roar of "Dream State." A yell blasts through a cloud of woodwinds and synths, and the song is off on a ceaseless tear. "Though we are wide awake, this is a dream state," Lott sings through the technicolor haze, clinging to opposites. A momentary breath breaks the stride, before the journey resumes with even greater abandon. A choir enters the fray at the song's apex with a refrain heard elsewhere on the album: "out of the dark day, into the brighter night!"
Launched in 2008 with At War with Walls & Mazes, Son Lux was initially a solo affair, the result of a classically trained mind straining against the constraints of the medium, turning piles of self-sourced note snippets into pulsing digital orchestras. Across 2011's We Are Rising and 2013's Lanterns, Lott maintained his auteur approach while broadening the Son Lux sound and guest list to unexpected results. The latter album drew the attention of several major pop acts, many of whom incorporated moments from the album into their own works (Halsey, Fashawn, Fall Out Boy). Lorde even teamed up on a redux of "Easy," and covered the song on tour. Bhatia and Chang, first brought on to help tour Lanterns, soon found a home in Son Lux, cowriting 2015's Bones with Lott while on the road. Brighter Wounds initially took shape remotely—the distance allowing Lott to sift through life-altering events—and was finalized together. The result is Son Lux's most dynamic, most frayed and yet prettiest and most inviting work to date.
In recent years, Son Lux has collaborated with a broad and eclectic collection of artists, including Moses Sumney, Nico Muhly, Chris Thile, Beyoncé producer Boots, and Woodkid. Lott's extracurriculars have included Sisyphus (with Sufjan Stevens and Serengeti), scoring three feature films and composing music for the Grammy-winning record Filament by Eighth Blackbird. Meanwhile, Bhatia and Chang have each continued to develop their solo projects while working with the likes of Matthew Dear, Vijay Iyer, Sam Dew, and Landlady.

This album contains no booklet.