---
Album info
Album including Album cover Booklet (PDF)
Ludwig van Beethoven (1770 - 1827): Sonata No. 9 in A, Op. 47 "Kreutzer":

1

I. Adagio sostenuto

13:43

2

II. Andante con variazioni

16:07

3

III. Finale. Presto

08:30

Violin Sonata No. 6 in A, Op. 30/1:

4

I. Allegro

07:54

5

II. Adagio molto espressivo

07:22

6

III. Allegretto con variazioni

08:16

Total Runtime

01:01:52
Info for Beethoven: Violin Sonata No. 6 & Violin Sonata No. 9 "Kreutzer"

The duo of old friends James Ehnes and Andrew Armstrong has established itself as one of the most exciting of our times. Their albums of violin sonatas by Franck & Strauss, and Debussy, Elgar & Respighi have been praised by critics worldwide. For this new album they turn to Beethoven and two A major sonatas with very different moods. The 9th, 'Kreutzer' sonata, is a huge work, heroic and turbulent in character – a kind of concerto for violin and piano. It is middle period Beethoven at its most dramatic. By contrast, the 6th sonata is a serene, introspective work of great beauty which has tended to be overlooked by its more outward-looking siblings. The intimacy of this sonata – especially the slow movement - is all the more surprising as the original finale was removed by the composer, to become the finale of the 'Kreutzer'. Beethoven wrote the gentle variations to conclude the 6th sonata.
"The Kreutzer Sonata is placed first, so we hear James Ehnes and Andrew Armstrong presenting their credentials in turn – Ehnes with effortless accurate double stops, and Armstrong picking up the thread, matching phrasing and mood. The turbulent main section of the movement is absolutely precise in ensemble, and projects a wide gamut of tone and dynamics." (BBC Music Magazine)
"[Kreutzer Sonata] Ehnes and Armstrong are ravishing in the slow movement, truly molto espressivo, while a sense of playfulness is apparent in every bar of the finale, setting the seal on a compelling addition to Ehnes and Armstrong's remarkable discography" (Gramophone Magazine)
"An auspicious Beethoven recital by two outstanding musicians whose consonance and synergy are once again to the fore. While their Kreutzer sonata could perhaps do with a little more cut-and-thrust, these are nonetheless impeccably executed performances. Can more Beethoven now be expected from Ehnes and Armstrong? I look forward with interest" (MusicWeb International)
James Ehnes, violin
Andrew Armstrong, piano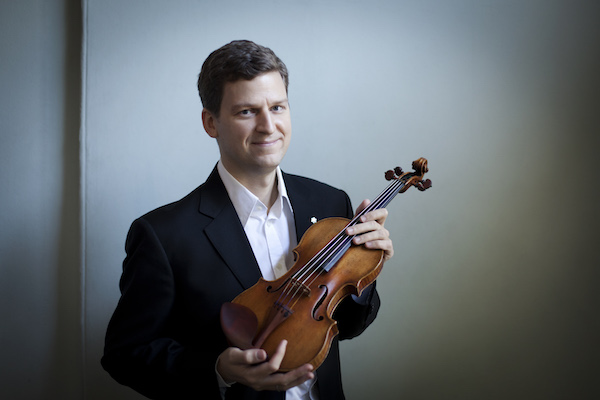 James Ehnes
Known for his virtuosity and probing musicianship, violinist James Ehnes has performed in over 35 countries on five continents, appearing regularly in the world's great concert halls and with many of the most celebrated orchestras and conductors.
In the 2016-2017 season James continues his cross-Canada recital tour in celebration of his 40th birthday, performs the complete Bach Sonatas and Partitas in Stresa, Montreux, Los Angeles, Liverpool, and Amsterdam, and joins the City of Birmingham Symphony Orchestra on a tour of China and the National Arts Centre Orchestra on a tour of Eastern Canada. James also holds artist residencies with the Melbourne Symphony, Royal Liverpool Philharmonic, l'Orchestre symphonique de Montréal, and the Scotia Festival, undertakes two tours with the Ehnes Quartet, and leads the winter and summer festivals of the Seattle Chamber Music Society, where he is the Artistic Director.
New and upcoming CD releases include a disc of works by Debussy, Respighi, Elgar and Sibelius as well as a recording of Beethoven's Sonatas Nos. 6 and 9 with pianist Andrew Armstrong, the Sibelius and Schubert "Death and the Maiden" quartets with the Ehnes Quartet, and the complete works of Beethoven for violin and orchestra with the Royal Liverpool Philharmonic and Andrew Manze. His recordings have been honored with many international awards and prizes, including a GRAMMY, a Gramophone, and 11 JUNO Awards.
James Ehnes was born in 1976 in Brandon, Manitoba, Canada. He began violin studies at the age of four, and at age nine became a protégé of the noted Canadian violinist Francis Chaplin. He studied with Sally Thomas at the Meadowmount School of Music and from 1993 to 1997 at The Juilliard School, winning the Peter Mennin Prize for Outstanding Achievement and Leadership in Music upon his graduation. Mr. Ehnes first gained national recognition in 1987 as winner of the Grand Prize in Strings at the Canadian Music Competition. The following year he won the First Prize in Strings at the Canadian Music Festival, the youngest musician ever to do so. At age 13, he made his major orchestral solo debut with the Orchestre symphonique de Montréal.
He has won numerous awards and prizes, including the first-ever Ivan Galamian Memorial Award, the Canada Council for the Arts' Virginia Parker Prize, and a 2005 Avery Fisher Career Grant. James has received honorary doctorates from Brandon University and the University of British Columbia and in 2007 he became the youngest person ever elected as a Fellow to the Royal Society of Canada. In 2010 the Governor General of Canada appointed James a Member of the Order of Canada, and in 2013 he was named an Honorary Member of the Royal Academy of Music, limited to a select group of 300 living distinguished musicians.
James Ehnes plays the "Marsick" Stradivarius of 1715. He currently lives in Bradenton, Florida with his family.

Booklet for Beethoven: Violin Sonata No. 6 & Violin Sonata No. 9 "Kreutzer"