---
Album info
Album including Album cover Booklet (PDF)
Anders Jormin (1957- ):

1

Radius solaris (44.1 kHz)

05:51

2

Alleluyah

06:09

3

Doubt Thou the Stars

03:10

4

Three Shades

01:21

5

Hemingway Intonations

04:28

6

Ama

04:59

7

Shakespearean Sketches

04:25

8

Veri floris

03:58

9

Gestures

02:50

10

Congregations of Plovers

06:40

11

Komorebi Requiem

10:20

12

Ascension of Larks

03:02

13

M.

03:53

14

Ave Maria

04:23

Total Runtime

01:05:29
Info for Jormin: Ama

When Anders Jormin first worked with the Polish choir Camerata Silesia and its conductor Anna Szostak, he started to dream of making a recording with them. That dream comes to fruition in this release from Footprint: an album of Jormin's choral music born of his unique combination of free improvisation with rigorous technique.
The impulses behind Jormin's music include medieval chant, folk music, the music of the European baroque and of course the jazz which made him famous. His choral music comes into being courtesy of texts by Shakespeare, Hemingway, Virgil, Seneca and by himself, as well as from ancient hymnody from protestant and Catholic traditions and voices from as far apart as Norway and Japan.
Across the 13 individual a cappella works recorded at the stunning Polish Radio concert hall in Katowice are existing works, pieces newly written for the choir and others re-imagined for the occasion – among them a re-casting of the final movement to Jormin's Symphony of the Birds, with which the singers and composer first met, and the title track Ama, adapted from a work of the same name originally created for Trio Medieval. Jormin's music is direct yet reflective, disciplined yet emotional. He brings his rich, deeply involving voice to full vocal fruition on this new album, and one of Europe's finest choirs sing it with the passion and excellence it deserves and commands.
This production was recorded in the lovely new concert hall in Katowice, in the south of Poland. It was an acoustic recording, i.e. with the choir and the double bass on the stage at the same time, making music together. The main recording channel was a Decca tree, but I also used quite a few supporting microphones, microphones for the bass, soloists and microphones for surround and height (3D-sound).
This recording was made at 96 kHz using Pyramix Native with two Ravenna interfaces, Horus and Hapi, and their excellent microphone pre-amps and high resolution ADs. Microphones were Neumann, DPA and Microtech Gefell.
Anders Jormin, double bass
Camerata Silesia
Anna Szostak, conductor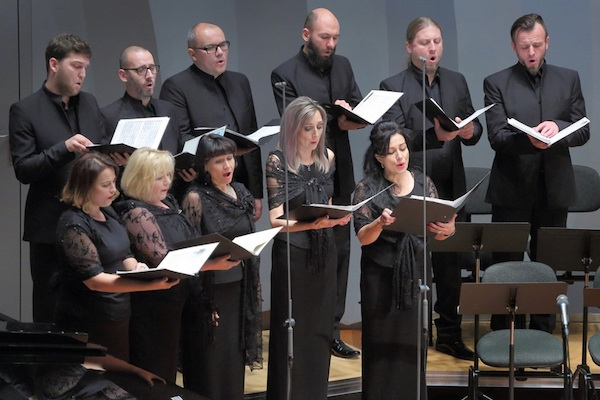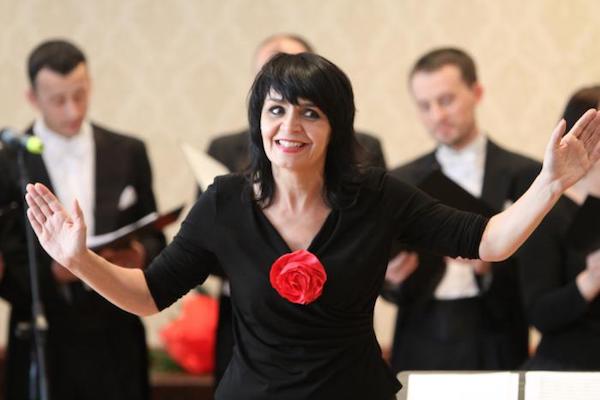 The Camerata Silesia Ensemble
of Singers of the City of Katowice was founded in 1990 by Anna Szostak, who remains its director and conductor to this day. The Camerata Silesia was formed with the idea of creating a group of singers who could perform both as a chamber ensemble, and as a support for soloists in vocal, instrumental, and a cappella choral works.
Every year since 1993, the ensemble has been invited to take part in the International Warsaw Autumn Contemporary Music Festival. Its performances of Anton Webern's Cantatas with the Sinfonia Varsovia (conducted by Ed Spanjaard in 1995), and Trois Poèmes d'Henri Michaux by Witold Lutosławski with the Polish National Radio Symphony Orchestra, conducted by Anna Szostak and Antoni Wit (1996), have been heralded as the greatest events to grace this festival. Also belonging to the choir's most important achievements is the performance of Sinfoni by Luciano Berio at the inaugural concert of Warsaw Autumn in 1999.
Camerata Silesia appeared, by special invitation thanks to Mitteldeutscher Rundfunk, in the renowned Gewandhaus (Leipzig), Opéra Comique (Paris), gave concerts in Taipei (Taiwan), Mei Lanfang Theatre (Peking Beijing), La Monnaie (Bruxelles), Concertgebouw (Amsterdam), and also appeared during a cycle of concerts at the EXPO 2000 in Hannover.
The year 2006 was rich in performances of music by Krzysztof Penderecki. St Luke Passion has resounded in Münster, Cracow, and Hamburg. In 2012, the Ensemble (enlarged to 40 singers) took part in performances and recordings to a DVD edition of the stage version of Passio Domini Nostri Jesu Christi Secundum Matthaeum by Krzysztof Penderecki, stage direction by Grzegorz Jarzyna.
The choir's discography embraces a dozen CDs, which have repeatedly been awarded. The latest CD releases have attracted special attention, namely the Requiem by Andrzej Siewiński, and Krzysztof Baculewski's contemporary music (both nominated for the Fryderyk music award).
Anna Szostak
conductor and teacher, she is one of the leading choral conductors in Poland. Szostak lectures at the Institute of Music, Department of Conducting and Music Didactics at the Cieszyn branch of the University of Silesia.
She promotes the idea of performing early music on period instruments and has initiated and organised many concerts of Renaissance and Baroque vocal-instrumental music. For the purposes of her concert and recording work, she has created several early music ensembles, featuring leading musicians from Poland and abroad. She has conducted such ensembles as Il Tempo and Concerto Polacco and appeared in concert with Emma Kirkby and Barbara Schlick. She has co-conducted Witold Lutosławski's Trois Poèmes d'Henri Michaux with Antoni Wit at the Warsaw Autumn, with Roland Hayrabédian at the Cathedral of Saint Louis des Invalides in Paris, and with Peter Hirsch at the Palais des Beaux Arts in Brussels.
She has recorded for the Polish Radio and taken part in television programmes. She has also made numerous recordings for disc, many of which have received nominations or awards. Her CD featuring a selection of Paweł Szymański's works (CD Accord), including Lux aeterna for voices and instruments (1984), won Studio's Disc of the Year 1997 and the Fryderyk 1997 in the contemporary music category, a disc of Karol Szymanowski's Kurpian Songs (Musicon) won a Fryderyk 1997 in the solo music category. Many composers have written and dedicated their works to Szostak, Camerata Silesia, and its soloists.
Anna Szostak is a recipient of many prestigious prizes and awards for performing and phonographic achievements. She was honoured with the Prize of the Minister of Culture and the Arts for special achievements in the field of music, and in 2004 with the Jerzy Kurczewski Prize for outstanding achievements in choral music.
Anders Jormin
born 1957 in Jönköping, Sweden, has been hailed by Down Beat as "a treasure – everything a bassist should be". The son of a jazz musician, he graduated from Gothenburg's Musikhögskolan with diplomas in double-bass and improvisation/pedagogy in 1979. He was influenced not just by his classical and jazz training, but also Sweden's folk tradition; he recalled to John Kelman: "I always had those three things going on in my head. I take all my inspirations and influences into some kind of melting pot inside my heart, and what comes out is, I hope, my personality."
By the mid-80s Jormin was firmly established on the Swedish scene. He arrived at ECM thanks to pianist Bobo Stenson, who showcased him in his trio and brought him into the groups of Charles Lloyd and Tomasz Stanko.. Albums under Jprmin'sown name for the label include Xieyi (meaning "to write"), which juxtaposes pieces for solo bass with compositions for brass ensemble; the song cycle In winds, in light, for a group whose personnel includes US pianist Marilyn Crispell and Swedish folksinger Lena Willemark; Ad Lucem, which includes settings of Latin verse composed by Jormin; and Trees of Light with Willemark and koto player Karin Nakagawa.
For almost 30 years Jormin has been a teacher of double bass and improvisation at Gothenburg's Musikhögskolan, where he has played a key role in building up a leading improvised music department. In 2003 he was given an honorary doctorate at Finland's Sibelius Academy. He is four-times winner of Sweden's annual award for the best jazz recording and is the first contemporary improviser ever to become a member of the Swedish Royal Academy of Music.

Booklet for Jormin: Ama