---
Album info
Label: RUBICON
Genre: Classical
Subgenre: Instrumental
Artist: Joo Yeon Sir
Composer: Heinrich Ignaz Biber (1644-1704), Niccolo Paganini (1782-1840), Fritz Kreisler (1875-1962), Joo Yeon Sir (1990), Roxanna Panufnik (1968), Fazil Say (1970), Laura Snowden (1989), Eugene Ysaye (1858-1931)
Album including Album cover Booklet (PDF)
Heinrich Ignaz Franz Biber (1644 - 1704): Passacaglia in G Minor, C. 105:

1

Biber: Passacaglia in G Minor, C. 105

08:31

Nicolo Paganini (1782 - 1840): Caprice No. 10 in G Minor, Op. 1:

2

Paganini: Caprice No. 10 in G Minor, Op. 1

03:49

Caprice No. 24 in A Minor, Op. 1:

3

Paganini: Caprice No. 24 in A Minor, Op. 1

06:01

Fritz Kreisler (1875 - 1962): Recitative and Scherzo-Caprice for Solo Violin, Op. 6:

4

Kreisler: Recitative and Scherzo-Caprice for Solo Violin, Op. 6

05:00

Joo Yeon Sir (b. 1990): My Dear Bessie:

5

Sir: My Dear Bessie

07:36

Roxanna Panufnik (b. 1968): Hora Bessarabia:

6

Panufnik: Hora Bessarabia

05:29

Fazil Say (b. 1970): Cleopatra:

7

Say: Cleopatra

06:09

Laura Snowden (1989): Through the Fog:

8

Snowden: Through the Fog

06:51

Eugène Ysaÿe (1858 - 1931): Sonata No. 6, Op. 27:

9

Ysaÿe: Sonata No. 6, Op. 27

08:25

Total Runtime

57:51
Info for Solitude

Joo Yeon Sir writes in the booklet to her solo recital album 'Solitude', 'Solitude was the state I found myself in along with the rest of the world in 2020. Concerts were suddenly postponed…and I was left eerily by myself at home'. When, the following year, and the time had come to record the album, Lockdown was reinstated.
Joo Yeon used this period of self-reflection, to discover new works for solo violin, and to re-visit solo repertoire that were firm favourites. Walking through strangely empty streets to the first recording session with her violin was a combination of raw emotion and loneliness, together with the familiarity of going to work with her instrument. The experience of playing became far more intense. Solitude is a musical time capsule of an artist alone, overcoming the shock of being deprived of audiences, the company of fellow musicians and finding solace in the music for solo violin.
Joo Yeon Sir, violin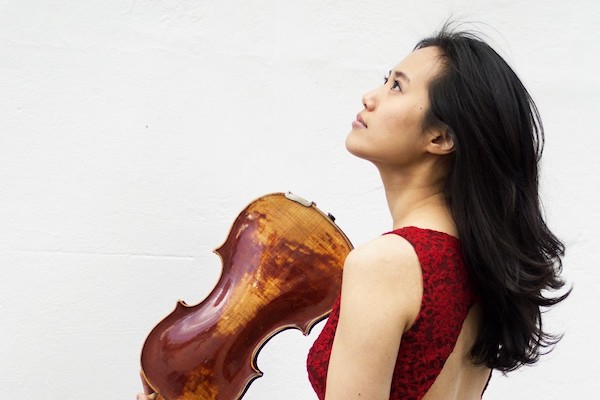 Joo Yeon Sir
Korean-born British violinist Joo Yeon Sir is winner of the prestigious The Arts Club Karl Jenkins Classical Music Award 2014 in association with Classic FM, and the Royal College of Music's President's Award presented by HRH The Prince of Wales. She has performed at Royal Albert Hall with Royal Philharmonic Orchestra at the invitation of Sir Karl Jenkins, Royal Festival Hall, Wigmore Hall, Manchester Bridgewater Hall, Fairfield Halls and at St James's Palace in the presence of HRH The Prince of Wales. She has appeared live on BBC Radio 3 In Tune and her performances broadcast on Classic FM.
In 2006, aged sixteen, Joo Yeon was overall Grand Prix Laureate at the Nedyalka Simeonova International Violin Competition in Bulgaria, where her gala performance was broadcast on Bulgarian National Radio. Since then, she has been recipient of Royal Philharmonic Society Emily Anderson Award, and selected for St. John's Smith Square Young Concert Artist Residency, Making Music Philip & Dorothy Green Award for Young Concert Artists and Tillett Trust Young Concert Artist Platform. Following studies with Dr. Felix Andrievsky at the Purcell School of Music and at the Royal College of Music as a Scholar where she twice won the Concerto Competition, Joo Yeon was also Constant & Kit Lambert Junior Fellow 2014-2015 awarded by The Worshipful Company of Musicians, presenting a sold-out concert series of the complete Beethoven's 10 Sonatas for Violin and Piano cycle with 10 different pianists as part of her Illustrator of Violin Repertoire project at RCM.
Also a composer, Joo Yeon won the coveted title of BBC/Guardian Young Composer of the Year in 2005; her works have been performed at Wigmore Hall, Cadogan Hall, Queen Elizabeth Hall, National Gallery, National Portrait Gallery, Cheltenham Town Hall and broadcast on BBC Radio 3. At present, she is working closely on transcriptions and compositions with her violin-guitar duo partner Laura Snowden for Snowden-Sir Duo, supported by International Guitar Foundation Young Artists Platform. The duo is also committed to bringing music to the wider community, performing at St. Wilfred's Care Home, Chelsea & Westminster Hospital and Guy's and St. Thomas' Hospital. The duo was invited to work with Royal College of Music Junior Department Composition Faculty, premiering the students' works in May 2015 and have recently collaborated with The Ionian Singers and Timothy Salter.
Future highlights include appearance on Deutsche Grammophon CD for Sir Karl Jenkins' Cantata Memoria – For the Children and the world premiere of the work at Wales Millennium Centre with Sinfonia Cymru, a return to Royal Festival Hall with London Concert Orchestra and a debut with London Mozart Players.
Joo Yeon plays on a Matteo Goffriller violin kindly provided by Georg von Opel.

Booklet for Solitude