---
Album info
Album including Album cover Booklet (PDF)
Etienne Nicolas Méhul (1763 - 1817): Symphony No. 1 G Minor:

1

Symphony No. 1 G Minor: I. Allegro

06:20

2

Symphony No. 1 G Minor: II. Andante

07:20

3

Symphony No. 1 G Minor: III. Menuetto

04:24

4

Symphony No. 1 G Minor: IV. Finale. Allegro agitato

05:51

Symphony No. 3 in E-Flat Major, Op.55 "Eroica":

5

Symphony No. 3 in E-Flat Major, Op.55 "Eroica": I. Allegro con brio

16:30

6

Symphony No. 3 in E-Flat Major, Op.55 "Eroica": II. Marcia funebre. Adagio assai

14:16

7

Symphony No. 3 in E-Flat Major, Op.55 "Eroica": III. Scherzo. Allegro vivace

05:43

8

Symphony No. 3 in E-Flat Major, Op.55 "Eroica": IV. Finale. Allegro molto

11:24

Total Runtime

01:11:48
Info for Méhul: Symphony No. 1 - Beethoven: Symphony No. 3 "Eroica"

A tale of two symphonies – one, Beethoven's Third Symphony "Eroica" changed the course of the symphony, and prepared the way for Brahms, Dvorák, Mahler & Bruckner's symphonies. But it is also very much a work of its time – revolutionary France, violent upheavals in Europe – and the symphony's amended dedication, "Eroica – to the memory of a great man" (initially it was dedicated to Napoleon), saw Beethoven capture the drama and political tensions of the time in an electrifying way. Méhul's edgy First Symphony from the very same period is another child of this revolutionary firmament. Maybe not genre defining, but a significant work in its own right, and Méhul strikes out in his own distinctive early romantic style.
For our first live recording on Rubicon Classics we thought carefully about which repertoire to choose from. When we look at music history and its impact on our time, it can be rather puzzling that our view of some of the most famous and influential composers seems to be rather monochromatic. We emphasize the influence of composers like Bach and Beethoven on theirs and later generations of musicians and tend to neglect the reciprocal influence all their contemporaries have had on them. In this sense it is striking to see the influence French Revolution composers like Grétry, Méhul, and Gossec exerted on Ludwig van Beethoven. More so, because they are widely forgotten whilst Beethoven – and Bach for that matter – remains a pillar of classical music reception. For a long time it has been my wish to juxtapose in concert and recording works by Méhul and Beethoven. The last movement of Méhul's First Symphony in G minor in particular, is a reminder of how embedded Beethoven was in a much wider field of musical activity than is nowadays perceived and what he achieved only a short time later with a very similar material, style, and attitude.
Soloists Europeens Luxembourg
Christoph König, conductor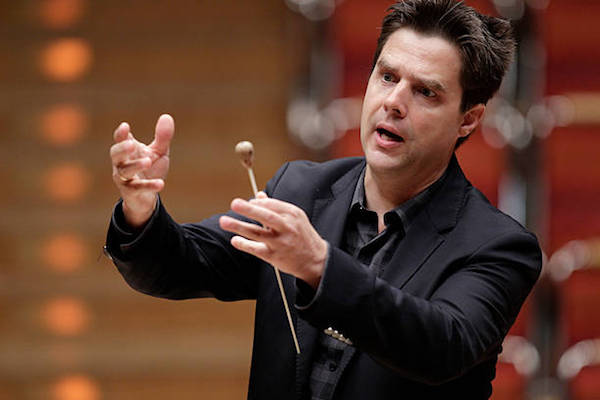 Christoph König
ist ein Dirigent von tiefer Musikalität und Intelligenz. Seinen Dirigierstil könnte man als energetisch und inspirierend bezeichnen; auffällig sind seine Ernsthaftigkeit in der musikalischen Zusammenarbeit, sein Interesse an abwechslungsreicher Programmgestaltung und sein Engagement für zeitgenössische Musik. Von 2009 bis Dezember 2014 war er Chefdirigent des Sinfonieorchesters Casa da Musica im spektakulären neuen Konzertsaal von Porto, seit 2010 in gleicher Funktion bei den Solistes Européens Luxemburg. Konzertreisen haben ihn mit dem Sinfonieorchester Casa da Musica nach Brasilien, nach Wien, Rotterdam, Antwerpen, Luxembourg und zum Musica Festival Straßburg und mit den Solistes Européens zum Schleswig-Holstein Musik-Festival und in die Philharmonie Köln geführt.
König ist als Gastdirigent gefragt. In der letzten Zeit dirigierte er die Sächsische Staatskapelle Dresden, das Orchestre de Paris, das Royal Philharmonic Orchestra London, das Nederlands Philharmonisch Orkest im Concertgebouw Amsterdam, das Beethoven Orchester Bonn, das Dänische National-Orchester, Norwegische Radio-Sinfonieorchester Oslo, New Zealand Symphony Orchestra, Radiosinfonieorchester RTVE in Madrid, Sinfonieorchester Barcelona, BBC Philharmonic Orchestra, Mozarteum Orchester Salzburg, Scottish Chamber Orchestra, Stuttgarter Philharmoniker, BBC National Orchestra of Wales und das BBC Scottish Symphony Orchestra, das er auf einer erfolgreichen Tournée nach China begleitete (2008).
Sein US-Debüt in New Jersey und Indianapolis führte zu Wiedereinladungen und Engagements mit den Los Angeles Philharmonic, Pittsburgh, Toronto, Vancouver, Houston, Colorado, Oregon und Baltimore Symphony Orchestras. Zukünftige Aufgaben umfassen unter anderem die Rückkehr zum Orchestre de Paris, Pittsburgh Symphony Orchestra, zum Royal Philharmonic Orchestra London, zum BBC Scottish Symphony und BBC National Orchestra of Wales, Baskischen Sinfonieorchester Euskadi, zur Deutschen Radio Phiharmonie Saarbrücken, zum Malaysia Philharmonic, zum Adelaide Symphony und Baltimore Symphony Orchestra.
Als Operndirigent hat er sich schnell einen Namen gemacht, nachdem er am Opernhaus Zürich für Franz Welser-Möst eingesprungen war und mit großem Erfolg die Premiere der Entführung aus dem Serail dirigierte. Bereits zuvor hatte er in Zürich debütiert und in der Folge viele Vorstellungen geleitet. Am Teatro Real in Madrid leitete er 2006 eine Produktion von Die Entführung aus dem Serail, dirigierte an der Staatsoper Stuttgart Don Giovanni und Die Zauberflöte an der Deutschen Oper.
Christoph Königs Schallplattenaufnahmen umfassen unter anderem Werke von Gösta Nystroem (BIS), Schönberg und Prokoffieff (Romeo & Julia), Saariaho und Sibelius (Sinfonie Nr. 2) mit dem Orquestra Sinfónica Casa da Música Porto (Ao Vivo), Melcer mit dem BBC Scottish Symphony Orchestra (Hyperion), Beethoven Sinfonien mit dem Malmö SymfoniOrkester (DB Productions) und Beethoven und Sibelius mit den Solistes Européens, Luxembourg (SEL Classics). Seine Aufnahme mit dem BBC Scottish Symphony Orchestra und Brahms' Erstem Klavierkonzert zierte das Front Cover des BBC Music Magazine September 2009.
Christoph König wuchs in Dresden auf und war Mitglied des Dresdner Kreuzchores. In der Folgezeit studierte er Orchesterdirigieren, Klavier und Gesang an der Musikhochschule seiner Heimatstadt. Erste Erfahrungen sammelte er als Solorepetitor an der Sächsischen Staatsoper, bei Meisterkursen mit Sergiu Celibidache und als Assistent von Sir Colin Davis und Riccardo Muti. Ab 2001 wirkte er als Erster Kapellmeister an der Oper Bonn. Christoph König ist Preisträger der Herbert von Karajan Stiftung.
Solistes Européens, Luxembourg
Founded in 1989, the Solistes Européens, Luxembourg consists of European musicians from the best European orchestras who have met regularly in Luxembourg for more than 25 years for recitals, concerts, recordings and regular tours around Europe. Each season in Luxembourg is held in the capital's magnificent Philharmonie.
They have accompanied the most renowned soloists and captivated both audiences and critics in major European musical centres. In May 2004, they performed at the UN in New York on the occasion of the EU enlargement. The orchestra has a vast repertoire and for the past four years, they have played a new work commissioned by the Ministry of Culture at each annual opening concert.
Eager to promote the future of music, the Solistes Européens, Luxembourg organise concerts for young talent, both from Luxembourg and abroad during each season. The orchestra, whose activities are supported by the Ministry of Culture and the City of Luxembourg, as well as by numerous corporate sponsors, is one of Luxembourg's main musical attractions.

Booklet for Méhul: Symphony No. 1 - Beethoven: Symphony No. 3 "Eroica"