---
Album info
Album including Album cover
1

Horseshoe (2022 Remaster)

04:03

2

Black Tambourine (2022 Remaster)

02:54

3

Love Over Desire (2022 Remaster)

05:07

4

King of Hollywood (2022 Remaster)

03:01

5

California (2022 Remaster)

04:18

6

Fall Apart (2022 Remaster)

03:36

7

Between True Love and Ruin (2022 Remaster)

04:45

8

Life of Doubt (2022 Remaster)

03:54

9

New Gods (2022 Remaster)

05:40

10

Heart Heart (2022 Remaster)

03:12

11

Not Alone (2022 Remaster)

03:32

12

Horseshoe (Demo) (2022 Remaster)

04:17

13

California (Demo) (2022 Remaster)

04:28

Total Runtime

52:47
Info for New Gods (2022 Remaster)

Fortuna Pop release the new album by Edinburgh based folk-rock troubadour Dan Willson who records as Withered Hand. 'New Gods' is his stunning second album, following his critically acclaimed debut 'Good News.' The long-awaited new album (produced by Tony Doogan - The Pastels, Mountain Goats, Belle and Sebastian etc) features guest appearances from the likes of Pam Berry, Eugene Kelly of The Vaselines and members of Belle and Sebastian and Frightened Rabbit. It's a remarkable effort, bursting with heartfelt songs that don't sacrifice melody and tunefulness for the often too-serious trappings of the singer-songwriter. There's a strong wit and sense of humour at work here, and a very unique voice. Calling it 'folk' or 'pop' really only tells part of the story - Withered Hand's music is beautiful, melodic, honest and beyond easy categorization.
"New Gods is a record whose amiably DIY musical quality is perfectly matched with a lyrical tone which is at once tuned to a laser-like precision and helped no end by a voice which sounds agonised but still hopeful at every turn" ***** The Scotsman
Withered Hand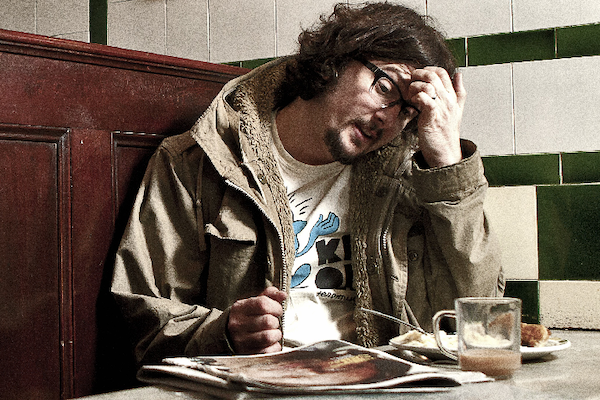 Dan Willson aka Withered Hand
Based in Edinburgh, Scottish indie folk-pop act Withered Hand is the solo project of singer/songwriter Dan Willson. A veteran of multiple bands in late-'90s and early-2000s Edinburgh music scene, Willson began his solo career after receiving an acoustic guitar from his wife as a 30th birthday gift. Migrating slowly from bandmate to solo artist, he began singing and writing his own loose, jangly songs, eventually releasing his debut EP, Religious Songs, under the moniker Withered Hand. Finding immediate success with the new format, Willson released a second EP in 2009 before teaming up with legendary American producer Kramer to make his first full-length album, Good News, in 2010. With his ragged tenor and often lo-fi, acoustic-based sound, Willson has come to represent a certain standard in the U.K. D.I.Y. scene and was a part of the Fife-based Fence Collective with acts like King Creosote and James Yorkston. Two more Withered Hand EPs appeared in 2012 before Willson returned to the studio to record his follow-up LP. His second full-length, New Gods, was released in early 2014 by Fortuna Pop and Slumberland. The record was produced by Tony Doogan (Mountain Goats, Belle and Sebastian) and features help from Black Tambourine's Pam Berry, Eugene Kelly of the Vaselines, and members of Belle and Sebastian and Frightened Rabbit.

This album contains no booklet.