---
Album info
Album including Album cover
I`m sorry!
Dear HIGHRESAUDIO Visitor,
due to territorial constraints and also different releases dates in each country you currently can`t purchase this album. We are updating our release dates twice a week. So, please feel free to check from time-to-time, if the album is available for your country.
We suggest, that you bookmark the album and use our Short List function.
Thank you for your understanding and patience.
Yours sincerely, HIGHRESAUDIO
1

Messin' With The Kid (WNCR Cleveland Radio Session / 1972)

05:23

2

Used To Be (WNCR Cleveland Radio Session / 1972)

05:46

3

Should've Learnt My Lesson (WNCR Cleveland Radio Session / 1972)

10:35

4

Laundromat (WNCR Cleveland Radio Session / 1972)

05:50

5

Pistol Slapper Blues (WNCR Cleveland Radio Session / 1972)

02:37

6

Bankers Blues (WNCR Cleveland Radio Session / 1972)

03:47

7

In Your Town (WNCR Cleveland Radio Session / 1972)

12:33

Total Runtime

46:31
Info for Cleveland Calling, Pt.2 (Remastered)

'Cleveland Calling PT. 2' is an unreleased radio session recovered from the depths of the Rory Gallagher archives. This recording features Rory and his band playing 7 songs live in an empty Cleveland Agora venue for WNCR Radio. This release follows the RSD 2020 release 'Cleveland Calling' (No.2 on the Billboard Blues chart) which was an acoustic session also recorded by WNCR during the same 1972 US tour.
"That Actionism got on my nerves ever more as time passed, and, thank God, that led me right to the piano; it, or rather its expressive possibilities, is now my main interest."
Rory Gallagher, guitar, vocals
Gerry McAvoy, bass
Rod De'Ath, drums
Lou Martin, keyboards
Digitally remastered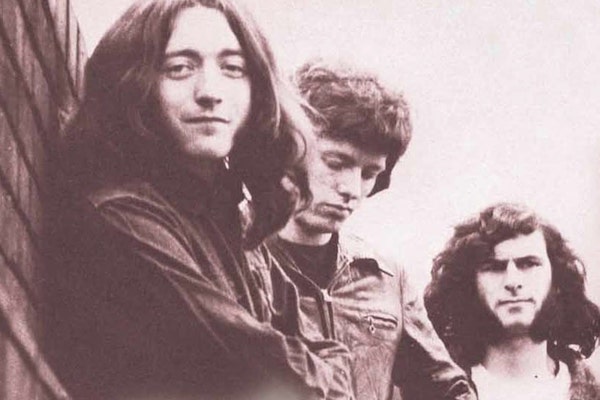 Rory Gallagher
After a career cut short by illness and a premature death, guitarist, singer, and songwriter Rory Gallagher left his mark in the blues and rock worlds. His hard-charging, intensely rhythmic playing style on his 1961 Stratocaster still casts a long shadow over rock & roll: Queen's Brian May imitated not only his playing but his gear early on; he credits Gallagher with the root of his sound. Eric Clapton said it was Gallagher who got him "back into the blues." Johnny Marr acknowledges a great debt as well: After learning how to play the guitarist's classic Deuce album track-for-track at 13, he revealed Gallagher's influence throughout his career. Marr also said that he received mentorship and advice on his conduct on-stage and off. Even U2's the Edge and Slash sing his praises and credit his influence. While Gallagher didn't tour the U.S. very often, he lived on the stages of Europe. But he was well-known on Yankee shores for his marathon-length, no-holds-barred live shows at clubs and theaters across North America. While never a major presence on radio in the United States, Gallagher nonetheless racked up a handful of semi-hit singles with "Laundromat," "I Walk on Hot Coals," "Shadow Play," and "Philby," as well as a slew of acclaimed albums from 1971's Deuce and the remarkable Irish Tour in 1974, through Calling Card in 1976 and Top Priority in 1979. Even after the hits, Gallagher continued to pump out high-quality albums including 1982's Jinx and 1990's Fresh Evidence. Even after his accidental death on an operating table in 1995, Gallagher continued to win over new fans and influence artists of many stripes, including the mystery writer Ian Rankin, who created a posthumous compilation called The Continental Op in 2013 comprised of the guitarist's many songs about spies and suspense. Gallagher was born in Ballyshannon, County Donegal, Irish Republic, on March 2, 1948. Shortly after his birth, his family moved to Cork City in the south, and at age nine he became fascinated with American blues and folk singers he heard on the radio. An avid record collector, he had a wide range of influences, including Leadbelly, Buddy Guy, Freddie King, Albert King, Muddy Waters, and John Lee Hooker. Gallagher would always try to mix some simple country blues songs into his recordings.
He began his recording career after moving to London, when he formed a trio called Taste. The group's self-titled debut album was released in 1969 in England and later picked up for U.S. distribution by Atco/Atlantic. Between 1969 and 1971, with producer Tony Colton behind the board, Gallagher recorded three albums with Taste before they split up. He began performing under his own name in 1971, releasing his 1970 debut, Rory Gallagher, for Polydor Records in the U.K. The album was picked up for U.S. distribution by Atlantic, and later that year he recorded Deuce, also released by Atlantic in the U.S.
His prolific output continued, as he followed up Deuce with Live in Europe (1972) and Blueprint and Tattoo, both in 1973. Irish Tour 1974, like Live in Europe, did a good job of capturing the excitement of his live shows on tape, and he followed that with Calling Card for Chrysalis in 1976, and Photo Finish and Jinx for the same label in 1978 and 1982. By this point, Gallagher had made several world tours, and he took a few years of rest from the road. He got back into recording and performing live again with the 1987 release (in the U.K.) of Defender. His last album, Fresh Evidence, was released in 1991 on the Capo/I.R.S. label. Capo was his own record and publishing company that he set up in the hopes of eventually exposing other great blues talents.
Some of Gallagher's best work on record wasn't under his own name; it's music he recorded with Muddy Waters on The London Sessions (Chess, 1972) and with Albert King on Live (RCA/Utopia, 1977). Gallagher made his last U.S. tours in 1985 and 1991, and admitted in interviews that he'd always been a guitarist who fed off the instant reaction and feedback a live audience can provide. In a 1991 interview, he said: "I try to sit down and write a Rory Gallagher song, which generally happens to be quite bluesy. I try to find different issues, different themes and different topics that haven't been covered before...I've done songs in all the different styles...train blues, drinking blues, economic blues. But I try to find a slightly different angle on all these things. The music can be very traditional, but you can sort of creep into the future with the lyrics."
Gallagher passed away from complications after a liver transplant on June 14, 1995, at age 47. In 2019, to mark what would have been Gallagher's 50th year of recording, his estate released the four-disc anthology Blues, featuring rare and unreleased recordings from the '70s to the '90s. (Richard Skelly, AMG)

This album contains no booklet.