---
Album info
Album including Album cover
1

Prayer

05:48

2

Shiva

12:40

3

Contemplation

07:48

4

Moving Air

09:29

5

Folk Song

07:29

6

Harlekin

06:59

Total Runtime

50:13
Info for A Night in Vienna

With their new formation, the three experienced artists, who are well established in Europe's jazz world, prove that the greatest quality in jazz is still the immediacy of the moment - without a net or a false bottom! Organic melodic and rhythmic structures, surprises and the willingness to follow the musical contribution of the other in every moment and to incorporate it into one's own shape - something like that does or doesn't work.
In this case, it is doing remarkably well! Perhaps because all three have tremendous improvisational and compositional experience; perhaps because all three describe themselves as "intuitive personalities"; perhaps because in this case the three participants showed great sympathy and empathy. (John Heitzmann)
"The music is based on the recording of a streaming concert that we gave as part of my three-day portrait at the Porgy & Bess Jazz & Music Club in Vienna at the beginning of January this year. It was a special and challenging situation due to the lockdown that was still in place at the time; and it was our first concert with this line-up! After the concert, all three of us felt that we had created something special, which was confirmed when we listened to the recordings.
On this evening, we quickly and intuitively engaged in a wide variety of musical moods and situations, developing a dynamic that sometimes goes far beyond that of a trio. In a way, one piece followed the other, with an internal musical logic and in the knowledge of what had been played so far, which is why the order on the CD remained the same.
As always, there is a history:
In 2020 I released my double CD "Möbius Strip". On one CD, the Viennese bassist Gina Schwarz over dubbed solo recordings that I had made a few years earlier with my good friend Joachim Kühn in Ibiza. During these recordings, I was fascinated by her tasteful intuition, sound and wealth of ideas. Then we started to rehearse a little, just to see where that could lead to.
Ramón López I also know through Joachim. For many years he played in his African trio together with gembri player and singer Majid Bekkas. In 2010 we met backstage at the Berlin Jazz Fest, where I performed with the JBBG and our "Urban Folktales" program. Since then we have been in contact and talked about a possible collaboration.
Then the invitation came for my portrait and one thing followed the other. Perhaps I should honestly say that I was never really interested in the trio format per se! Too many great saxophonists, starting with Sonny Rollins, have said theirs in this context. But what made me curious was playing with these two fantastic musicians. It was important to me that all possible combinations are audible. Ramón alone, Gina alone, the respective duo constellations and of course the trio. Too often in jazz history, the bass and drums were only companions for the solo explorations of the wind instrument soloist. In our constellation this is not the case, which results in very exciting and varied moments.
In addition, for the first time I wanted to use all the instruments in the saxophone family. Each of these instruments has its very own character, which allows me to enormously expand our spectrum of timbres and emotions. Ramón also has a very percussive and colorful way of playing, in which he also uses the Indian tabla. I myself also dealt very intensively with South Indian music in the 1990s; this shared gaming experience naturally connects. Sometimes we play on three different rhythmic levels simultaneously, which is quite complex and really very exciting!
I suppose that the three of us just share a similar intuitive approach and a lot of musical experience. We never know where we're going, but we listen to each other very well. This for me results in a very harmonious and organically developed music. A great pleasure and gift for the three of us!" (Heinrich von Kalnein)
Heinrich von Kalnein, saxophone
Gina Schwarz, double bass
Ramón López, drums
Recorded live on January 8, 2021 at the Jazz & Music Club Porgy & Bess, Vienna by Jakub Velikovský
Mixed and mastered by Stefano Amerio at Artesuono Studio
Produced by Heinrich von Kalnein & John Heitzmann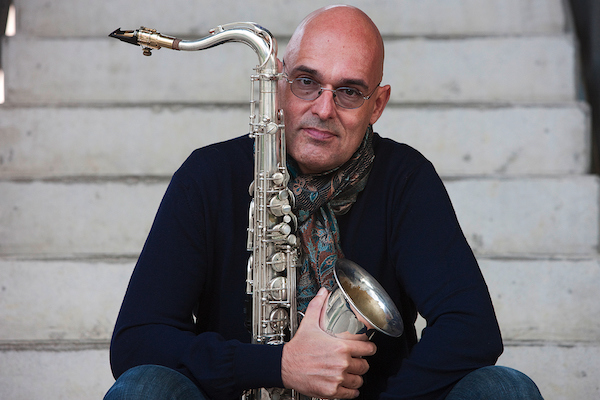 Heinrich von Kalnein
Born on July 4, 1960 saxophonist / flutist Heinrich von Kalnein is one of the most high-profile jazz artists of today's Austrian and German scene. After graduating with honors from the University of Music Graz, Austria in 1987 he continued his studies with David Liebman and Oliver Lake among others. He developed a very distinct musical profile by taking his melodic concept and jazz roots into the realm of worldbeat, free improv and electronic music.
After initially working with the avant-garde trio 'X-tra' together with keyboarder Uli Rennert and Swedish trumpeter Lars Lindvall (LP 'Electric Poems' Extraplatte 1989 and 'life traks' Plainisphare 1992) as well as the Austrian group 'The QuARTet' (CD 'Tell Me Your Story' 1992 Extraplatte and 'Tales of Tomorrow' 1994) in the 1990ies he toured extensively all over Europe with his own HvK Group (among others feat. French guitarist Nguyên Lê) as well as with the Indo-Jazz Worldmusic Project 'Free Winds' (feat. Shakti's Selvaganesh Vinayakram). With the latter group he also toured India and Sri Lanka.
With JBBG – JAZZ BIGBAND GRAZ, which he is (co-) leading since 2003, he performed a.o. with the vocal groups 'Take Six'' 'The New York Voices' as well as with singers Jon Hendricks, Dianne Shur and Kurt Elling. With their CD 'Joys & Desires' (2005) featuring the work of drummer John Hollenbeck and vocalist Theo Bleckmann they got critical acclaim worldwide, which led to performances at the 2006 IAJE–conference in New York as well as the Northsea Jazzfestival. With their 2008 production 'Electric Poetry & Lo-Fi Cookies' blending the worlds of electronic music and jazz they developed a sound of their very own performing all over Europe. Their CD 'Urban Folktales' (2012 ACT Music & Vison) featured Austrian hurdy-gurdy virtuoso Matthias Loibner as well as German saxophonist Johannes Enders. In 2016 they released their current production 'True Stories', which was nominated for the Preis der deutschen Schallplattenkritik.
In 2008 he founded his new trio KAHIBA featuring Swiss drummer / electronic musician Gregor Hilbe and Austrian accordionist / pianist Christian Bakanic. With this very unique band he released three highly acclaimed CD's ('Global Dialects' INTUITON MUSIC 2009, 'Orbital Spaces' (NATANGO MUSIC 2012) and 'The Sixth Sense' (NATANGO MUSIC 2014).
In 2014 he started working in a duo with US-based composer / pianist and GRAMMY-winner Michael Abene. In 2015 they released their debut CD 'Dreamliner' (NATANGO MUSIC).
Additionally he worked as a musical producer and bandmember with the Vienna Art Orchestra performing worldwide. Currently he is living in Graz and holds a position as a professor for saxophone at the Jazz institute of the University of Music Graz KUG.
Performances also with Iain Ballamy, Django Bates, Carla Bley, Bob Brookmeyer, Jay Clayton, Wayne Darling, Gil Evans, Heiner Goebbels, Jerry Granelli, Doug Hammond, the Peter Herbolzheimer Bigband, Peter Herborn, Marc Johnson, Sheila Jordan, Nguyên Lê, Rene Lussier, Charlie Mariano, Bob Mintzer, Phil Minton, Glen Moore, Wolfgang & Christian Muthspiel, Simon Nabatov, Ed Neumeister, Marc Ribot, Paquito d'Rivera, Steve Swallow, Dave Taylor and the Austrian National Public Radio symphony (ORF Radiosymphonieorchester) among others.

This album contains no booklet.