---
Original Motion Picture Soundtrack and Music Inspired by "Schattenkind" Dirk Maassen
Album info
Album including Album cover Booklet (PDF)
I`m sorry!
Dear HIGHRESAUDIO Visitor,
due to territorial constraints and also different releases dates in each country you currently can`t purchase this album. We are updating our release dates twice a week. So, please feel free to check from time-to-time, if the album is available for your country.
We suggest, that you bookmark the album and use our Short List function.
Thank you for your understanding and patience.
Yours sincerely, HIGHRESAUDIO
Dirk Maassen (b. 1970):

1

Into the Light (Ins Licht)

04:27

2

Muse

03:52

3

Freedom (Freiheit)

03:20

4

Iller

03:46

5

Memories (Erinnerungen)

03:58

6

Muse Variation

03:44

7

Shadow Child (Schattenkind)

04:17

Franz Schubert (1797 - 1828): Andantino Variation (arr. from Piano Sonata in A Major, D. 959 by Dirk Maassen):

8

Schubert Andantino Variation (arr. from Piano Sonata in A Major, D. 959 by Dirk Maassen)

02:01

Dirk Maassen:

9

Sichtlichmensch

03:16

10

Sunny

03:21

11

Onze

05:09

Total Runtime

41:11
Info for Original Motion Picture Soundtrack and Music Inspired by "Schattenkind"

The soundtrack to the documentary film "Schattenkind" is Dirk Maassen's first film music album and already a mammoth project. For this, the composer and pianist accompanied the film crew around director Jo Müller for two years and transformed scenic impressions into emotional musical moods. With his reduced piano melodies, which he sometimes arranges with subtle string passages, Dirk Maassen sensitively creates a tonal contrast to the poignant images from the 90-minute documentary film.
"Schattenkinder" follows the exceptional photographer Andreas Reiner at his work and shows his frugal life on a dilapidated farm. Reiner, who comes from Swabia, looks where others look away and creates sometimes provocative photographic borderline experiences by photographing the faces of the bereaved or the hands of the dead. In the film "Schattenkinder" (Shadow Children), the viewers are also close to Reiner's nerve-racking work and can see how the extreme series of images are created. He shows the emotions in front of and behind the camera, unfiltered, whether Reiner is photographing multiple murderers or women who have to cope with the trauma of a miscarriage. Dirk Maassen also becomes a part of Reiner's work, and in the film you can see how he becomes Reiner's photo subject on the grand piano in a dystopian-looking patch of forest full of dead trees, surrounded by naked people.
For Dirk Maassen, the production of the film over the long period of two years was a special experience, not least because as an actor in this key scene he was able to immerse himself deeply in the events and the world of Reiner. He was particularly inspired by the stories of the many people he met during the production. This personal contact also changed his perspective on life. Seemingly contradictory sensations such as strength and vulnerability, liveliness.
Dirk Maassen, piano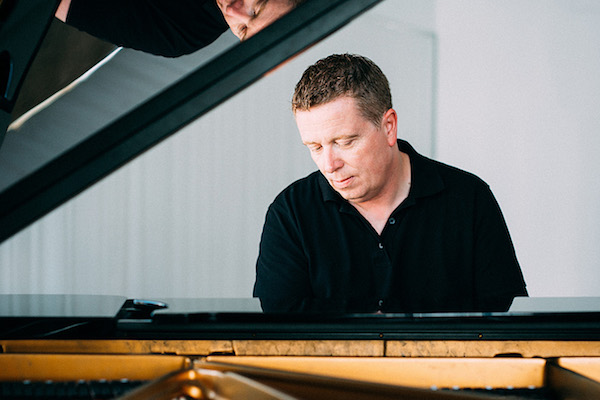 Dirk Maassen
Mit 10 Jahren begann Dirk Maassen (* 28. Februar 1970 in Würselen bei Aachen) Klavier zu spie-en und sich eine weite Spannbreite musikalischer Stile anzueignen. In den 1980er Jahren, die gemeinhin für den zunehmenden Gebrauch digitaler Aufnahmetechniken unter Zuhilfenahme von Synthesizern für Synthpop und andere elektronische Genres gelten, nimmt die Popularität an nicht-traditionellen Instrumenten stark zu. In dieser Zeit spielte Dirk in vielen Bands und Projekten und begann, Genres miteinander zu verbinden und mit unterschiedlichsten Stilen zu experimentieren. In den 1990er Jahren tourte Dirk mit seiner Band IN CONTACT und veröffentlichte zwei CDs mit INCONTACT und seinem Nebenprojekt UNKNOWN VISION. Mit dem Morgengrauen der Milleniumsnacht verschwand er für eine Weile aus der öffentlichen Musikwelt und kehrte schließlich 2011 als Solopianist zurück in die Öffentlichkeit. Das Solo-Piano war fortan für ihn die direkteste Möglichkeit, seine Ideen und Gefühle in etwas zu materialisieren, dass seine Welt mit der seines Publikums verbindet und mitschwingen lässt. Die beiden Welten verbanden und schwangen sich derart aufeinander ein, dass die schnell wach-sende Fangemeinde sein Leben auf den Kopf stellte. Mit einer riesigen Anzahl von Followern auf spotify, soundcloud und youtube ist Dirk mittlerweile zu einem der am meisten gestreamten Piano Komponisten der Welt geworden. Seine Werke haben weltweit Millionen von Hörern tief berührt, ob als reines Hörerlebnis oder als Filmmusik in mehreren Filmprojekten - unter ihnen der beim Can-nes Film Festival 2015 vorgestellte und mehrfach ausgezeichnete Film.

Booklet for Original Motion Picture Soundtrack and Music Inspired by "Schattenkind"