---
Album info
Album including Album cover
1

Big Schlepp

04:05

2

Country Shit

02:44

3

King of the Tumbas

03:25

4

Papa Joy

07:10

5

Toys

02:49

6

Hongkong Woman

06:06

7

Times out of Mind

05:11

8

Inside Crime

03:55

9

Greasy Spoon Blues

06:04

Total Runtime

41:29
Info for Album
The Dave Pike "Album "from 1971 is one of the albums vibist extraordinaire Dave Pike recorded while on a stint in Germany in the late 60s/early 70s on the excellent jazz label MPS.
At this time Dave Pike was working with a group of Germans, featuring Volker Kriegel on guitar, J.A. Rettenbacher on bass, and Peter Baumeister on drums.
That is gladly not the case on this set of vibrant, funky tunes, mostly penned by the Set's guitarist Volker Kriegel. That Album is more jazz-oriented than the earlier MPS recordings - most of this album *is* straight jazz but don't let that stop you from checking this disc out - there are quite a few moments that send this beyond that basic stamp of simplicity.
Dave Pike, vibraphone, percussion
Volker Kriegel, guitar, percussion
J. A. Rettenbacher, double bass, electric bass, percussion
Peter Baumeister, drums, percussion
Recorded 16th March 1971 at MPS Studio, Villingen, Germany
Engineered by H. G. Brunner-Schwer
Produced by H. G. Brunner-Schwer, Willi Fruth
Digitally remastered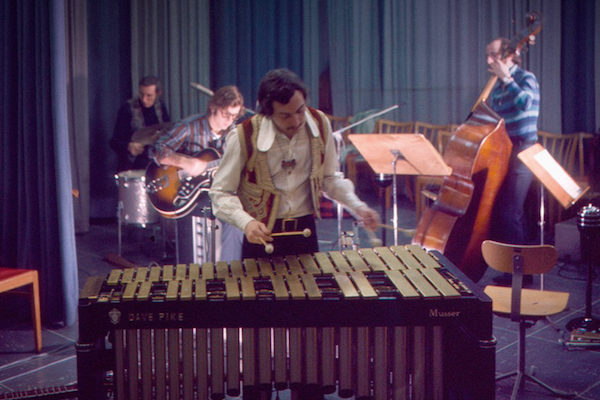 David Samuel Pike
(born March 23, 1938 in Detroit, Michigan) is a jazz vibraphone and marimba player. He appears on many Herbie Mann albums as well as those by Bill Evans, Nick Brignola, Paul Bley and Kenny Clarke. He has also recorded extensively as leader, including a number of albums on MPS Records.
He learned drums at the age of eight and is self-taught on vibes. Pike made his recording debut with the Paul Bley Quartet in 1958. He began putting an amplifier on his vibes when working with flautist Herbie Mann in the early 1960s. By the late 1960s, Pike's music became more exploratory, contributing a unique voice and new contexts that pushed the envelope in times remembered for their exploratory nature. Doors of Perception, released in 1970 for the Atlantic Records subsidiary Vortex Records and produced by former boss Herbie Mann, explored ballads, modal territory, musique concrète, with free and lyrical improvisation, and included musicians like alto saxophonist Lee Konitz, bassist Chuck Israels and pianist Don Friedman.
Pike's move to Europe and tenure at MPS Records records produced some of the most original jazz of the period. With the collaboration of Volker Kriegel (guitar), J. A. Rettenbacher (acoustic and electric bass), and Peter Baumeister (drums), he formed the Dave Pike Set. The group recorded six records from 1969-1972 that ran the gamut from funky grooves to free, textural territory. The group, though short-lived, created a unique identity and textural palette. Kriegel's compositional and instrumental (playing acoustic, classical, and electric guitar as well as sitar) contributions to the group helped set the Dave Pike Set's sound apart, organically incorporating influences from jazz, soul jazz, psychedelia, avant-garde music, and World music.

This album contains no booklet.