---
Album info
Album including Album cover
1

Baubles, Bangles and Beads

03:08

2

Aqua De Beber

04:07

3

Meditation / Quiet Nights of Quiet Stars (Medley)

03:59

4

Dindo

03:53

5

I Concentrate on You / Wave (Medley)

05:32

6

Antonio's Song

05:04

7

Two Kites

04:33

8

She's so Sensitive

04:19

9

Bonita

04:52

10

If You Never Come to Me / Change Partners (Medley)

05:50

11

Canto Casual

06:02

Total Runtime

51:19
Info for Sinatra and Jobim @ 50

Two of John Pizzarelli's greatest influences, Frank Sinatra and the bossa nova composer Antonio Carlos Jobim, joined forces in 1967 to present a softer, sultrier side of Sinatra on the heels of 'That's Life' and 'Strangers in the Night.' Half a century later, John Pizzarelli is celebrating that unique gathering with his July 28, 2017 Concord Jazz release Sinatra & Jobim @ 50.
"Guitarist/vocalist John Pizzarelli's 2017 effort, Sinatra & Jobim at 50, is an urbanely delivered, Brazilian-inflected production inspired by the landmark 1967 album Francis Albert Sinatra & Antônio Carlos Jobim. A classic meeting between Sinatra (the swinging crooner) and Jobim (the poetic singer/songwriter), the album was an unexpected delight for fans. Similarly, although he's played many of these tunes throughout his career, it hasn't been since 2004's João Gilberto tribute Bossa Nova that he's focused so completely on the distinctive, harmonically and rhythmically nuanced Brazilian tradition. As with Sinatra and Jobim's original album, here we get emotive renditions of both classic Brazilian songs and bossa nova-tinged standards. Also included are several newly penned songs that fit nicely into the overall concept. Primarily, we get Pizzarelli on his own and backed by his adept ensemble featuring percussionist Duduka da Fonseca, pianist Helio Alves, bassist Mike Karn, and longtime associate saxophonist Harry Allen. Adding to the warm atmosphere are backing vocals from Pizzarelli's wife, singer Jessica Molaskey, and others. Together they settle into earthy, utterly intoxicating renditions of such classic Jobim standards as "Agua de Beber" and "Dindi." Also helping to set this intimate mood is singer/pianist Daniel Jobim, grandson of Antonio Carlos Jobim, and a respected performer in his own right. Blessed with a dusky whisper of a voice, Jobim is the perfect foil for Pizzarelli's nasal, bright croon -- a combination that works particularly well on the album's few medleys: "Meditation/Quiet Nights of Quiet Stars," "I Concentrate on You/Wave," and "If You Never Come to Me/Partners." Also compelling is his charming take on his father's lesser-known composition "Two Kites." Elsewhere, Pizzarelli offers a sprightly rendition of "Baubles, Bangles and Beads," sinks into the '60s-tinged original "She's So Sensitive," and delivers a breezy take on singer Michael Franks' own Jobim-themed composition "Antonio's Song." Ultimately, Sinatra & Jobim at 50 works as both an homage to two of Pizzarelli's biggest influences and a revealing showcase for his ever deepening musical palette." (Matt Collar, AMG)
John Pizzarelli, guitars, vocals, background vocals
Daniel Jobim, piano, vocals
Harry Allen, tenor saxophone
Hélio Alves, piano
Duduka da Fonseca, drums, percussion
Mike Karn, double bass
Jessica Molaskey, background vocals
Madeleine Pizzarelli, background vocals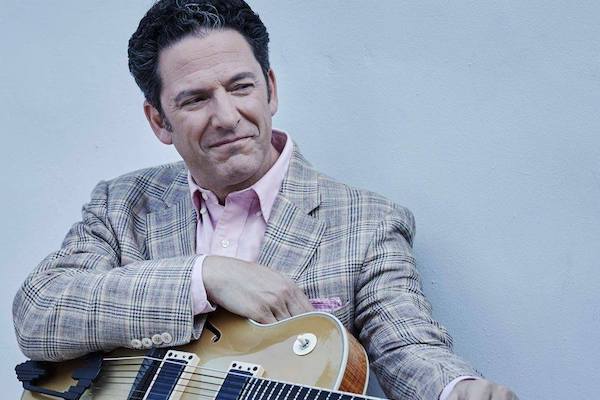 John Pizzarelli
has cultivated a winning international career by singing classic standards and late-night ballads, and by playing sublime and inventive guitar. Using greats like Nat "King" Cole and Frank Sinatra and the songs of writers like Sammy Cahn and Jimmy Van Heusen as touchstones, Pizzarelli is among the prime revivalists of the great American songbook, bringing to his work the cool jazz flavor of his brilliant guitar playing.
Born on April 6, 1960, in Paterson, New Jersey, Pizzarelli has been playing guitar since age six, following in the tradition of his father, guitar legend Bucky Pizzarelli. Hanging out with his father, John was exposed to all the great jazz music of the era, from Erroll Garner and Les Paul to Django Reinhardt. He began playing with his father at age 20, then went out on his own. Since 1992, the John Pizzarelli Trio has toured extensively. In 1993, they were honored to open for Frank Sinatra's international tour and then joined in the celebration for his 80th birthday at Carnegie Hall.
John Pizzarelli's voice has continued to develop with time, displaying both charm and humor. He has recorded as a bandleader for RCA, Chesky, Stash and Novus, and in 1997 appeared in the Broadway musical Dream, a revue of Johnny Mercer songs. Along the way, Pizzarelli has earned rave reviews. "The John Pizzarelli Trio has never been tighter, and Pizzarelli himself has never been looser," the Village Voice said of a recent New York show. "We can say we're as lucky to listen to (Pizzarelli) as Nat Cole fans were in the years before he became a legend." Pizzarelli was also named "Jazz Vocalist of the Year" by Swing Journal in their Readers Poll.

This album contains no booklet.