---
Album info
Album including Album cover
I`m sorry!
Dear HIGHRESAUDIO Visitor,
due to territorial constraints and also different releases dates in each country you currently can`t purchase this album. We are updating our release dates twice a week. So, please feel free to check from time-to-time, if the album is available for your country.
We suggest, that you bookmark the album and use our Short List function.
Thank you for your understanding and patience.
Yours sincerely, HIGHRESAUDIO
1

Intro

01:51

2

Wir sind hier

03:28

3

Baby bleib hier

03:08

4

Du lügst

03:45

5

Lily Girl (ZMX)

03:02

6

Interlude, Pt. 2

00:41

7

Komm (ZMX)

04:41

8

Süchtig

03:27

9

Sextape (ZMX)

03:17

10

Interlude, Pt. 3

01:06

11

In diesem Moment

02:00

12

Du bist da

03:31

13

Dunkle Liebe

03:20

14

Rockstar

03:11

15

Outro

01:26

16

Komm

04:42

17

Du bist da (ZMX)

03:29

Total Runtime

50:05
Info for SYSPHS

Auf seinem neuen Album widmet er sich dem Thema Liebe in all ihren Varianten. Damit bewegt sich Somuncu weg von den Rap-Alben »Dafür kommt man in den Knast« (2011) und»Wir Beide« (2013): "SYSPHS ist das Ergebnis einer musikalischen Weiterentwicklung für ein breites Publikum. Musik kann imagefördernd sein und einfache Schubladen bedienen, aber eben auch vielschichtig das zum Ausdruck bringen, was man ist.". Dafür hat sich Somuncu unterschiedlicher Genres bedient. Die insgesamt 17 Titel bewegen sich stilistisch zwischen Soul-Balladen, tanzbarem Pop, Trap und Rock, allesamt selbst geschrieben und eingespielt.
Serdar Somuncu wurde 1968 in Istanbul geboren und ist deutscher Musiker, Autor, Kabarettist und Regisseur. Er studierte Musik, Schauspiel und Regie. Am 25. November 2011 veröffentlichte Somuncu beim Label Groove Attack sein erstes Musikalbum mit dem Titel »Dafür kommt man in den Knast«. Das Album ist in Zusammenarbeit mit dem Kölner Produzenten und Musiker André Fuchs entstanden, der in einem Song unter seinem Künstlernamen Onkel Zwieback als Gastrapper zu hören ist. Sämtliche Instrumente der 18 Songs des Albums wurden von Somuncu eingespielt. Als Duo Zwieback & T veröffentlichten Somuncu und Fuchs am 19. September 2013 das Rap-Album Wir beide. Somuncu rappt hier neben Fuchs unter dem Pseudonym T beziehungsweise Scheiß T in Anlehnung an den US-amerikanischen Rapper Ice-T. Sein drittes Album »SYSPHS« erscheint am 09. August 2019 beim Label Arising Empire.
Auch hier hat Somuncu sämtliche Instrumente selbst eingespielt. Auf »SYSPHS« befinden sich sowohl Soul-Balladen und tanzbare Pop-Songs als auch Trap- und Rock-Nummern. Vier der insgesamt 17 Titel sind Remixe von André Fuchs. Außerdem veröffentlichte Somuncu bis heute drei DVDs (Gold- Status für Der Hassprediger – Hardcore Live!), zahlreiche Bücher, Hörbücher und -spiele und inszenierte mehr als 100 Theaterstücke. Er ist regelmäßiger Gast in Sendungen wie Hart aber fair, Anne Will und als Kommentator in der heute-show sowie im heute-journal zu sehen.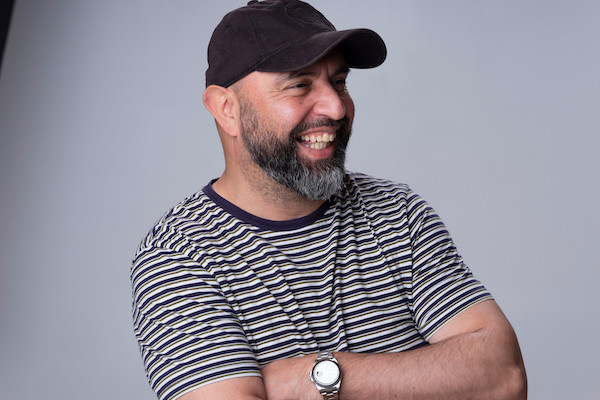 Serdar Somuncu
Kabarettist, Autor, Musiker, Regisseur, Schauspieler und Politiker. Ein Mann mit vielen Facetten, der am 03. Juni 1968 in Istanbul das Licht der Welt erblickte. Somuncu studierte Musik, Schauspiel und Regie. Er inszenierte mehr als 100 Theaterstücke und stand für diverse Schauspielhäuser (darunter Bochum, Bremen, Münster, Oberhausen und Mailand) auf der Bühne. Neben seiner Bühnentätigkeit spielte er in unterschiedlichen Fernsehserien mit (beispielsweise in der Lindenstraße, Dr. Psycho sowie im Tatort).
Mit einer szenischen Lesung ausgewählter Textstellen aus Hitlers Buch MEIN KAMPF gelang ihm 1996 sein Durchbruch.
Somuncu moderierte von 2005 bis 2007 seine eigene Bühnentalkshow unter dem Titel SCHÖNER REDEN. Anschließend startete er 2018 auf Youtube seine Internet-Show HATENIGHT. Während die ersten 50 Folgen verbreitet wurden, sperrte das Videoportal aus inhaltlichen Gründen seinen Kanal ohne Vorwarnung, worauf HATENIGHT über Sevenload zu sehen war. Im Rahmen der Late-Night-Show NEOPARADISE war Somuncu bis zu deren Einstellung Anfang 2013 in der Rubrik "Aufzeichnungen aus dem Kellerloch" zu sehen.
Zusätzlich ist er regelmäßiger Gast in Sendungen wie Hart, aber fair, Anne Will und seit 2014 als Ensemblemitglied bei der ZDF-Satiresendung HEUTE-SHOW zu sehen.
Seine eigene TV-Sendung SO! MUNCU! auf n-tv startete er 2015 und wird seitdem jeden letzten Dienstag im Monat ausgestrahlt. Auch seine zweistündige Radiosendung DIE BLAUE STUNDE bei Radio Eins feiert seit September 2016 Erfolge und läuft jeden Sonntag um 16 Uhr.
Als Kanzlerkandidat für Partei DIE PARTEI trat Somuncu zur Bundestagswahl im Jahr 2017 an. Im Wahlkreis Berlin-Friedrichshain - Kreuzberg - Prenzlauer Berg Ost bewarb er sich um ein Direktmandat und erzielte dort 7,2 % der Erststimmen.
Musikalisch veröffentlichte Somuncu 2011 beim Label Groove Attack sein erstes Musikalbum DAFÜR KOMMT MAN IN DEN KNAST, in denen er selbst sämtliche Instrumente der insgesamt 18 Songs einspielte. Nur 2 Jahre später erschien das Rap-Album WIR BEIDE, bei dem Somuncu mit DJ und Produzent Andre Fuchs gemeinsam als Duo ,Zwieback & T' in Erscheinung tritt. Mit SEXY REVOLUTION & THE POLITICS gelang ihm hingegen 2017 eine Mischung aus Comedy, politischem Kabarett und Konzert.
Im August 2019 erscheint sein neues Studiumalbum SYSPHS.
Im Frühjahr 2020 feiert Somuncu mit seiner neuen Tour ,,GröHaZ - Der größte Hassias aller Zeiten" sein 33-jähriges Bühnenjubiläum.

This album contains no booklet.