---
Album info
Album including Album cover Booklet (PDF)
I`m sorry!
Dear HIGHRESAUDIO Visitor,
due to territorial constraints and also different releases dates in each country you currently can`t purchase this album. We are updating our release dates twice a week. So, please feel free to check from time-to-time, if the album is available for your country.
We suggest, that you bookmark the album and use our Short List function.
Thank you for your understanding and patience.
Yours sincerely, HIGHRESAUDIO
1

Glimmer Of Hope

08:33

2

Vashkar

05:56

3

Cadenza

09:12

4

Fading Sorrow

06:01

5

Arco

04:00

6

Stray Cat Walk

02:32

7

L'amour Fou

08:52

8

A Glimpse

02:10

9

Vashkar

04:38

10

On The Other Side

05:01

11

Old Hat

05:35

Total Runtime

01:02:30
Info for Arctic Riff

The first-time creative teaming of Poland's Marcin Wasilewski Trio and US tenorist Joe Lovano brings forth special music of concentrated, deep feeling, in which lyricism and strength seem ideally balanced. The alliance plays tunes by Wasilewski and by Lovano, as well as Carla Bley's classic "Vashkar," plus collective improvisations with strong input from all four players. Produced by Manfred Eicher, Arctic Riff was recorded at Studios La Buissonne in the south of France in August 2019.
The album opens with Wasilewski's rubato ballad "Glimmer of Hope" which, the composer explains, is "based mainly on one motive moving through some tonalities. I was very curious to hear how it would sound with Joe's tone." The piano gently prepares for the saxophone's entry, and Lovano's very first phrase – underpinned by Michal Miskiewicz's soulful brushwork – establishes the sensitive atmosphere of intense listening that characterizes the session.
Carla Bley's "Vashkar" follows, a tune interpreted in many different ways over the last half-century. Wasilewski, who first heard it on the album Footloose by the Paul Bley Trio with Steve Swallow and Pete LaRoca, finds new possibilities inside the world that Carla Bley's theme opens up: "I really like Carla's compositions, and I wanted to play 'Vashkar''s beautiful melody with Joe." Lovano bears down authoritatively on that melody before the Polish trio unravel some of its implications. The tenorist had performed Carla Bley's music as a member of her band in 1983 and, in 1986, with Charlie Haden's Liberation Music Orchestra, but the present recording marks a first encounter as player with "Vashkar."
"Cadenza" is the first, and at nine minutes the longest, of the collective pieces shaped in the moment on Arctic Riff. "On each of our recordings we've tried to explore musical areas that we haven't documented before. There was no preconceived plan at all for the improvised pieces, but just as we were concluding a musical statement together on 'Cadenza,' I had the feeling that it might be good to take it a little further. In that second, I heard Manfred saying through the headphones, 'Marcin, please continue.' That was a special moment, and helped to make the whole thing, spontaneously, a better piece of art."
Wasilewski's elegant ballad "Fading Sorrow" finds ways to keep the music fresh inside the song format. Slawomir Kurkiewicz's bass feature here, soloing against Wasilewski's subtle chording and discreet drums, is a highlight. Kurkiewicz is also to the fore in the free piece "Arco" which, as its title implies, takes off from his bowed bass entry. "Free improvisation is a very rewarding experience based on mutual trust and openness," says Kurkiewicz. "As a working trio we've played freely many times and It was so touching to see Joe jumping right in there with such directness and clarity. It is great to hear his voice in such a context." Lovano's strengths as a player include his enthusiastic capacity to embrace all the things that jazz has been, including its traditional, modern and experimental expressions.
Lovano's sly, jaunty tenor sets up "Stray Cat Walk," soon joined on its nocturnal prowl by Kurkiewicz's bass and Miskiewicz's drums. Miskiewicz: "The beauty of Joe's melodies and his amazing rhythmical flow encourage you as a musician to be more creative and spontaneous."
"L'amour fou" is a piece Wasilewski wrote to showcase Lovano's skills in a fast tempo context; the working title was "Crazy for Lovo." The tune's author has a bright sparkling solo here, too, after which Lovano takes flight, buoyed by the spirited rhythm section, and Miskiewicz also has a brief, adroit solo.
"A Glimpse" is a kaleidoscopic free miniature of shifting focus, highly alert throughout. Miskiewicz: "From my point of view it's necessary to be deeply concentrated on each single note, and to predict somehow what may happen in the next second, few seconds or sometimes imagine the whole sequence."
A second version of "Vashkar" grants more of the solo space to Lovano. Lovano: "'Vashkar' is a beautiful, expressive piece of music. Each of the two versions has its own feeling, structure and exploration. I'm glad Manfred decided to include both takes. Carla's music is inspired and inspiring – and I would say the same for the music we created on Arctic Riff."
Lovano wrote "On the Other Side" for the session, "as a contrast to Marcin's compositions." It's a swinging free flowing piece with a specific sequence of events to be followed: "The drums set up the theme which is a question-and-answer exchange between the tenor and drums and the piano trio. A piano and drums duo follows, then adding bass into a trio moment without piano. Piano then re-enters, leading to the final theme with embellishments. The outcome was just what I was hoping for. "
And, finally, there is Wasilewski's "Old Hat," a moving ballad in classic jazz style, with tender solos from both Wasilewski and Lovano, its title referencing both the nostalgic flair of the piece and Joe's penchant for vintage headgear.
"Wasilewski's group has not yet built up the U.S. following of some recent acoustic piano trios such as those of Brad Mehldau, Bobo Stenson or the late Esbjorn Svensson. It may be attributed to MWT's intangible qualities. Their harmonic palette is generally unassuming, the expressive and rhythmic freedom, a seamlessly executed fit. Lovano's tenor adds breadth without forcing the trio into dramatic alterations; they remain enthusiasts of combined groove, lyricism, and vitality. Arctic Riff is powerful in its subtle way." (AllAboutJazz)
Marcin Wasilewski, piano
Slawomir Kurkiewicz, bass
Michal Miskiewicz, drums
Joe Lovano, tenor saxophone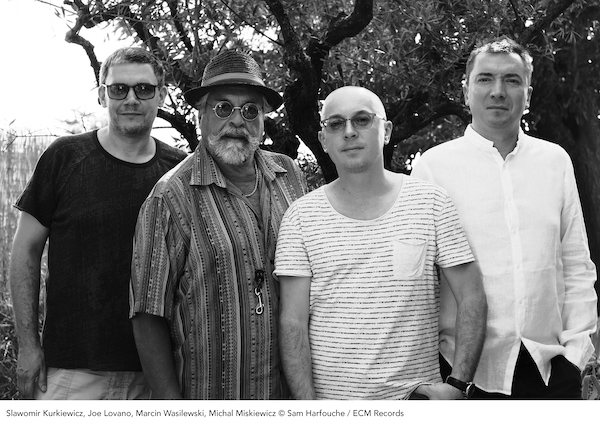 The Wasilewski Trio
The trio's members have been playing together since high school days in Koszalin, Poland; the present line-up was established in 1993. Marcin Wasilewski, Slawomir Kurkiewicz and Michal Miskiewicz first recorded for ECM as members of Tomasz Stanko's quartet on the album Soul of Things in 2001, soon followed by Suspended Night and Lontano. Previous ECM albums in trio format are Trio (2004), January (2007), Faithful(2011), and Live (recorded 2016, released in 2018). For Spark of Life (2014), the trio was joined by Swedish saxophonist Joakim Milder. Wasilewski, Kurkiewicz and Miskiewicz also appear on Norwegian guitarist Jacob Young's album Forever Young (2013).
Joe Lovano made his ECM debut in 1981 with Paul Motian's Psalm. Further recordings with the Motian/Lovano/Frisell are It Should have Happened A Long Time Ago, I Have The Room Above Her, and Time And Time Again. Lovano has also recorded for ECM with John Abercrombie (Open Land, Within A Song), Marc Johnson (Shades of Jade, Swept Away), and Steve Kuhn (Mostly Coltrane). 2019 saw the release of two critically-acclaimed recordings with Lovano – Trio Tapestry, introducing Joe's trio with Marilyn Crispell and Carmen Castaldi, and Roma, a live album with Enrico Rava, Giovanni Guidi, Dezron Douglas and Gerald Cleaver.
As an autonomous force, the trio's biography begins in 1990, when Wasilewski and Kurkiewicz as 15-year old students at the Koszalin High School of Music began playing jazz together. Their first trio was formed the following year. In 1993 drummer Miskiewicz joined them, and the group's line-up has been stable ever since. As the Simple Acoustic Trio they won awards in their homeland and issued five albums on local labels. Their first international release, for ECM, entitled just "Trio" was recorded in 2004 and released the following year, immediately winning the Quarterly Prize of the German Record Critics. In the US, too, critics were taking notice. "Their years together have resulted in an ensemble with an utterly symbiotic creative flow," wrote Don Heckman in the Los Angeles Times.
The release of "January" - recorded in New York with producer Manfred Eicher early in 2007 - also signals a change of name. Henceforth the group is, simply, the MarcinWasilewski Trio. The group continues to be run as a collective of equals, but its members have come to accept the convention that piano trios are traditionally identified by their pianists. Besides, Marcin is the band's principal songwriter: he contributes four pieces to the present disc, including the title track and the beautiful opener, "The First Touch". Wasilewski also, at the urging of the producer, addresses pieces written by Gary Peacock and by Carla Bley - pieces identified with two major pianists, respectively Keith Jarrett and Paul Bley. Wasilewski does not flinch from the challenge but, with his trio partners, makes of this music something of his own.

Booklet for Arctic Riff