---
Album info
Album including Album cover
Edward Elgar (1857 - 1934): Klavierquintett a-Moll, Op. 84:

1

I. Moderato - Allegro

13:49

2

II. Adagio

11:36

3

III. Andante - Allegro

10:37

Anthony Payne (b.1936): Piano Quartet:

4

Piano Quartet

17:01

York Bowen (1884 - 1961): Phantasy Quintet, Op. 93:

5

Phantasy Quintet, Op. 93

13:46

Joseph Holbrooke (1878 - 1958): Ballade for Bass Clarinet and Piano:

6

Ballade for Bass Clarinet and Piano

06:42

Total Runtime

01:13:31
Info for The Primrose Piano Quartet and Friends

Meridian Records are delighted to announce the release of an exciting new disc featuring the Primrose Piano Quartet, one of the UK's leading chamber ensembles. Central to the album is their passionate rendition of the Elgar Piano Quintet with guest second violin, Daniel Roberts. Two world premiere recordings are also featured; the Piano Quartet by celebrated composer Anthony Payne (who completed Elgar's Third Symphony), written for the Primrose Piano Quartet in 2015, and the Ballade for Clarinet and Piano by Joseph Holbrooke, performed by guest artist Ronald Woodley. The final work on the release is the colorful Rhapsody Quintet by York Bowen for the unusual combination of bass clarinet and string quartet. "The Primrose Piano Quartet was formed in 2004 by pianist John Thwaites and three of the UK's most renowned chamber musicians (Lindsay, Sorrel, Edinburgh, Maggini Quartets). It is named after the great Scottish violist, William Primrose, who himself played in the Festival Piano Quartet. Alongside their performances of the major repertoire, the Primrose Quartet have researched widely the forgotten legacy of 20th century English composers, and have revived a number of remarkable and unjustly neglected piano quartets."
The Primrose Piano Quartet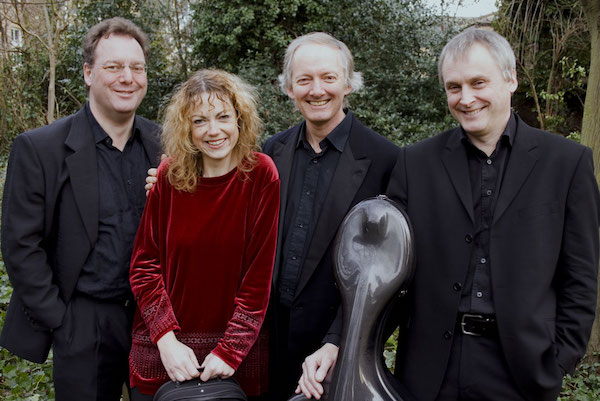 The Primrose Piano Quartet
was formed in 2004 by pianist John Thwaites and three of the UK's most renowned chamber musicians (Lindsay, Sorrel, Edinburgh, Maggini Quartets). It is named after the great Scottish violist, William Primrose, who himself played in the Festival Piano Quartet. Alongside their performances of the major repertoire, the Primrose Quartet have researched widely the forgotten legacy of 20th century English composers, and have revived a number of remarkable and unjustly neglected piano quartets. Their award-winning recordings feature works by Dunhill, Hurlstone, Quilter, Bax, Scott, Alwyn, Howells and Frank Bridge. Sir Peter Maxwell-Davies wrote his Piano Quartet for the Primrose in 2008; this twenty-minute piece premièred at the Cheltenham Festival has proved very appealing, and was recorded in 2009 for the Meridian label.

In 2009 an exciting commission, born out of their strong Scottish connections and timed to celebrate Robert Burns's 250th anniversary, was the "Burns Air Variations". The Primrose invited a number of their composer friends to write a short variation each on Burns' "By Yon Castle Wa", and the resulting 30-minute work received premières in Tunbridge Wells, at the Sound Festival, and at Kings Place. Sally Beamish, John Casken, Jacques Cohen, Peter Fribbins, Francis Pott, Zoë Martlew, Piers Hellawell and Stephen Goss are among those who contributed.
Two new CDs were released during 2010 on the Meridian label: Richard Strauss Piano Quartet, Violin Sonata and Cello Sonata; Maxwell Davies' Piano Quartet, the Burns Air Variations and a previously unrecorded Piano Quintet by Dmitri Smirnov. In 2011 the Quartet recorded a CD of Fauré and Brahms piano quartets, performed on a piano chosen by Brahms.


For 2014 the Primrose have been selected for the Making Music Concert Promoters' Network for a third time, and have a busy performing season both in the UK and abroad, including an extensive tour of Denmark. They are delighted to have commissioned leading British composer, Anthony Payne, to write a piano quartet to be premièred in February 2015. This season will also see the recording of two further CDs of Schubert and Brahms chamber works. Their own festival in the Hampshire Village of West Meon is now in its fourth year.

This album contains no booklet.