---
Album info
Album including Album cover
I`m sorry!
Dear HIGHRESAUDIO Visitor,
due to territorial constraints and also different releases dates in each country you currently can`t purchase this album. We are updating our release dates twice a week. So, please feel free to check from time-to-time, if the album is available for your country.
We suggest, that you bookmark the album and use our Short List function.
Thank you for your understanding and patience.
Yours sincerely, HIGHRESAUDIO
1

Mr. Wiggles

06:44

2

Rumpofsteelskin

05:35

3

(You're A Fish And I'm A) Water Sign

04:35

4

Aquaboogie (A Psychoalphadiscobetabioaquadoloop)

06:41

5

One Of Those Funky Thangs

03:46

6

Liquid Sunshine

04:24

7

The Motor-Booty Affair

05:15

8

Deep

09:09

Total Runtime

46:09
Info for Motor-Booty Affair (Remastered)

Motor Booty Affair is an album by funk band Parliament. Released on November 11th, 1978, it contains two of the group's most popular tracks, "Rumpofsteelskin" and "Aqua Boogie (A Psychoalphadiscobetabioaquadoloop)" which went to number one on the Billboard Black Singles chart. The album title refers to the music coming out of "Motor town" Detroit in the 70's. "Motown Records" was producing hit after hit and funk bands (e.g. Parliament) were blooming.
"By this point Parliament was one of the most accomplished and intelligent bands in music. With albums like Mothership Connection and The Clones of Dr. Funkenstein, George Clinton's druggy and patently eccentric humor often obscured the enviable musicianship throughout. Motor Booty Affair is no doubt another classic album and the perfect follow-up to 1977's Funkentelechy Vs. the Placebo Syndrome. On Motor Booty Affair, Clinton decides to yuck it up more with a great underwater concept and a few of his stronger alter egos, including the rhythmically challenged Sir Nose D' Void of Funk and his friend Rumpofsteelskin. The deft and airy "Mr. Wiggles" has Clinton taking on the persona of Wiggles, the "DJ of the affair" as he says: "Mr. Wiggles here on roller skates and a yo-yo/Acting a fool." The hypnotic "Rumpofsteelskin" has a great bassline and inventive and infectious background vocals. The closest thing to a ballad here is the astrologically savvy "(You're a Fish and I'm A) Water Sign." The well-produced "Aqua Boogie (A Psychoalphadiscobetabioaquadoloop)" with its handclaps and high-pitched basslines basically set the standards for the sound of R&B in the coming decade. The sleeper of the album, "One of Those Funky Things," is filled with timbales, congas, and Bernie Worrell's great synth signatures. The last track, "Deep," has great, understated riffs from the Horny Horns. Although many Parliament efforts can't be fully appreciated unless the whole catalogue is nearby, Motor Booty Affair stands on its own merits and sustains the laugh throughout." (Jason Elias, AMG)
Parliament
Digitally remastered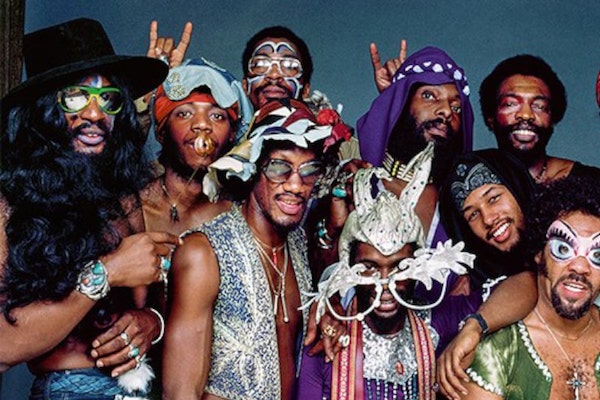 Parliament
Parliament/Funkadelic (or P-Funk) is an American Funk music collective founded by George Clinton and largely credited with being the "architects" of the Funk genre. Parliament/Funkadelic recorded over 40 hit singles, as well as three platinum albums. Inspired by Motown, Clinton gradually built up an ensemble of over 50 musicians during the 1970's and recorded them, both as Parliament and as Funkadelic.
Channeling acts like Jimi Hendrix, Funkadelic initially had a psychedelic rock focus, with a traditional band format. Parliament on the other hand, blended James Brown and Sly Stone derived funk with 1960s psychedelia, outlandish wardrobes, and Sci-Fi themes. P-Funk (as the collective was known) was profoundly influential, leaving a lasting impact on the world of funk, rap and hip-hop. By 1997, P-Funk was the second most sampled artist in the world, after James Brown.
P-Funk had its roots in The Parliaments, a five-man doo-wop band formed by a 14-year-old George Clinton, alongside Clarence "Fuzzy" Haskins, Grady Thomas, Raymond Davis, and Calvin Simon in the back room of a barbershop in Plainfield, New Jersey. In 1964, Clinton recruited a rhythm section, consisting of lead guitarist Eddie Hazel, bassist Billy "Bass" Nelson, rhythm guitarist Lucius "Tawl" Ross, and drummer Ramon "Tiki" Fulwood.
In 1967, The Parliaments released their first hit single, "(I Wanna) Testify." Unfortunately, they had conflicts with their record label, Revilot, and stopped recording. Clinton abandoned the Parliaments name and recorded the backup band as a stand-alone group, with the former Parliaments merely providing vocal "contributions." They named the new band Funkadelic, and released their debut album, Funkadelic, in 1970. A keyboardist, Bernie Worrell, joined Funkadelic at this point; he would become the most important part of the Parliament/ Funkadelic Collective, doing most of the arrangement for almost all later P-Funk records.
Over the next few years, Funkadelic released "Free Your Mind…and Your Ass Will Follow," (1970) and followed it with "Maggot Brain," (1971) a commentary on the Vietnam War. Just after Maggot Brain was recorded, Nelson, Hazel, and Ross left Funkadelic, though Hazel continued recording with the band through the 1970s. Around the same time bassist Bootsy Collins joined P-Funk and would become after Clinton, it's most famous member. The sound created by Worrell and Collins would define both Funkadelic and the later Parliament.
After 1972's America Eats Its Young (#11 R&B), the Clinton/Collins/Worrell debut album) Funkadelic entered a period of decline. In 1974, the band started recording again as Parliament. Its 1974, "Up for the Down Stroke," and 1975, "Chocolate City," both made the Top 20 on the US R&B charts.
P-Funk's greatest period of success came between 1976 and 1980, beginning with Parliament's 1976, Mothership Connection, the collective's first album to go Platinum. Parliament and Funkadelic each released two number one hit singles between 1978 and 1979, and had three albums go platinum, between them. By this point Parliament/Funkadelic was one of the hottest touring acts in the country.
At the peak of their success, however, things fell apart. Legal troubles forced both Funkadelic and Parliament to disband in 1981. Ironically "Atomic Dog" released in 1982 became the last Parliament/Funkadelic song to reach No. 1 on the R&B chart. Clinton and many former P-Funk musicians continued to tour and record through the 1980s, under the name, "The P-Funk All-Stars," but with little success. The rise of rap music in the 1990s, however, helped spur a resurgence in the collective's popularity. In 1997, Clinton and 15 members of Parliament/Funkadelic collective were inducted into the Rock and Roll Hall of Fame. (Source: blackpast.org)

This album contains no booklet.