---
Album info
Album including Album cover
AVAWAVES: Savage Waters:

1

AVAWAVES: Savage Waters

01:11

All Hands On Deck:

2

AVAWAVES: All Hands On Deck

01:32

The Wave:

3

AVAWAVES: The Wave

03:30

Rolling In:

4

AVAWAVES: Rolling In

01:36

Treasure Island:

5

AVAWAVES: Treasure Island

01:12

Nazaré:

6

AVAWAVES: Nazaré

01:44

Nautical Chart:

7

AVAWAVES: Nautical Chart

01:12

Madeira:

8

AVAWAVES: Madeira

00:55

Timmo:

9

AVAWAVES: Timmo

01:29

Internal Battles:

10

AVAWAVES: Internal Battles

01:39

Adventurer:

11

AVAWAVES: Adventurer

01:29

Uncharted Seas:

12

AVAWAVES: Uncharted Seas

02:18

Castoff:

13

AVAWAVES: Castoff

00:59

Salvages:

14

AVAWAVES: Salvages

02:06

Journey:

15

AVAWAVES: Journey

04:05

Healing As A Family:

16

AVAWAVES: Healing As A Family

01:22

Surf High:

17

AVAWAVES: Surf High

02:12

Total Runtime

30:31
Info for Savage Waters

Immediately, AVAWAVES showcases this immersive atmospherical creation. This haunting attribute flows from the wave-like textures rolling through the ambiance and the cutting rhythms which intensify, grow, and expand throughout the expressive journey. Emotion emits from the tonality of the synths, the instrumentation oozes this addictive, harrowing sensation that glides with the entire voyage. AVAWAVES have created this track which you can identify immediately as a score, the instrumentation carries the story with such ease and mighty attention to detail. Remarkable.
Savage Waters is a stunning and intimate portrait of modern adventurers as they follow clues left in a 19th century treasure-hunter's journal that inspires a captivating journey to seek out and surf a mythical, never-ridden wave in some of the most remote and dangerous waters of the Atlantic Ocean.
For renowned skipper, Matt Knight, sailing to unpredictable and uncharted regions is impossible to resist. As a lifelong thrill-seeker, he is constantly testing the limits of what's possible, something world-class big wave surfer Andrew Cotton has also built his career on.
Savage Waters, narrated by the legendary Charles Dance, boasts jaw-dropping cinematography, and follows remarkable protagonists, for whom living life to the full often means putting themselves in harm's way.
Savage Waters is directed by Mikey Corker (Beneath The Surface), produced by Ghislaine Couvillat (Girls Can't Surf, Against The Tides, The Quest for the Wild) of Whipped Sea and edited by Emmy Award winning Editor Jordan Montminy (The 8th, A Courtship), with story consultation from BAFTA award winning Nic Guttridge (The Spy Who Fell To Earth, The Night Caller). Maia Norman, Kathleen Glynn (Sicko, Bowling for Columbine, Fahrenheit 9/11), Peggy Cafferty and Lorcan Kavanagh are Executive Producers. The sound was mixed by BAFTA award winning Karl Mainzer.
Mikey Corker says; "While researching potential composers for Savage Waters I came across Ash and the first track hit me so hard, I then discovered AVAWAVES and I was blown away by the unique blend of power, beauty, and fragility of what I was hearing. I knew straight away that I wanted AVAWAVES to produce our score. I loved collaborating with Anna and Ash. Their creative energy and passion for their craft is infectious and inspiring. They were also willing to fight for their creative choices, which I really respected and appreciated. I felt their total commitment to our goal of making the best film within our available parameters. What I love about the score is it has a huge emotional range, but still feels cohesive. I think if you take Ash's gritty electronic style on one side of the spectrum and blend it with Anna's powerful contemporary strings on the other, we have this incredible tonal palette to draw from and which we needed for the ups and downs of the emotional journey. I also love how the variation of the score helps define the simultaneous unfolding storylines."
Anna Phoebe is a composer and violinist who has recorded and toured throughout the world with multi-platinum selling bands, as well as collaborations with the European Space Agency, Royal Ballet School and Cancer Research. Aisling Brouwer is a film composer and producer who scored the BIFA-nominated anti-racist feature White Riot and is currently writing the soundtrack to 'Lioness' – a film directed by Helena Coan about British boxing champion Nicola Adams. She has also worked on campaigns for United Nations and Dior. Coming from mixed European backgrounds (Anna Phoebe is German/Greek/Irish and Aisling Brouwer is Dutch/Irish) and having each grown up moving around multiple countries, they met for the first time in London in 2015.
Aisling Brouwer is a composer, producer and pianist who specialises in writing music for visuals, film & TV. Aisling recently scored the anti-racist punk feature film 'White Riot' which has been screening in cinemas around the world after winning the Grierson Award for Best Documentary in 2019 as well as the Special Mention Crystal Bear at Berlinale 2020. Other work includes series for BBC, Discovery Channel, Channel 4, as well as campaigns for the United Nations & Dior. AVA is about the fusing of creative energy - with each other, with nature, with dreams and ultimately with each privileged listener encountering their stunningly fresh sound.
"This is our first feature film we've scored together as AVAWAVES and we are so excited to release it. This is a truly cinematic documentary centred around the sea, so there was a natural affinity between our music and the film. We felt immediately connected to the narrative and intention behind this film – the story of obsession with the sea, these epic journeys, and experiences. Also, the stories of individual resilience and the importance of family and community. It is truly a special film with unexpected twists and turns, and we hope the music reflects its depth. From soaring strings and deep bass and synths to atmospheric soundscapes. This first single The Wave is a cue which celebrates and accompanies beautiful and powerful shots of the waves."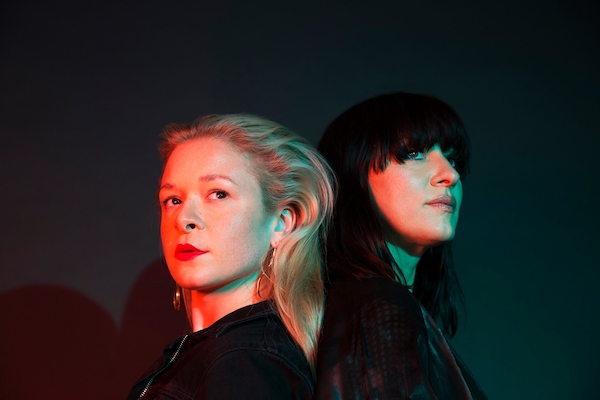 Anna Phoebe
is a composer and violinist who has recorded and toured throughout the world with multi-platinum selling bands, as well as collaborations with the European Space Agency, Royal Ballet School and Cancer Research. Aisling Brouwer is a film composer and producer who scored the BIFA-nominated anti-racist feature White Riot and is currently writing the soundtrack to 'Lioness' – a film directed by Helena Coan about British boxing champion Nicola Adams. She has also worked on campaigns for United Nations and Dior. Coming from mixed European backgrounds (Anna Phoebe is German/Greek/Irish and Aisling Brouwer is Dutch/Irish) and having each grown up moving around multiple countries, they met for the first time in London in 2015.
Aisling Brouwer
is a composer, producer and pianist who specialises in writing music for visuals, film & TV. Aisling recently scored the anti-racist punk feature film 'White Riot' which has been screening in cinemas around the world after winning the Grierson Award for Best Documentary in 2019 as well as the Special Mention Crystal Bear at Berlinale 2020. Other work includes series for BBC, Discovery Channel, Channel 4, as well as campaigns for the United Nations & Dior. AVA is about the fusing of creative energy - with each other, with nature, with dreams and ultimately with each privileged listener encountering their stunningly fresh sound.

This album contains no booklet.