---
Album info
Album including Album cover
1

Perilous Knowledge

03:22

2

Old Shadows

06:29

3

Spider Shell

00:45

4

Upper Circle, Lower Case

02:53

5

Celestial Dog

04:50

6

Mercury

02:12

7

The Nearest Clear Liquid

02:04

8

We Died Once

01:57

9

City of Green

04:19

10

Hidden Cameras

01:54

11

Begin Again

05:46

Total Runtime

36:31
Info for Utterance

Richard Nunns has been an inspiration to countless artists across a range of disciplines around the world, but his influence on the cultural landscape of Aotearoa is enormous.
One simply can't quantify the value of Richard's contribution, not only to music and the arts in general, but also to our sense of identity as New Zealanders. Of course, he would dismiss such comments as overblown hokum, but anyone who has had the good fortune to work with or simply know Richard will attest to the truth of these words.
The 'utterance' recording proved to be Richard's last. A few weeks later his illness compelled him to pack his wonderful collection of taonga pūoro away permanently, instruments that for decades were an extension of his body, his breathe, his heart, and his soul.
This album is therefore the culmination of a lifetime of passionate commitment to an artistic discipline on one hand, and deeply held beliefs and hope on the other – a philosophical, cultural, creative, and deeply personal journey that was in essence a selfless act of giving.
One is tempted to say that Richard didn't choose taonga pūoro ... taonga pūoro chose him.
The combined musical experience shared by Richard, Natalia Mann and David Long, enabled them to engage in a musical dialogue at a very high level, then to extend themselves further. Natalia puts it perfectly when she says, "While the recording was a physical challenge for Richard, he more than made up for it with the essential artistry and conception that has resonated throughout all of his work: the courage to walk into unknowing … and to hang out there." As David says, "beauty is not always easy to achieve with abstract music."
It is our very great pleasure to present one of our most beautiful albums.
David Long, banjo, theremin, bowed guitar, & assorted paraphernalia
Richard Nunns, taonga pūoro
Natalia Mann, harp, prepared harp, zither, gongs, voice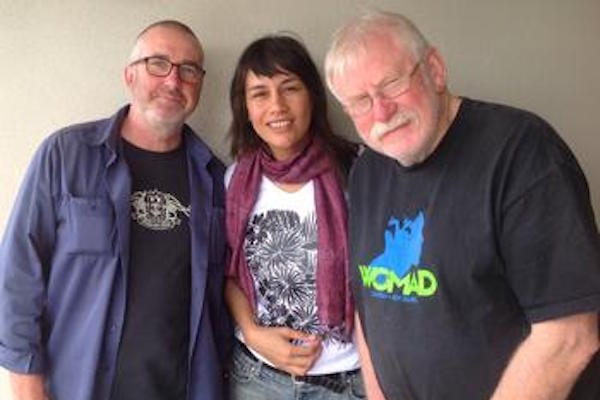 David Long
composes, performs, and produces music. He regularly composes for film and televison, and has worked on all of Peter Jackson's films of the last decade. He has written scores for numerous ritically acclaimed films, including Jess Feast's Gardening With Soul (2013), Robert Sarkies' Two Little Boys, Alyx Duncan's The Red House, Dan Salmon's feature documentary Pictures of Susan (2012), Simon Pattison's Rest for the Wicked (2011), Stephen Sinclair's Russian Snark (2010), and Leanne Pooley's Beyond the Edge, an award-winning soundtrack that was released by Rattle in 2013.
David was also a founding member of the seminal New Zealand band The Mutton Birds, and has produced albums for a wide variety of artists, including Dave Dobbyn's Available Light (2005), Red Morning (2005) and Zodiac (2009) for Barry Saunders, Lucid 3's Dawn Planes (2007), Leila Adu's Cherry Pie (2006), and in 2002 was awarded Producer of the Year for Fur Patrol's Pet.
Richard Nunns
is one of Aotearoa's most important musical ambassadors. Rattle is privileged to have had the opportunity to capture a handful of the extraordinary range of collaborations Richard has either instigated or enthusiastically participated in over years of seemingly endless performances and touring in countless countries. Born into brass bands, Richard sought refuge in jazz and improvised music. An interest in indigenous music came to focus on traditional Maori instruments (te taonga puoro), a collection of more than seventy pieces representing thirty-four distinct types. Despite the limitations and relative simplicity of his unique family of beautifully crafted instruments (many of which are the work of master-carver, Brian Flintoff), Richard consistently piques the interest of the world's most adventurous musicians, composers, performers, and artists.
Natalia Mann
was born in Wellington, New Zealand. She studied harp and piano from the age of five, and began playing professionally as an ensemble & orchestral harpist in her late teens, specialising as a soloist of contemporary classical repertoire. She spent ten years in Australia immersed in Melbourne's vibrant multicultural music scene, where she explored world folk musics, roots, pop and experimenta, and co-founded various groups including the Samoan trio Sunga, the Brown Roots Pacific Arts Collective, the avant-garde improvisation ensemble Shima, and the Turkish fusion group Unified Gecko/Gece.
Natalia completed her BMus in Repertoire Performance at the Victorian College of the Arts in Melbourne (2002), where she later taught improvisation, and has since performed extensively through Australia, New Zealand, New Caledonia, Western Europe and Turkey. In 2005, she moved to Istanbul, Turkey, where she was invited to play alongside master Turkish musicians, including virtuoso percussionist Izzet Kizil, and kanun master and composer Goksel Baktagir. Within this context, she began to write music of her own. Natalia's album, Pasif.Ist, was released in November 2011 to coincide with Bic Runga's Acoustic Church Tour, for which Natalia was the opening act. The tour was extremely successful, and her album sold in unprecedented numbers.

This album contains no booklet.