---
Album info
Album including Album cover Booklet (PDF)
Henry John Gauntlett (1805 - 1876):

1

Once in Royal David's City (Arr. D. Willcocks for Choir)

03:44

Felix Mendelssohn Bartholdy (1809 - 1847):

2

6 Sprüche, Op. 79: No. 1, Weihnachten. Frohlocket, ihr Völker auf Erden, MWV B42

01:37

Adrian Peacock (1964):

3

Venite, Gaudete

02:45

Herbert Howells (1892 - 1983):

4

A Spotless Rose

03:31

Traditional:

5

What Child Is This? (Arr. P. Halley for Choir)

04:16

Paul Mealor (1975):

6

In the Bleak Midwinter

05:39

Leo Sowerby (1895 - 1968):

7

Carillon

06:53

Jonathan Dove (1959):

8

Seek Him That Maketh the Seven Stars

08:14

Eric Whitacre (1970):

9

Lux aurumque (Version for Mixed Choir) [Live]

04:10

Felix Mendelssohn Bartholdy (1809 - 1847):

10

Festgesang, WoO 9, MWV D4: No. 2, Lied (Adap. W.H. Cummings as Hark! The Herald Angels Sing) [Arr. D. Willcocks for Choir]

03:44

Clarence Lucas (1866 - 1947): 2 Pieces for Organ, Op. 31:

11

No. 2, Pastorale

05:04

Traditional:

12

Venez mes enfants (Arr. D. Patriquin)

02:09

Will Todd (1970):

13

My Lord Has Come

04:02

Morten Lauridsen (1943):

14

O Magnum Mysterium

06:02

Traditional:

15

Adeste fideles (Arr. J. Ferris & D. Willcocks for Choir)

04:53

Charles Quef (1873 - 1931):

16

4 Noëls, Op. 26: No. 4, Noël Parisien

03:49

Sigfrid Karg-Elert (1877 - 1933):

17

Choral Improvisation on In dulci jubilo, Op. 75 No. 2

06:35

Total Runtime

01:17:07
Info for Lux

The Choir of the of St. Andrew and St. Paul Church presents Lux, (Latin for light) a collection of sacred songs associated with the Nativity. Selections include some well-known carols such as O Come, All Ye Faithful and Once in Royal David's City in arrangements by Sir David Willcocks, as well as pieces by such British composers as Herbert Howells (A Spotless Rose) and Will Todd (My Lord Has Come), and by American composers Morten Lauridsen (O Magnum Mysterium) and Eric Withacre (Lux aurumque), among others.
The Choir of the Church of St. Andrew and St. Paul is a 45-voice ensemble that includes professional singers and auditioned members from the church and Montreal communities. In additi on to providing music for the church's regular worship services, it also presents concerts and choral services throughout the year, including the annual CBC Christmas Sing-In, a benefit concert for Maison du Parc in collaboration with the Montreal Symphony Players' Association.
Jonathan Oldengarm has been Organist and Director of Music at the Church of St. Andrew and St. Paul since 2008. He holds degrees in organ and harpsichord from Wilfrid Laurier and McGill Universities, and also studied at the Hochschule für Musik in Stuttgart, Germany. Winner of several national and internatitonal competitions, he appears regularly as a soloist, accompanist and chamber musician throughout North America and Europe.
Choir of the St. Andrew And St. Paul Church
Jonathan Oldengarm, direction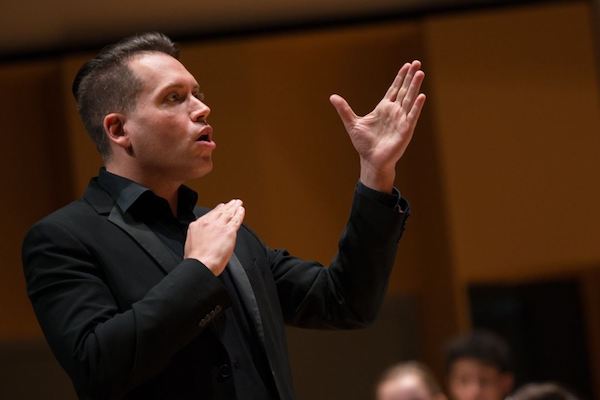 Jean-Sébastien Vallée
Maestro Jean-Sébastien Vallée is a rapidly rising conductor on today's concert music stage and an internationally recognized scholar, and pedagogue. Dr. Vallée is Director of Choral Studies and Chair of the Conducting Area at the Schulich School of Music of McGill University in Montréal. Prior to his appointment at McGill University, he served as Director of Choral Studies at California State University in Los Angeles, and was on the choral faculty of the University of Redlands.
Ensembles under his direction have sung for the American Choral Directors Association and California Music Educators Conferences, and were awarded first and second places at the San Luis Obispo International Choral Competition in 2011. In 2015, Maestro Vallée was the runner-up for the American Prize in Choral Conducting.
Jean-Sébastien Vallée holds degrees from Laval University, Sherbrooke University, the University of California, Santa Cruz, and a doctorate in conducting from the University of Illinois Urbana-Champaign.
In addition to his interest in choral, operatic, and orchestra music, Jean-Sébastien Vallée is an advocate for contemporary music, making one of his priorities to premiere and commission works by young composers and program rarely performed repertoire. As a scholar, his research interests are varied and focus primarily on Renaissance French music, the oratorical works of Michael Tippett, and conducting pedagogy, more specifically the connection between audiation and gestural communication. Dr. Vallée has been invited to present his research at several national and international conferences including the American Choral Directors Association Conventions, Festival 500 in Newfoundland, Canada, the National Collegiate Choral Organization conference, Podium, the national convention of Choral Canada, the Hawaii International Conference on Arts and Humanities, and the World Symposium on Choral Music in Barcelona.
Maestro Vallée is also director of the renown choir of the Church of St. Andrew & St. Paul in Montreal, and artistic director of the Ottawa Choral Society. Upcoming performances include Pärt's Passio, Bach's Magnificat and B minor mass, Beethoven's Mass in C, and the Annual CBC Christmas Sing-In with the choir of St. Andrew & St. Paul; Orff's Carmina Burana, Bach's Cantata BWV 80, Charpentier's Te Deum, and Mendelssohn's Elijah with the McGill University ensembles; the Requiem masses of Fauré, Mozart, and Goodall with the Ottawa Choral Society; and finally, Duruflé's Requiem at Carnegie Hall in February 2018..

Booklet for Lux