---
Album info
Album including Album cover
I`m sorry!
Dear HIGHRESAUDIO Visitor,
due to territorial constraints and also different releases dates in each country you currently can`t purchase this album. We are updating our release dates twice a week. So, please feel free to check from time-to-time, if the album is available for your country.
We suggest, that you bookmark the album and use our Short List function.
Thank you for your understanding and patience.
Yours sincerely, HIGHRESAUDIO
1

Segunda

06:39

2

Beam/Spiral

08:48

3

Nightstand

04:24

4

Stump The Panel

17:18

5

Headdress

05:23

6

Princess Phone

05:50

7

The Pleather Patrol

08:13

8

Ashcan Treasure

02:33

9

A Place On The Moon

15:59

10

Passed Down

04:03

Total Runtime

01:19:10
Info for Share The Wealth

The third Blue Note album by guitarist & Wilco bandmember Nels Cline features an expanded edition of his long-running project The Nels Cline Singers with saxophonist Skerik, keyboardist Brian Marsella, bassist Trevor Dunn, drummer Scott Amendola & percussionist Cyro Baptista. A dynamic double album created from spontaneous music-making that brims with swirling, evocative soundscapes and uninhibited explorations.
"We recorded all these jams with the idea that I was going to take tiny fragments of them and create this kind of cut-and-paste, collaged, psychedelic record like an Os Mutantes record or something crazy like that," Cline says. "But when I listened back to these jams, I liked them so much that I wanted to keep them intact. And some of the most startling transitions, they're not edits. They just happened in the course of these long improvisations in the studio, almost like magic."
"On his third Blue Note date, guitarist/composer Nels Cline introduces his third ensemble to the label. He and drummer Scott Amendola began the Nels Cline Singers as a trio in 2002. The group has evolved into a sextet here with bassist Trevor Dunn, percussionist Cyro Baptista, saxophonist Skerik, and pianist/keyboardist Brain Marsella. These sessions marked the first time this particular ensemble ever played together. The idea was to record a series of live jams to edit into collaged moments (think Miles Davis and Teo Macero). That changed when over two spring days in a Brooklyn studio, the band played their asses off, and Cline chose to present what transpired exactly as it happened.
Share the Wealth weds musical democracy and balanced experimentation to spacy grooves and rhythmic, textural abstraction. Influences are clear: the electric Davis, Weather Report, Herbie Hancock's Headhunters, and John Coltrane. Set opener "Segunda" was composed by Caetano Veloso for Gal Costa. It's a political song juxtaposing slavery, liberation, and Catholicism. Over six-and-a-half minutes, open-tuned guitar and bass drones, Jew's harp, diddley bow, ambient keys, and loose, impressionistic percussion hover. Cline states the melody, but his accents channel Jimi Hendrix's "This Stone from the Sun." It gradually embraces psych and modal jazz before Skerik and Cline entwine powerfully at the close. "Beam/Signal" offers wafting ambient keys (à la Weather Report's debut album), brushed cymbals, meandering bass, and tenor sax fills. A melodic guitar line binds the band as they weave indie and jazz rock. At 17 minutes, "Stump the Panel" is the wooliest, weirdest thing here. It commences in moody, avant space with disembodied guitar tones, electronic noise, and a circular bass line. Drums and percussion ratchet up the intensity until the band emerges in full-blown skronk. An exchange between Cline and Skerik tempers that flow; the group winds around them in both modal and melodic phrasing before spacy electro-funk keys carry it out. "Princess Phone" is driven by a punchy Fender Rhodes and bluesy wah-wah guitar squall, as the band conjures a dark, humid, massively funky Bitches Brew-esque groove. The whirling mutant funk theme in "Pleather Patrol" is stated by Dunn's nasty, distorted bass line, amid synth bleats, a spiky guitar vamp, and hypnotic percussion. The 16-minute "A Place on the Moon" is simply cinematic, as whispered voices, tenor saxophone, cavernous reverb, and dissonant guitar emerge above off-kilter percussion and ambient keyboard drifts. It eventually gels as refracted synth, power-chord vamps, circular drums, scattershot percussion, and blurry sonic abstraction commingle as a dark, foreboding processional. Closer "Passed Down" is an acoustic theme governed by Skerik's blue saxophone and Cline's vintage Dobro, as tom-toms, shakers, and skeletal keys whisper the set out. Share the Wealth is remarkable for its spontaneity but breathtaking in its focus. This is music-making that balances a desire to move beyond boundaries with canny instinct, an egoless restraint, and a collective openness that discovers what's next together." (Thom Jurek, AMG)
Nels Cline, guitar
Skerik, saxophone
Brian Marsella, piano
Trevor Dunn, bass
Scott Amendola, drums
Cyro Baptista, percussion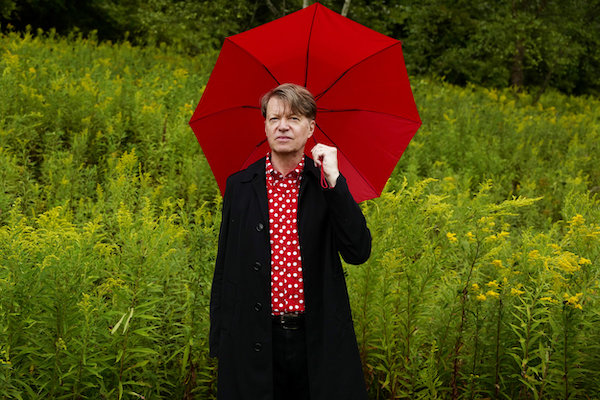 Nels Cline
Guitar explorer Nels Cline is best known these days as the lead guitarist in the band Wilco. His recording and performing career — spanning jazz, rock, punk and experimental — is well into its fourth decade, with over 200 recordings, including at least 30 for which he is leader. Cline has received many accolades including Rolling Stone anointing him as both one of 20 "new guitar gods" and one of the top 100 guitarists of all time.
Beyond Wilco, Cline performs in a duo project with guitarist Julian Lage in addition to a quartet, The Nels Cline 4 (featuring Lage plus bassist Jorge Roeder and drummer Tom Rainey), collaborates with his partner Yuka Honda as the duo CUP, performs as Stretch Woven with percussionist Scott Amendola, leads The Nels Cline Singers (featuring Amendola plus bassist Trevor Dunn and percussionist Cyro Baptista) and plays with Stained Radiance (an improvisational live project with performance painter Norton Wisdom). Cline also periodically presents concerts of his concept album Lovers, which involves a 17-person ensemble and collaborates dozens of composers/improvisers.

This album contains no booklet.