---
Album info
Album including Album cover Booklet (PDF)
I`m sorry!
Dear HIGHRESAUDIO Visitor,
due to territorial constraints and also different releases dates in each country you currently can`t purchase this album. We are updating our release dates twice a week. So, please feel free to check from time-to-time, if the album is available for your country.
We suggest, that you bookmark the album and use our Short List function.
Thank you for your understanding and patience.
Yours sincerely, HIGHRESAUDIO
1

In the Shadow of a Cloud

06:56

2

Saratovsky Bridge

05:12

3

Fishing Village

05:43

4

Waters of Tsna River

08:54

5

Acorn Figurines

07:13

6

On the Motorboat

07:16

7

Hammock Stories

07:14

8

Picnic in the Oaks

05:41

9

Waltz of the Yellow Petals

06:09

10

Trail Along the River

06:35

11

Lament

05:32

12

Vision of a Hunt

06:49

13

The Fog

07:50

14

Tambov Streets on a Summer Night

08:35

Total Runtime

01:35:39
Info for In the Shadow of a Cloud

A self-described 'old fashioned romantic,' Moscow-born pianist-composer Yelena Eckemoff once again demonstrates uncommon lyricism and a gift for melody on In the Shadow of a Cloud, her most upbeat and accomplished recording to date. With a pristine touch and refined sense of form, Eckemoff organically blends classical elements with jazz improvisation in her evocative pieces that strike a delicate balance between being through-composed and full of open-ended exploration. Highly affecting music on In the Shadow of a Cloud is imbued with remarkable band interplay and daring improvisations from the jazz heavyweights - crew of New Yorkers in Chris Potter on multiple reeds and flute, Adam Rogers on guitar, Drew Gress on bass and Gerald Cleaver on drum - who serve as her sideman on this ambitious 2-CD set. In the Shadow of a Cloud is another personal statement from the prolific composer. Whether it's her memories of the sound of grasshoppers in a country field, the massive iron railroad bridge with wooden walkways near her home, her grandpa's motorboat, the sensation of swinging in a hammock with her mother or the fragrance of wild lilies mixed with the smells of warm asphalt and potatoes and onions frying on kerosene burners, Eckemoff's In the Shadow of a Cloud stands as an evocative soundtrack for the life she left behind in Russia when she and her husband emigrated to North Carolina in 1991.
Eckemoff sheds her skin once again and comes in with a classic, ECM worthy date that finds her mixing angular jazz with left leaning impressionism aided by a crew of experienced New Yorkers that know how to deliver this sound and vision. This is the sound of her memories of days gone by, spread over two discs with some improv aces that know how to sound like she feels. Certainly something different and out of the ordinary. (Chris Spector for Midwest Record)
"The title track, which opens, is moody and atmospheric in a quintessential ECM-ish sense, though it contains elements of polyphony between the instruments that draws on Eckemoff s classical background. Potter delivers a powerful tenor solo here that culminates in some urgent free blowing in the rubato section. The saxophonist also shines on the driving Saratovsky Bridge and more introspective Fishing Village, both underscored by Cleaver s intuitive and interactive pulse on the kit. Potter delivers a rare turn on flute on the dreamy 5/4 Waters of Tsna River, which also features brilliant, cascading solos by Rogers and Yelena herself.
The gentle Acorn Figurines, underscored by Cleaver s delicate brushwork, is a kind of jazz sonata for quartet showcasing Rogers signature legato flow on the fretboard. Gress also turns in an arresting arco solo on this unique hybrid number. Guitarist Rogers also shines on the surging On the Motorboat, which shifts into the rubato zone midway through, resulting in some of the most provocative and free-wheeling moments of the session from all the participants. Album 1 closes with the lazy meditation Hammock Stories, which sets the perfect tone for a hot summer day in the backyard.
Album 2 opens with jaunty quartet swinger Picnic in the Oaks, which has Rogers, Eckemoff, Gress and Cleaver all contributing potent solos. Potter returns on soprano sax for the engaging Waltz of the Yellow Petals, which is fueled by Cleaver s loosely swinging approach to the kit and also features another remarkably fluid solo from Rogers. Potter s soprano solo here is outstanding, full of animated expression and surprises along the way, while Yelena engages in some spirited exchanges with him and Rogers near the end of the piece.
Another quartet number, Trail Along the River, has a distinctly through-composed quality, though Eckemoff and Rogers break loose for some sparkling solos within the form. Potter returns on soprano sax on the moody Lament, then adds a new color to the proceedings with his potent bass clarinet work on the driving Vision of a Hunt. The melancholy quartet ballad The Fog showcases Potter s soaring soprano sax alongside Yelena on piano, Gress on bass and Cleaver on drums. Album 2 closes with the very pleasant Tambov Streets on a Summer Night.
While some of her past works, like Leaving Everything Behind and Blooming Tall Phlox are largely nostalgic, the story of In the Shadow of a Cloud ends with an optimistic outlook at the present and future. As Eckemoff explains, In the last piece, Tambov Streets on a Summer Night, I turn down the opportunity to re-live my past as a shadow, invisible to all, and instead choose the present: Even though my heart aches with love/For the people and places of past days/I don t belong in those times anymore./My time is in the present/Where I have many tasks unfinished, where my life s work awaits me./No matter that the road before me grows shorter, I am eager to see what the future holds in store for me." (From Press Release by Bill Milkowski)
Yelena Eckemoff, piano
Chris Potter, tenor and soprano saxophones, flute, bass clarinet
Adam Rogers, electric guitar
Drew Gress, double bass
Gerald Cleaver, drums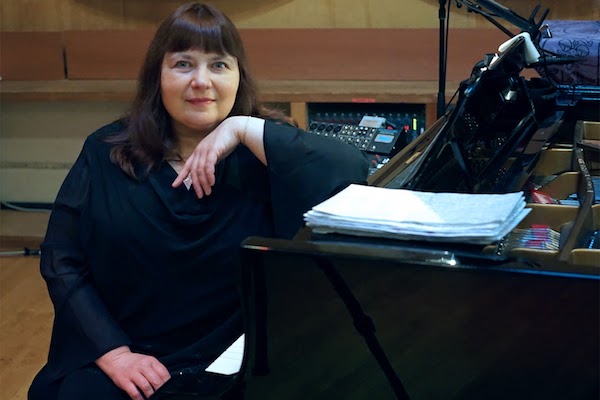 Yelena Eckemoff
was born in Moscow, Russia, in the Soviet Union. Her parents noticed that she had musical talent when she started to play piano by ear at the age of four. Yelena's mother, Olga, a professional pianist, became her first piano teacher. At the age of seven Yelena was accepted into an elite Gnessins School for musically gifted children where, in addition to common school subjects, she received extensive training in piano, music theory, music literature, solfeggio, harmony, analysis of musical forms, conducting, composing, and other musical subjects. She was fortunate to study piano with Anna Pavlovna Kantor, who also trained one of today's most celebrated pianists, Evgeny Kissin. Later Yelena studied piano with Galina Nikolaevna Egiazarova at the Moscow State Conservatory. Upon graduation with Master's Degree in piano performance and pedagogy, she worked as a piano teacher in one of Moscow music schools, gave solo concerts, attended courses at the Moscow Jazz Studio, played in an experimental jazz-rock band, and composed a lot of instrumental and vocal music.
In 1991, with her husband, Yelena emigrated to the United States. While assimilating and surviving in a new country and raising children, she had to put her musical career on hold. During these years Yelena experimented with synthesizer and MIDI sequencer in her little home studio, then founded an ensemble of local musicians. She self-released albums in various genres including classical, vocal, folk, Christian, and her original music.
She recorded her first jazz album, COLD SUN, in 2009, accompanied by drummer Peter Erskine and Danish bassist Mads Vinding, which proved to be the major turning point in her jazz career. Cold Sun was names one of 15 best jazz CD releases of 2010 by Warren Allen (AAJ) and drew comparisons to the stark music of ECM Records.
From that point on, Eckemoff churned out compelling and focused jazz albums at an astounding pace; she recorded and released four more piano trio records in less than four years engaging such notable jazz musicians as Mads Vinding, Morten Lund, Mats Eilertsen, Marilyn Mazur, Darek Olezskiewicz, Peter Erskine, and Arild Andersen. FORGET-ME-NOT (L & H, 2012) was in the best 10 on CMJ charts for over 10 weeks. "Themes of nature, sounds of isolation, stark settings, and blurred lines between compositional and improvisational elements are visible on all of Eckemoff's trio dates, but no two records sound exactly the same." (John Kelman)
For GLASS SONG (L&H, 2013), she reenlisted Erskine and brought bassist Arild Andersen into the fold for the first time. Surprisingly, neither veteran had ever recorded together, but you would never know it. "Eckemoff, Andersen and Erskine create music that's focused, yet free floating, and open, yet never nebulous. Pure melody is of less importance than the greater narrative in each number, but the music still sings out with melodic grace. While Manfred Eicher and his storied label have nothing to do with this record, Glass Song has that "ECM sound," if ever it existed. Mystery, blooming musical thoughts and vaguely haunting notions are at the heart of this captivating album." (Dan Bilawsky)
Yelena Eckemoff 's Lions (L&H 2015), with bassist Arild Andersen and drummer Billy Hart is a long but comprehensive look at animals in the wild with human touches, a classical-jazz soundtrack that goes beyond the superficial, intermission grabs for attention and seeks out the feelings beneath the eerily accurate movements.
"EVERBLUE (L&H, 2015) has Arild Andersen, saxophonist Tore Brunborg and drummer Jon Christensen. This Norwegian all-star contingent fits beautifully into Eckemoff's aesthetic: Andersen with his looming pronouncements like final summations; Christensen with his suggestive rhythmic ambiguity; Brunborg with his clear, clean sound and respect for space. Glass Song, Lions and Everblue contain some of the most powerful, poetic work of Andersen's long career." (Thomas Conrad)
"LEAVING EVERYTHING BEHIND (L&H, 2016) is united around themes of departure and loss. Yelena wrote a poem for each piece and made the cover art. She is accompanied by violinist Mark Feldman, whose background is in classical and country music. Several of compositions date from the 1980s; a time when she was just beginning her exploration into jazz. These pieces seem highly refined, replete with airy, vague harmonies that refer equally to Bill Evans and Claude Debussy." (Mark Sullivan)
BLOOMING TALL PHLOX (L&H, 2017) is intended to evoke different scents that Yelena Eckemoff recalls from her childhood in Russia. These powerful smells trigger a myriad of magical memories, each of which somehow, is transformed into a moveable feast of sounds – melodies set free by Yelena Eckemoff on a gloriously tuned piano and harmonized by Verneri Pohjola, a Finnish horn player, together with Panu Savolainen on vibraphone, Antti Lötjönen on bass and the percussionist colorist Olavi Louhivuori.
Although jazz is associated with improvisation, Eckemoff often writes her tunes out. Her music has been described as classical chamber music in the context of improvisational jazz. She developed a highly acclaimed jazz style that incorporates her classical technique and influences very effectively. With each new record Eckemoff's distinctive, recognizable approach to melody becomes even more prominent. Yelena Eckemoff uses life and nature's bouquets as her muse to create the body of work that blends post-modern abstraction, classical thought, and jazz language into a seamless whole. True to her classical-jazz impressionism, Eckemoff sees humanity in nature.
A band leader, producer and co-founder of L & H Production record label, Yelena also gives piano lessons. She had served as a church musician and choir director for over 22 years, until she got too busy with her recording and performing schedule. Yelena believes in hard work, God's guidance, humanism, and eternal love.

Booklet for In the Shadow of a Cloud