---
Album info
Album including Album cover Booklet (PDF)
I`m sorry!
Dear HIGHRESAUDIO Visitor,
due to territorial constraints and also different releases dates in each country you currently can`t purchase this album. We are updating our release dates twice a week. So, please feel free to check from time-to-time, if the album is available for your country.
We suggest, that you bookmark the album and use our Short List function.
Thank you for your understanding and patience.
Yours sincerely, HIGHRESAUDIO
1

Brilliant Waters

02:07

2

Melody Of A Waterfall

03:02

3

From Cousteau's Point Of View

05:37

4

Honestlee

07:30

5

Butterfly Effect

07:49

6

Time Horizon

04:01

7

Fragile Cocoon

06:11

8

Schimmelreiter

06:01

Total Runtime

42:18
Info for Lucent Waters

In his second ECM appearance (following a critically-acclaimed duo recording with Markus Stockhausen) pianist Florian Weber leads a strong cast through a programme of his compositions and sketches. Whether paying tribute to mentor Lee Konitz on "Honestlee", impressionistically conveying the glittering "Melody of a Waterfall" or generating impactful drama out of fragments of sound on "Butterfly Effect", Weber continually draws fresh responses from his players. "I wanted this project to be as open as possible", he says. "It's the idea of exploration that is important here, and the differences between the players." The strong, grounded bass of Linda May Han Oh contrasts strikingly with Nasheet Waits's fleet, fluid drumming, setting up new contexts for Ralph Alessi's elegantly inventive trumpet and the leader's highly creative piano playing. Lucent Waters was recorded at Studios La Buissonne in the South of France in September 2017, and produced by Manfred Eicher.
Florian Weber's second ECM appearance, following a critically-acclaimed duo recording (Alba, 2016) with Markus Stockhausen, finds the gifted German pianist leading a newly formed quartet through a programme of his compositions. Openness is key here: whether paying tribute to mentor Lee Konitz on "Honestlee", impressionistically conveying the glittering "Melody of a Waterfall", or generating impactful outcomes from fragments of material on a conceptual piece like "Butterfly Effect", the intention is to encourage fresh responses from the participants.
"I see this album as a meeting of very independently-minded musicians," says Weber. "It's the first time I've had a band where what particularly interests me is the difference between the players and their approaches to improvising." He cites the contrast between the soulful, grounded quality of Linda May Han Oh's bass playing and Nasheet Waits's fleet, free-flowing drums. "Linda and Nasheet are very different characters, but they balance each other in their exchanging of energies." The Lucent Waters line-up marks a first collaboration between Weber and Waits, the drummer being recommended by producer Manfred Eicher for the project. "I liked very much Nasheet's playing on Ralph Alessi's ECM albums [Baida and Quiver], those are great recordings, so the idea resonated with me."
Linda May Han Oh and Florian Weber first worked together in trio with Lee Konitz a decade ago. "That was the beginning of a vivid exchange of ideas that has continued in other contexts. For myself, working with Lee night after night taught me what it really means to be spontaneous in the music." There's a difference, Weber suggests, between the contemporary emphasis on "self-expression" and "exploring what is actually there, implied in the material and in the interaction of the players."
Weber and Ralph Alessi have been in and out of each other's groups for more than 15 years. Latterly, Weber's been playing in Alessi's trio with Dan White. "If I look at my career to date, I've mostly tried to play with people that I feel close to, that I understand where they're coming from, emotionally." Friends, of course, can still challenge each other: "Ralph always says that my writing and playing pushes him to play differently." This is strikingly evident on "Fragile Coccoon", where an initially gentle piece bursts open to feature the trumpet in a blazing admixture of lyricism and intensity, framed by Waits dramatically powerful drums.
There are, says Weber, several factors influencing the pieces gathered here. "Pieces emerge, a lot of times, as a feeling or a perspective on some aspect of my life – in this case the twilight atmosphere of the touring musician's world, and all the ups and downs of that. Then there's the compositional aspect: I'm always trying to create or shape something which hasn't, to my knowledge, been there before."
The degree of freedom given to the players differs from piece to piece. "On 'Brilliant Waters', for instance, I didn't give them much more than the title: that's a free, open piece, although we end organically on one note, which does sound composed. I did tell the group that I wanted the album to have a sense of narrative, with interconnecting links, of some kind. A motif that appears in one piece might recur in another piece, perhaps reversed. Atmospheric ideas return, two pieces may have a similar instrumental emphasis at certain points, or a soundscape may be similar. As a bandleader I think there's a fine line between giving musicians too much information and not giving them enough: I wanted the musicians to make their own thing, too."
Nasheet Waits has the freest role in "Melody of a Waterfall", which takes its inspiration partly from traditional Japanese drum ensembles: "I like the clarity and focus of that music, its stillness as well as its passion and energy. I find Japanese culture and its ideas fascinating and have tried to understand it – insofar as one can, as a westerner."
"From Cousteau's Point Of View" references some recent diving experiences: "The changed three- dimensional perspectives and transparency are central to this tune. Musically it's 3 against 7, both times going on at the same time, and you're not sure which one you should follow. I like transparency, but too much of it can make the mystery disappear. And I also like the mystery, just as I like the things that are not said, and the notes not played."
"Honestlee", dedicated to Lee Konitz ("every time I meet Lee I learn something new" says Florian), incorporates "some Lennie Tristano School ideas, but not Tristano-style playing. It explores some ideas he had about lines and counterpoint." The piece also takes impetus from drawings which Karlheinz Stockhausen made at Darmstadt. "The drawings illustrate some polyphonic concepts. I looked at them and immediately wanted to write a tune. Wanting to dedicate something to Lee, the ideas converged. So we start with lines and then go into open mode." Weber's playing, exemplary throughout, is particularly affecting here. (Konitz, on hearing this recording, has said "Florian is one of the most creative piano players I have ever played with. His music is totally free. He has got the texture, the feeling, just beautiful. I am very touched by this music. It feels divine to me.")
Florian Weber, piano
Ralph Alessi, trumpet
Linda May Han Oh, double bass
Nasheet Waits, drums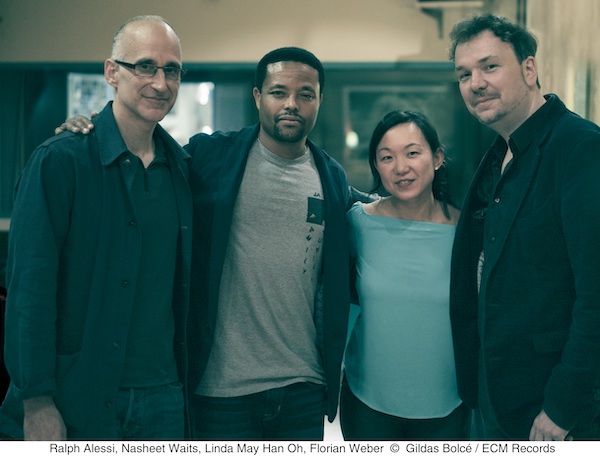 Florian Weber
At the age of 4 Florian began taking private lessons and by the time he graduated from high school he had participated in both classical and jazz ensembles, winning 1st place competition prizes and had the opportunity to tour as a soloist with various philharmonic orchestras.
In 1999 Florian won a scholarship to study at Berklee College of Music in Boston but instead decided to study mathematics, physics and biology first. Years later when the calling of music became too strong to deny Florian began to study with John Taylor in Cologne, Germany, JoAnne Brackeen and Paul Bley in Boston and Richie Beirach and Lee Konitz in New York.
Since 2001, Florian won the Steinway & Sons prize at the Montreaux Jazz Festival Solo Piano Competition, the Gotrian Steinweg prize of Weimar, the 1. Prize at the Jazzcompetition Monaco and the award of the german critics. He performed or recorded with Eddy Henderson, Lee Konitz (Florian was the first german piano player to record live at the renowned Village Vanguard. The album was rewarded with the Choc de l´Anne, Jazzman magazine), Pat Metheny, Ralph Alessi, Lionel Loueke, Dan Weiss, Thomas Morgan, Markus Stockhausen, Thomasz Stanko, Albert Mangelsdorff, and Benny Bailey.
With his group Minsarah and other projects he toured in America, all over Europe, Asia, Southamerica and Japan at some of he most important festivals and venues like Paris JVC festival, Berlin Jazzfestival, Jazz festival Montreal, Kennedy Center NY etc. and played with numerous philharmonic orchestras performing piano concertos e.g. by Mozart, Ravel, Gershwin and Piazolla as well as contemporary composers.
Today Florian lives in Cologne, Germany and part of the year in New York being part of the immensely lively scene of this city which led to his latest project "Biosphere" which was released September 2012 on enja records. In 2013 Florian received the Echo Jazz as best national instrumentalist piano/keyboard. In January 2014 Florian was awared the WDR Jazz Prize for "Jazz Improvisation".

Booklet for Lucent Waters