---
Album info
Album including Album cover
1

(loom)

01:34

2

Blossom

04:01

3

Cloud Room

04:02

4

Duet

02:42

5

I am sixty years old and trying salvia for the very first time

03:53

6

Babble

04:19

7

Crescent

03:16

8

people can you hear me?

04:06

9

Nonet

05:55

10

(drift)

02:12

Total Runtime

36:00
Info for The trees were buzzing, and the grass.

"The trees were buzzing, and the grass." is described as an album of collaboration with contributions from percussionist Michael Anklin, voice artist Natasha Lohan and performance artist Es Morgan as well as vocal appearances from friends. From the moment you press play, Wordcolour immerses you in his world, enveloped by the sound of rustling leaves, footsteps, gong-like synths and ghostlike, sometimes haunting, vocals.
As you listen through, you will find the signature twinkling, magical style of Wordcolour, as it twists and turns through ambient and IDM. "In one sense the album is quite cinematic. Not in the sense that it is big or epic, but in the way it is structured. At times the music literally cuts like a camera - moving the listener from one acoustic environment to another. It indulges a fascination with the hyper-real world of Foley and film sound effects, natural ambiences, and Spielbergian film music."
The Wordcolour project started back in 2017, with the first output under the moniker via a Blowing Up The Workshop mix in 2019 which was named one of Pitchfork's mixes of the year. With these ideas and sketches in mind, this album feels like a culmination of Wordcolour, marrying the two worlds he currently orbits in, between the early experimental concepts and the recent more club-focused output.
Named as One To Watch in 2021 by The Guardian, Wordcolour made his first appearance on the famed London label in November 2020 to great acclaim with 'Juno Way'. The EP received support from Crack Magazine, The Guardian, DJ Mag, KEXP, Worldwide FM, FACT Magazine, and more.
He has since followed up with 'Bluster' EP, inviting The Soft Pink Truth, Djrum and DJ Python to create their own distinctive interpretations of the lead single. With a background in jazz, pop and contemporary classical, Wordcolour has also previously produced music for TV and theatre as well as released on Spanish imprint Lapsus Records with 'Tell Me Something'. He's one of the most exciting producers coming through the next generation of club music.
Wordcolour
Guests:
Michael Anklin, percussion (track 4, 5, 7)
Natasha Lohan, vocals (track 4, 5)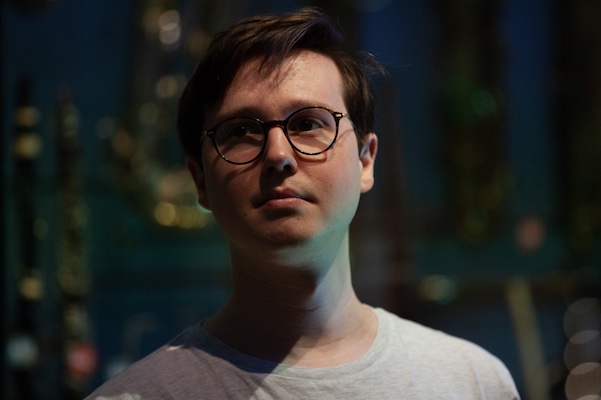 Nicholas Worrall aka Wordcolour
Growing up in Milton Keynes, the largest of the "new towns" outside of London designed and built in the 1960s, perhaps explains why producer Nicholas Worrall is subconsciously drawn to clearly delineated sonic structures and flawed techno utopianism, two concepts that are ever present in both his sound and aesthetic approach to music.
Wordcolour was formed just two years ago, at a time when Worrall was habitually cutting up and splicing human voice samples ripped from YouTube memes, film dialogues and musique concrète tapes.
The first artistic demonstration of these ideas arrived in 2019 via his mixtape "I Want To Tell You Something" for the Blowing Up The Workshop platform. This unique set immediately grabbed the attention and support of the specialized music press and media, including Pitchfork and Resident Advisor.

This album contains no booklet.