---
Album info
Album including Album cover Booklet (PDF)
Aart Strootman (b. 1987):

1

Obscure Atlas SG-3: I. Exosphere

02:18

2

Obscure Atlas SG-3: II. Thermosphere

02:31

3

Obscure Atlas SG-3: III. Mesosphere

03:20

4

Obscure Atlas SG-3: IV. Stratosphere

01:29

5

Obscure Atlas SG-3: V. Troposphere

02:00

6

Obscure Atlas SG-3: VI. Crust

04:42

7

Obscure Atlas SG-3: VII. Core

02:32

Daniel Wohl (b. 1980):

8

Microscope (Live)

10:10

Total Runtime

29:02
Info for Obscure Atlas

Obscure Atlas СГ-3 In 1970 Russia started drilling holes in the Earth's crust on the Kola Peninsula. The lowest point СГ-3 was finished in 1994 at 12,262 meters deep. The many scientific discoveries that were done inspired further research, but several urban myths also came into this world. Among these urban myths was the story from the Norwegian Aage Rendalen who explained that the Russians had stumbled upon the Gates to Hell. Sound like desperate cries, the smell of sulphur and temperatures far above 100 degrees celcius were what led to this terrifying fiction.
Besides the many insights gained in geophysics and the urban myths, СГ-3 also raises a lot of questions about the limits of the human knowledge. As of December 10, 2018 NASA's voyager 1 and 2 have left our solar system at respectively 22 and 18 billion kilometres. How remarkable is it, that we know more about solar systems far away than about the ground underneath our feet?
The Ruïns nearby Zapolyarny and its urban legends are all that is left of the experiment. However, it still raises questions and Aart Strootman is one of the people that still think and wonder about all of this. His curiosity led to the questions: "What is out there and what does it sound like?". He wanted to work out this research on the piano, cello/ voice and the percussion of Trio.
Microscope "Amplification is often used as a means of increasing an ensemble's overall volume and stage presence. This can certainly be an effective way of capturing the listener's attention, creating an immersive experience through sheer volume. However, my interest in amplification lies in its capacity to access and enhance sounds that would otherwise be weak if not inaudible to the ear. My new piece, titled Microscope, is exploring the quiet intersection of cello harmonics, prepared piano and big percussion set-up which includes vibraphone, glockenspiel, kick drum and overtones produced by scrapes, scratches "junk" percussion instruments like pots and pans. The special guest in this work of mine will be an old-fashioned metal fan which will be played with different techniques. Microscope is a piece in which the ensemble plays their instruments quietly while at the same time remaining extremely amplified. This, I believe, creates an immersive experience that paradoxically delves into the minute and otherworldly sounds that would not ordinarily carry, one which is not readily experienced in the concert hall.
Like many of my works, the piece incorporates a pre-recorded electronic element derived from recording even quieter surfaces, the rustling of paper, the crackle of wood, the hum of electrical circuits. These sounds are interacting seamlessly with music written for the ensemble. My aim was to create a hyper realistic piece of music that combines both the attention to detail found in studio recordings with the virtuoso chamber performance of this terrific trio. Rather than delve into atmospheric music or ambient noise, I anticipate Microscope being quite rhythmic and pulse oriented, with interlocking patterns between the three groups of instruments which will include some percussion instruments made specially for this work. I think it is exciting to see how these small-scale sonic gestures can build up into a cohesive and connected tapestry of sound. The idea behind this piece lends itself to a typical arc of building naturally from silence, into the rhythmic gestures, growing into a quiet pulsing wall of sound, and then back to silence." – Daniel Wohl
Trio Basilova Fridman Napolov:
Helen Basilova, piano
Maya Fridman, cello
Konstantyn Napolov, percussion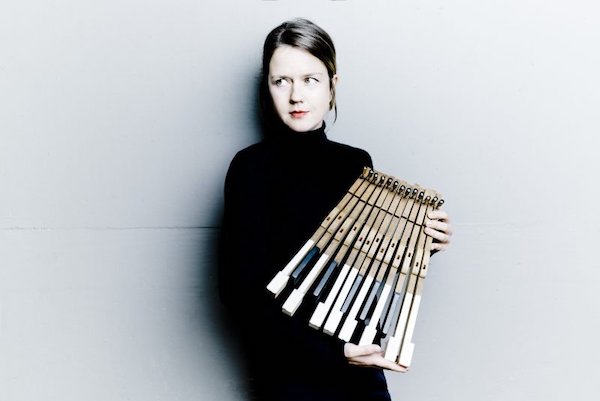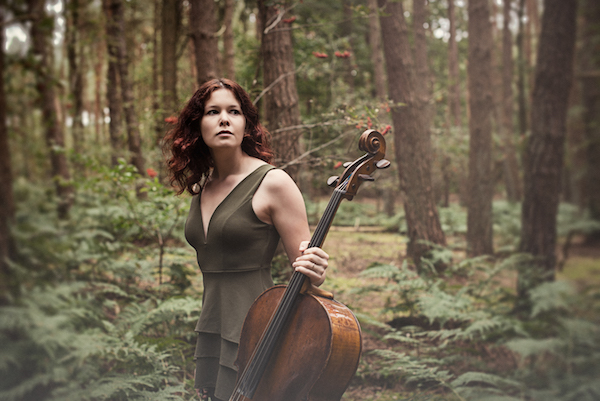 Helen Basilova
The captivating work of pianist Helena Basilova spans two worlds: the vast world of her Russian ancestry and the contemporary world of modern composers and technology. Rooted in a deep understanding of tradition and interpretation, Basilova collaborates with composers and artists all over the world and is dedicated to finding new interfaces between performer and audience.
The continual longing for alternatives to the familiar makes Helena go places, see people and try things – for therein lies the possibility of finding a new insight, composition, sound or way of expressing herself.
Helena's research always starts from a bigger context. It drives her to make sidesteps, connecting various aspects that in the end make up a rich, musical story. Her latest album is a tribute to fantasy, to the unknown and to everything magical in this world. The theme has made Helena collect music by Medtner, Myaskovsky, Prokofiev, Janáček, Schnittke and Bagri. Elena Firsova contributed with a new composition 'A Fearful Fairy Tale', thereby giving the album its name. 'Mysterious vistas with a handful of whispers' – NRC Handelsblad.
Ever curious, Helena embraces extra-musical aspects that fit the context of a particular programme. As did Alexander Scriabin a century ago, when he combined sounds and colours. Helena developed a visual-musical performance together with the video artists from DEFRAME, and presented her album in the Scriabin Museum Recital Hall in Moscow. The Dutch press wrote: 'Basilova finds an admirable balance between lyricism and monumentality', and 'A convincing advocacy for Scriabin's music'.
Further collaborations that added light design, moving image, improvised music and poetry readings evolved into her concert series in the Uilenburgsjoel Amsterdam, providing a dynamic space for introspection and experiment.
Helena is fascinated by the sound wizards of yesteryear, making their instruments come to life with poetry, freedom and imagination. As daughter of two renowned Russian musicians, people like Paderewski and Rosenthal, Bolet and Arrau have nurtured her never-ending curiosity about the power of expression in sound, as well as the background of the music.
On her recording of piano works by Leoš Janáček, Dutch national newspaper de Volkskrant wrote: 'She sometimes blows a fresh breeze through the notes, but more often, the appropriate melancholy predominates.' The album with Eva van Grinsven called 'Rendez-vous Russe', presenting transcriptions for saxophone and piano of works by Prokofiev, Scriabin and Rachmaninov, was given the prestigious Echo Klassik Award.
The connection to tradition became very personal when Helena discovered the music of her late father Alexander Basilov. His personal history drew a line from his teachers Alfred Schnittke and Lev Naumov all the way back to the famous Russian piano school of Heinrich Neuhaus. Helena's recording and publication of Basilov's music received international media attention.
At the same time, Helena brings to the stage a profound sense of the 'now'. Be it Rachmaninov or a modern day composer: all music is, to a certain extent, of the 21st century because of the time in which it is presented. Having music written for her from when she was seven years old, Helena feels a natural connection to contemporary music. It is something of a personal calling to lead the public to the most interesting works and enjoy exploring new territory together. Helena performed, among others, at Carnegie Hall (Weill Recital Hall, New York City), Hyogo Performing Arts Centre (Japan), Rachmaninov Hall (Moscow), Concertgebouw Amsterdam and the NCPA in Mumbai.
Amongst Helena's soulmates are the violinist Diamanda La Berge Dramm and cellist Maya Fridman, with whom she collaborates regularly. She forms a trio with Fridman and percussionist Konstantyn Napolov, recently giving the Dutch premiere of David Lang's 'Triple Concerto' with Mathieu Herzog conducting. Composers such as Aart Strootman, Meredi, Daniel Wohl and Christian Dieck have dedicated works to the trio.
Upcoming projects include a spacial-musical experience in a Berlin hotel, the recording of Maxim Shalygin's Piano Preludes, solo recitals and concerts with the aforementioned Trio Basilova I Fridman I Napolov, as well as a John Cage programme with violinist Diamanda La Berge Dramm.
Helena Basilova has received scholarships from NYU, Nuffic, NFPK, Prins Bernard Cultuurfonds, Josepha Brouwer Scholarship Foundation. She has finished piano studies at the Conservatory of Amsterdam and the New York University with highest distinction and plays on a Steinway Grand Piano, kindly lent to her by the Dutch National Music Instrument Foundation. From September 2016 Helena works as a Piano Professor at the ArtEZ Conservatory in The Netherlands.
Maya Fridman
Cellist Maya Fridman is musician in residence at Gaudeamus in 2018 and 2019. The coming two years, Fridman will have the opportunity to start various collaborations and to write and arrange her own musical works at Gaudeamus. In 2019 she won the final of Dutch Classical Talent. The jury spoke about Maya Fridman: "If what Maya played was a mirror of the world today, then we really want more of today, please!"
Fridman was born in Moscow in 1989 and has been playing the cello since she was six. Her search for new music and experiments led her to Amsterdam, where she graduated cum laude at the Conservatory in 2016. Fridman is a master cellist who can and wants to play everything: classic, pop, (gothic) rock, folk, jazz, new music or flamenco. Thanks to her eclecticism and firy, emotional way of playing there are more and more composers who want to write pieces especially for her.
Fridman plays in various ensembles and collaborations, including a duo with Gagi Petrovic (cello, live electronics and two voices), jazz trio Aeon Trio, various projects with singer-songwriter Jyoti Verhoeff and as a guest musician with the German folk band Faun.
She released three albums on the Utrecht label TRPTK in 2017 and 2018: The Invisible Link with pieces by Alfred Schnittke, Pēteris Vasks and Arvo Pärt; Red Velvet with pieces by Karen Tanaka, Gaspar Cassadó and Kaveh Vares, who wrote the title piece especially for Fridman; and most recently The Fiery Angel, an adaption of the opera of the same name by Profokiev for cello and piano.
During her residency at Gaudeamus, Fridman collaborated among many others with composer Maxim Shalygin, which resulted in a new piece for solo cello: Canti d'inizio e fine. A monumental cycle of 7 songs for cello (and voice) on the themes of birth, life and death. Together with the Japanese pianist, visual artist, composer and director Tomoko Mukaiyama, Fridman made a musical-theatrical adaptation of Alfred Schnittke's Peer Gynt for cello and piano.
Konstantyn Napolov
(1987) graduated with his Bachelor degree in 2013 and Master diploma in 2015 cum laude in the percussion department of The Royal Conservatory at The Hague educated by Fedor Teunisse, Luuk Nagtegaal, Marinus Komst and Wim Vos. Foregoing he has succeeded in getting his Bachelor and Master of Percussion and Conducting at the National Music Academy Kiev (Ukraine).
With his Percussion-Trio 'Davai Perkusion' Konstantyn won the first prize during the Grachtenfestival Concours at The Royal Concertgebouw Amsterdam. Twice they ended up as a finalists of the Kamermuziek Concours Almere, IPC Luxembourg, won the first prize at 'Oh,Oh Intro' – popfestival The Hague, etc…
During his first year of Master he was accepted to do his Erasmus-study at the conservatory with the oldest percussion traditions – Cité de la Musique et de la Danse Conservatoire de Strasbourg-, educated by Emmanuel Séjourné, Denis Riedinger and Stephan Fougeroux. Beside it he participated in several masterclasses by wellknown percussionists like Peter Sadlo, Mark Pekarski, Christian Dierstein, Paul Mootz, Marta Klimasara, Robyn Schulkowsky, Nancy Zaltsman and many others.
Konstantyn is a great promoter of contemporary percussion till now he premiered more than 10 new works. Together with Kaija Saariaho, Martijn Padding, Unsuk Chin, John Luther Adams, Philippe Manoury (with all in person) he is working on a solo and chamber music repertoire. Together with Steve Reich they worked on numerous of his pieces and particularly performed his master work "Music for 18 musicians" at the stadium with more then 5000 in public in time of "Lowlands festival 2013".
Also he continued as a soloist, won several prizes and took part in prestigious world-wide competitions, among others during the ARD Musikwettbewerb München, Tromp IMC Eindhoven, Dutch Classical Talent and the Grachtenfestival Concours. In March 2015 won two 1st Prizes at the International Music competition in Belgrade Serbia, as a soloist and with own Duo Delonix, and in 2016 he Won the Prins Bernhard Cultuurfonds prijs 15.000€ . Within the NJO Konstantyn went from playing Tam-Tam part in Shostakovich's 11th symphony till the nomination " Young Artist in Residence". In the same year he was nominated by the prestigious international festival for "Grachtenfestivalprijs" and "Artist in Residence Grachtenfestival Amsterdam".
The honor moment was to perform with the renowned show-percussion group Percossa for The Dutch ministry and The Dutch Royal family.
For the summer of 2015 Konstantyn has been invited to participate in the masterclasses at the well-known 'Chosen Vale' in America, for which he was granted the prestigious Colin Currie scholarship, masterclasses at New York's ' The Juilliard School ' and Boston Conservatory. And already for the winter 2016 Konstantyn won the principal position at "The World Percussion Group 2016" directed by renowned English percussion duo "Maraca2" which includes more then 2 month tour through the USA and after that he was invited to give the masterclasses and to perform in the Mexico.
Since 2014 Konstantyn Napolov is Haupt-Pauker (principal-percussionist) at Mannheimer Philharmoniker (Germany).
Konstantyn is officially 'Adams' and 'Mike Balter Mallets' artist.

Booklet for Obscure Atlas