---
Divine Providence (11th Anniversary Edition) Deer Tick
Album info
Album including Album cover
1

The Bump (2022 Remaster)

03:26

2

Funny Word (2022 Remaster)

04:45

3

Let's All Go to the Bar (2022 Remaster)

03:05

4

Clownin Around (2022 Remaster)

03:54

5

Main Street (2022 Remaster)

03:50

6

Chevy Express (2022 Remaster)

03:47

7

Something to Brag About (2022 Remaster)

02:16

8

Walkin Out the Door (2022 Remaster)

03:34

9

Make Believe (2022 Remaster)

03:27

10

Now It's Your Turn (2022 Remaster)

04:29

11

Electric (2022 Remaster)

04:13

12

Miss K. (2022 Remaster)

03:23

13

Mr. Cigarette (2022 Remaster)

02:32

14

Main Street (Band Acoustic)

03:50

15

Born at Zero (Band Acoustic)

04:35

16

Virginia Gal (Band Acoustic)

03:38

17

Chevy Express (Solo Acoustic)

03:41

18

Electric (Solo Acoustic)

04:31

19

Born at Zero (2022 Remaster)

03:48

20

Walls (2022 Remaster)

06:05

21

Virginia Gal (2022 Remaster)

04:23

22

She's Not Spanish (2022 Remaster)

04:02

23

Main Street (Acoustic 2022 Remaster)

03:30

24

Bury Deep

03:48

25

Cake and Eggs

02:56

26

Hope Is Big (2011 Version)

04:06

27

Mr. Cigarette (Alternate Version)

02:15

28

Make Believe (Studio Demo)

03:28

29

Now It's Your Turn (Studio Demo)

04:16

30

Divine Providence (feat. Longmont Potion Castle)

05:10

Total Runtime

01:54:43
Info for Divine Providence (11th Anniversary Edition)

This is the 4th album from Deer Tick and a pivotal moment for the band. With a couple lineup changes over the years, they started to speed things up a bit on Divine Providence; not that they shed their blues-tinged country rock sound entirely, but the album has an even split of fast stompers and mid-tempo country bar howls. The original 12 songs on the album are about as close as you can get to a beer drenched show with the band; the addition of the 5 songs from the Tim EP and the 12 bonus tracks of alternate versions, outtakes and rarities make for a close encounter with a lost weekend with the band. The original album was produced by Adam Landry and Justin Collins at Machines with Magnets in Pawtucket, Rhode Island and this edition was remastered by John Baldwin at John Baldwin Mastering in 2022.
Naturally, after so many years of critic praising (and making fun of) them for their folk and country sounds and hardly ever mentioning the fact that they've also recorded virtually dozens of other kinds of music, the band wanted to make a record that was true to their live set (which has gained some notoriety): raw, loud, heartfelt, and completely uninterested in whatever the hell the rest of the music industry is up to. The results are unlike anything you've ever heard on a Deer Tick album.
Following the September 2007 release of his first album, War Elephant, McCauley's Deer Tick project began earning comparisons to Bright Eyes, Modest Mouse, and Uncle Tupelo. Although originally released via FEOW! Records, War Elephant was reissued in late 2008 by Partisan Records who then put out the band's two follow-up insightful excursions into unapologetic Americana: 2009's Born on Flag Day and 2010's The Black Dirt Sessions. The band's fourth studio outing, Divine Providence, arrived the following year, and featured 12 rowdy and raucous originals that found inspiration more along the lines of the raw power that the Stones and the Stooges had to offer.
To produce this Divine Providence, the band recruited the team of Adam Landry and Justin Collins, who produced McCauley's side-project Middle Brother's debut album. The results are unlike anything you've heard on a Deer Tick album, but the Rhode Islanders achieve something much truer to their live sound. Distorted guitars are aplenty, and guitarist Ian O'Neil and drummer Dennis Ryan even take lead vocal duties for the first time on record. You can practically smell the sweat and the beer, and Shit, you may even hear a guitar or two break in there somewhere! It's got a little Exile, a little In Utero, and even a little Nilsson Schmilsson, but it's 100% Deer-Fucking-Tick in their purest, and most carefree form. The fact that it's the first album they've recorded in their home state doesn't hurt either. GAH!!! No need to over-think this shit!!! Moving on…
Deer Tick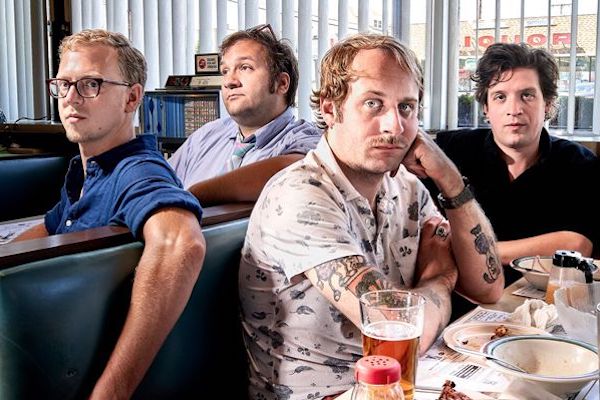 Deer Tick
Initially formed in 2004 as the solo project of teenage singer/songwriter John McCauley, Deer Tick acquired shape over the coming years, evolving from McCauley's spare and quavering solo material into a rough-and-tumble road rock outfit as more band members joined the fold. War Elephant, the debut album from the fully formed version of the band, was released in 2007, and over the next decade and beyond, the sound and approach of Deer Tick evolved through restless touring and a steady succession of studio albums.
John McCauley, the songwriter behind the Deer Tick moniker, grew up in Providence, Rhode Island, where he began his career by teaching himself to play drums, guitar, piano, and pedal steel. McCauley started recording his own compositions and touring the area while still in high school, and he widened his circle after graduation by touring the entire country. Although he'd often perform solo, the young musician began piecing together a proper band, occasionally playing as a duo with drummer Dennis Ryan or with a small group. His music fit loosely into the alt-country category, but his vocals -- rough, raw, and ragged -- brought a distinctive character to the sound. In these early days, Deer Tick's music existed on self-released CD-Rs and other miscellaneous releases, such as a split EP with bassist/songwriter Nat Baldwin.

This album contains no booklet.