---
Album info
Album including Album cover
Johann K. Mertz (1806 - 1856):

1

Tarantella, Op. 13 No. 6

03:48

Ludovico Roncalli (1654 - 1713): Suite II:

2

Suite II: I. Preludio

00:49

3

Suite II: II. Alemanda

02:21

4

Suite II: III. Gavotta

01:03

5

Suite II: IV. Sarabanda

02:50

6

Suite II: V. Gigua

01:13

Domenico Scarlatti (1685 - 1757):

7

Sonata, K. 335 / L. 510

04:30

8

Sonata, K. 208 / L. 238

05:29

9

Sonata, K. 322 / L. 483

03:19

Johann K. Mertz: Opern-Revue, Op. 8 No. 8:

10

Opern-Revue, Op. 8 No. 8: Gaetano Donizetti's Elisir d'amore

09:58

Benvenuto Terzi (1892 - 1980):

11

Elegia

05:17

12

Danza die nani

02:17

13

Sorriso di bimba (Arietta)

01:56

14

Minuetto

01:38

15

Berceuse, Op. 48 No. 2

03:06

16

Notturno, Op. 43

02:33

17

Carillon

01:52

18

Romanza, Op. 48 No. 1

03:21

19

Serenata alpestre, Op. 9

03:07

Total Runtime

01:00:27
Info for Mia amata Italia

Mit seinem neuen Album "Mia amata Italia" erweist Luciano Marziali dem Reverenz, was er musikalisch an seiner Heimat Italien am meisten liebt: die Kunst von Komponisten wie Scarlatti, Donizetti und Terzi.
Zu seinem 20-jährigen Bühnenjubiläum in Deutschland hat der Meistergitarrist ein Programm aus einfühlsamer, romantischer Musik zusammengestellt.
Ein Genuss für jeden Liebhaber wunderschöner Musik!
Luciano Marziali, Gitarre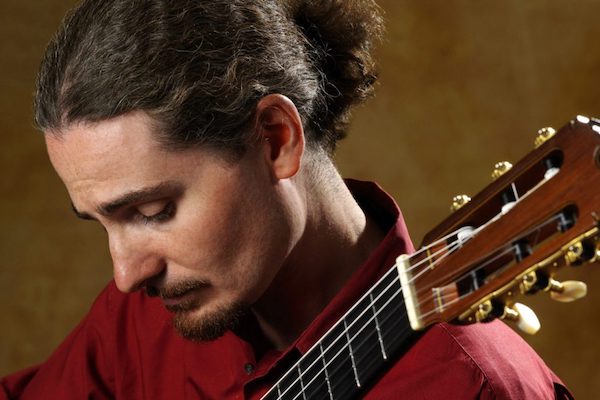 Luciano Marziali
wurde im Jahr 1976 in Bergamo (Italien) geboren.
Im Alter von acht Jahren erhielt er seinen ersten Gitarrenunterricht und schon mit elf begann sein Studium am Konservatorium Gaetano Donizetti in Bergamo bei Prof. Giorgio Oltremari, das er im Jahre 1997 mit "summa cum Laude" abschloss.
Von 1997 bis 1999 studierte Luciano Marziali im Aufbaustudiengang an der Akademie für Tonkunst Darmstadt bei Tilman Hoppstock. Dieses Studium beendete er sehr gut.
Im Jahr 2004 spielte er seine Diplomprüfung an der Hochschule für Musik und Tanz Köln unter der Betreuung von Prof. Hubert Käppel mit großem Erfolg.
Im Jahr 2006 absolvierte er immer noch in Köln sein Konzertexamen in der Klasse von Prof. Roberto Aussel und schloss das pädagogische Diplom mit der besten Note ab.
Die Associazione Chitarra Bergamo vergab Luciano Marziali in 2009 den Preis Segovia Day 2009 als Anerkennung seines herausragenden Engagements für die Förderung der Musik, der Kultur und der Kunst.
Er gibt regelmäßig Solokonzerte und tritt als Mitglied verschiedener kammermusikalischen Besetzungen in ganz Europa und in Südamerika mit großem Erfolg auf: im duo mit dem deutschen Gitarristen Tobias Kassung, in dem Gitarrenquartett Fénix – International Guitar Quartet neben den Gitarristen Prof. Hubert Käppel, Sotiris Malasiotis und Piraí Vaca und als Solist mit den Orchestern Junge Philarmonie Köln, WDR Sinfonie Orchester, WDR Rundfunk Orchester und Sinfonietta Köln unter der Leitung von hochgeschätzten Dirigenten wie u.a. Michail Jurowsky, Semyon Bychkov, Tan Dun, Völker Hartung und Cornelius Frowein.
Luciano Marziali wirkte an mehreren CD-Produktionen, u.a in 2002 mit dem Fénix – International Guitar Quartet und in 2003 als Solist mit dem WDR Sinfonie Orchester.
Seine erste Solo-CD The Guitar in 20th and 21st Century, erschienen in 2006 in Zusammenarbeit mit der italienischen Fachzeitschrift GuitArt, enthält nur Originalkompositionen für Gitarre: einige spät-romantischen Juwelen von Mario Castelnuovo-Tedesco und Werke der zeitgenossichen Komponisten Giovanni Podera, Livio Gianola und Pejman Kayvani. Teilweise sind diese Werke Luciano Marziali gewidmet und hier als weltweite Uraufnahme zu finden.
In seiner zweiten Solo-CD Live in Cologne, produziert von dem Label KSGEXAUDIO, präsentiert Luciano Marziali den Live-Mitschnitt eines Recitals aus Köln im Jahre 2007 mit Werken von Johann Sebastian Bach, Mauro Giuliani, Isaac Albéniz, Heitor Villa-Lobos und Mario Castelnuovo-Tedesco.
Im Jahre 2010 veröffentlichte der Label KSGEXAUDIO Luciano Marzialis dritte Solo-CD Spanish and Latin American Music for Guitar mit Werken von Alonso de Mudarra, Luys de Narváez, Fernando Sor, Enrique Granados, Joaquín Malats, Federico Moreno-Torroba, Joaquín Turina, Manuel Maria Ponce, Heitor Villa-Lobos und Agustín Barrios-Mangoré
Luciano Marziali's vierte Solo-CD Mia amata Italia, immer noch produziert vom Label KSGEXAUDIO in 2018, beinhaltet Kompositionen Ludovico Roncallis, Domenico Scarlattis, Johann Kaspar Mertzs and Benvenuto Terzis.
Des Weiteren nahm er an Meisterkursen von verschiedenen weltbekannten Gitarristen teil, u. a. von David Russell, Tilman Hoppstock, Angelo Gilardino, Thomas Müller-Pering, Simon Dinnigan, Hubert Käppel, Roberto Aussel und Dusan Bogdanovic, die Luciano Marziali als einer der besten italienischen Gitarristen seiner Generation sowohl für seinem technischen Können als auch für seine interpetatorische Sensibilität und Tiefe.
Im Jahre 2014 grundete außerdem Luciano Marziali in Zusammenarbeit mit seinem Kollege Jhon Jiménez den Internet-Musiksender Guitar TV World, der die Aufmerksamkeit für die klassische Gitarre weltweit erhöhen möchte.
Luciano Marziali gastiert außerdem als Dozent in mehreren europäischen Meisterkursen und Gitarrenfestivals.
Zurzeit lebt er in Köln, wo er, neben seiner Konzerttätigkeit, die Kunst des Gitarrenspiels lehrt und verschiedene kammermusikalische Besetzungen betreut.

This album contains no booklet.