---
I`m sorry!
Dear HIGHRESAUDIO Visitor,
due to territorial constraints and also different releases dates in each country you currently can`t purchase this album. We are updating our release dates twice a week. So, please feel free to check from time-to-time, if the album is available for your country.
We suggest, that you bookmark the album and use our Short List function.
Thank you for your understanding and patience.
Yours sincerely, HIGHRESAUDIO
1

XYZ

05:37

2

Double Personality

11:57

3

Summer Rain

06:07

4

Joy

08:29

5

010101 (Binary System)

08:23

6

Truth And Lies

07:20

7

Dancando No Paraiso

07:39

8

Another Mind

08:44

9

The Tom And Jerry Show

06:05

Total Runtime

01:10:21
Info for Another Mind

"I don't want to put a name on my music. Other people can put a name on what I do. It's just the union of what I've been listening to and what I've been learning. It has some elements of classical music, it has some rock, it has some jazz, but I don't want to give it a name." —Hiromi Uehara
Japanese native Hiromi Uehara may still be a student at Berklee School of Music in Boston, but there's already a great deal that she could teach those in the music world whose ears and minds are sufficiently open. Her debut album, Another Mind, offers a glimpse into the highly creative inner world of a gifted young pianist whose roots are in jazz but whose potential is unlimited. Mentored by keyboard giants like Oscar Peterson, Ahmad Jamal and Chick Corea, Hiromi turns jazz tradition on its head and plunges into a universe of new ideas where others of her generation have barely scratched the surface.
Born in Shizuoka, Japan, in 1979, Hiromi took up the piano at age six. Within a year, she was a student of the Yamaha School of Music, whose progressive approach to musical training allowed the young student to tap into her emotions as well as mastering the technical aspects of writing and performing. "I could really play from my heart," she says, "and not just from my ears."
She came to the United States in 1999 to continue her studies at Berklee. The cross-cultural experience has opened her ears and her mind to new and varied musical tastes that encompass everyone from J. S. Bach to Franz Liszt to Sly and the Family Stone to King Crimson. An ambitious and engaging debut, Another Mind is a distillation of all of these sensibilities and more. Though rooted in jazz, the album's nine tracks make frequent forays into pop, R&B and avant-garde. From the first measures of "XYZ," Hiromi commands the listener's attention with insistent, syncopated keyboard riffs that churn forward with locomotive intensity. "Double Personality" sets up a taut balance of rhythm and melody that careens through various interludes of high-speed and high-energy freeform.
Later in the sequence, the relaxed and easygoing "Joy" is a departure from the intensity that characterizes the lion's share of the album. Also noteworthy are the quirky, techo-flavored "010101 Binary System," the melodic and hypnotic title track and the whimsical bonus track, "The Tom & Jerry Show." Along the way, Hiromi is supported by a fine team of musicians that includes her own backup unit of bassist Mitch Cohn and drummer Dave Di Censo, as well as three formidable guest players: bassist Anthony Jackson, alto saxophonist Jim Odgren and guitarist Dave Fiuczynski.
Jackson, a seasoned session player with a mile-long list of credits dating back to the early '70s, heaps high praise on the young talent: "Hiromi stands in the front rank of the greatest players that I've ever worked with," he says, "and I've worked with quite a few of them."
"Hiromi continues to change the musical landscape everywhere she performs," says pianist Ahmad Jamal, who co-produced Another Mind (along with veteran bassist/ arranger / producer and Berklee professor Richard Evans) and has taken an active interest in her career. "Her music, together with her overwhelming charm and spirit, causes her to soar to unimaginable musical heights. She is nothing short of amazing."
"On the back of the CD case is a photo that is basically a heads-up as to what you can expect from this debut album by 23-year-old jazz pianist Hiromi Uehara. She is standing outside wearing a black dress and a strange yellow-and-white wrap. Her face is turned up to the sky, her eyes and mouth closed, her jaw clenched; her arms are held straight down by her sides with her fingers splayed wide. It's a stance that bespeaks intense energy and a certain defiance. Most of the music contained in the CD seems to have been made in a similar attitude, for better and, occasionally, for worse. Uehara plays with an almost demonic energy and amazing stamina; on a program that consists entirely of original compositions, most of them delivered in a standard piano trio format, she zips from style to style with a sense of urgency that borders at times on the manic. Her propulsive "XYZ" opens the album with churning intensity; "Double Personality" finds her alternating between nearly harmolodic free improvisation and carefully composed modern jazz; "Joy" offers a gentle breath of fresh air before she resumes her headlong musical charge. The album ends with a bonus track, an unaccompanied piano piece called "The Tom and Jerry Show," which alternates between loopy, Carl Stalling-esque avant-gardism and high-speed ragtime. By the end of this album you'll be tired, but it's a good tired. Heaven only knows what her next album will sound like, but the laws of physics would seem to dictate that she'll have to slow down a bit." (Rick Anderson, AMG)
Hiromi Uehara, piano
Mitch Cohn, bass
Dave DiCenso, drums
Guests:
Anthony Jackson, bass
Jim Odgren, alto saxophone
Dave Fiuczynski, guitar
Recorded in Avatar Studio C, New York City, September 16-18, 2002
Produced by Richard Evans, Ahmad Jamal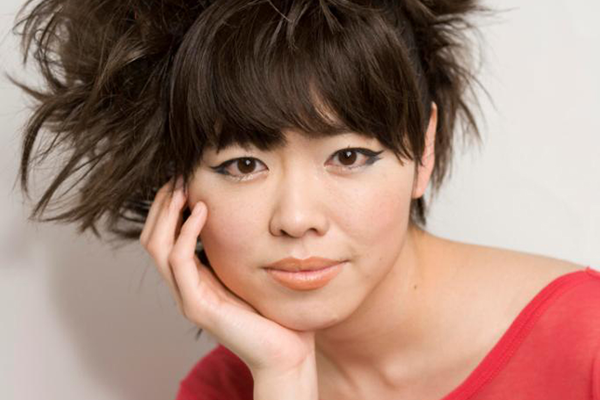 Hiromi
Born in Hamamatsu, Shizuoka, Japan on March 26, 1979, Hiromi's piano lesson's started when she was six, and she performed her first recital at that age. Her first teacher, Noriko Hikida, encouraged her to access both the intuitive and technical aspects of music. "Her energy was always so high, and she was so emotional," Hiromi says of Hikida. "When she wanted me to play with a certain kind of dynamics, she wouldn't say it with technical terms. If the piece was something passionate, she would say, 'Play red.' Or if it was something mellow, she would say, 'Play blue.' I could really play from my heart that way, and not just from my ears."
Hikida also exposed Hiromi to jazz and introduced her to the great pianist Errol Garner and Oscar Peterson. She enrolled in the Yamaha School of Music at age six, and started to write music at same time.
Hiromi moved to the United States in 1999, and matriculated at the Berklee College of Music in Boston, which extended her artistic sensibilities. "It expanded so much the way I see music," she says. "Some people dig jazz, some people dig classical music, some people dig rock. Everyone is so concerned about who they like. They always say, 'This guy is the best,' 'No, this guy is the best.' But I think everyone is great. I really don't have barriers to any type of music. I could listen to everything from metal to classical music to anything else."
Among her mentors at Berklee was the veteran jazz bassist/arranger Richard Evans, who teaches arranging and orchestration. It was Evans who took Hiromi's demo tape to his friend and collaborator: the legendary pianist/bandleader Ahmad Jamal. "[Professor Evans] really liked how I played," Hiromi fondly recalled. "And Ahmad loved the demo – I couldn't believe it! He's been very encouraging and supportive. He's an amazing human being."
Evans co-produced her debut CD, Another Mind, with Jamal, who has also taken a personal interest in Hiromi's artistic development. "She is nothing short of amazing," says Jamal. "Her music, together with her overwhelming charm and spirit, causes her to soar to unimaginable musical heights." Another Mind was a critical success in North America, and in her native Japan, where the album shipped gold (100,000 units) and received the Recording Industry Association of Japan's (RIAJ) Jazz Album of the Year Award. Hiromi's astonishing debut was but a forecast of the shape of jazz to come.
Her second release, Brain, won the Horizon Award at the 2004 Surround Music Awards, Swing Journal's New Star Award, Jazz Life's Gold Album, HMV Japan's Best Japanese Jazz Album, and the Japan Music Pen Club's Japanese Artist Award (the JMPC is a classical/jazz journalists club). The CD was also named Album of the Year in Swing Journal's 2005 Readers Poll. In 2006, Hiromi won Best Jazz Act at the Boston Music Awards and the Guinness Jazz Festival's Rising Star Award. She also claimed Jazzman of the Year, Pianist of the Year and Album of the Year in Swing Journal Japan's Readers Poll for her 2006 release, Spiral. Hiromi's winning streak continued with the release of Time Control in 2007 and Beyond Standard in 2008. Both releases featured Sonicbloom: her hand-picked group that included guitarist Dave "Fuze" Fiuczynski, bassist Tony Grey and drummer Martin Valihora.
Hiromi achieved a number of milestones in 2009. She recorded with pianist Chick Corea – who she met in Japan when she was seventeen – on Duet, a two-disc live recording of their transcendent, trans-generational and transcultural duo concert in Tokyo. She also appeared on bassist Stanley Clarke's Heads Up International release, Jazz in the Garden, which also featured former Chick Corea bandmate, drummer Lenny White.
In June of that same year, Hiromi simultaneously released two concert DVDs, both recorded in Tokyo: Hiromi Live in Concert (recorded in December 2005) and Hiromi's Sonicbloom Live in Concert (recorded in December 2007). The former features the rhythm section of Grey and Valihora, while the latter includes Fiuczynski's incendiary fretwork.
In 2010, Hiromi released A Place To Be, and impressive and intimate solo piano CD; her evocative aural travelogue of the many places and spaces she visited around the world. "I wanted to record the sound of my twenties for archival purposes," she says. "I felt like the people whom I met on the road during my twenties really helped me develop and mature as a musician and as a person. So in addition to making a record that represented all of these places that have inspired my music, I also wanted it to be a thank-you to those people."
She followed up A Place To Be with a DVD, Hiromi Solo Live at Blue Note New York. Recorded on August 20 and 21, 2010, at the Blue Note in New York City, the video includes 11 originals and a special bonus feature with interview clips and performance footage from some of Hiromi's favorite cities around the world.
On her 2011 album, Voice, Hiromi's goal was to capture people's "inner voices" to create what she called a "three-dimensional sound." On that album, she assembled a trio that included herself and two veteran players; contra-bass guitarist Anthony Jackson (Paul Simon, The O'Jays, Steely Dan, and Chick Corea) and drummer Simon Phillips (Toto, The Who, Judas Priest, David Gilmour, Jack Bruce). While Hiromi had played with Jackson prior to recording Voice, she had never recorded an entire album with either him or Phillips, who had been recommended to her by legendary bassist Stanley Clarke, a mutual acquaintance.
Also in 2011, The Stanley Clarke Band CD featuring Hiromi won the GRAMMY® Award for Best Contemporary Jazz Album.
While on the road, Hiromi started writing music for the follow-up CD, Move, released in 2013. "Because I had been playing with Anthony and Simon for quite a bit, I just started to understand their characteristics, and I could find a hidden gem in their playing," she explains. "There's so much more to their playing. As a composer, I really wanted to write the songs especially for them, and I wanted to extract the unique beauty of their playing." Move, like Voice, had an overriding theme, which Hiromi describes as "time in one day." "You wake up and go to work and then hang out," she says. "The album is like a soundtrack for a day." That same year, she had several impressive placements in DownBeat magazine's 61st Annual International Critics Poll, in the Jazz Artist, Piano, Keyboard, and Rising Star: Piano categories. Also, in 2013, she performed at George Wein's Newport Jazz Festival, and will perform there for the festival's sixtieth anniversary in 2014.
Alive, was her ninth album as a leader in Hiromi's ever-evolving musical life. "I'm hungry to learn," she told DownBeat magazine, "so I'll always my big ears open fully, ready to learn every single minute that I play."
Her latest ablum "Live in Montreal" is a duet featuring Edmar Castaneda, released in 2017.
After a successful World Tour with the duo, Hiromi will return 2019 with a new Solo Album. Only a handful of pianists are able to fill concert Halls as a Solo Artist and Hiromi is one of them!

This album contains no booklet.