---
Album info
Album including Album cover
1

The Adventures of Superman (TV Theme)

06:53

2

Mighty Mouse Theme

05:16

3

Spiderman Theme

05:07

4

Superman (Movie)

04:52

5

Batman Theme (TV)

05:17

6

The Incredible Hulk (Main Title)

03:19

7

Six Million Dollar Man Theme

06:08

8

Batman Theme (1989 Movie)

04:53

9

X-Men TV Theme

05:02

10

Underdog Theme

06:36

11

Super Chicken Theme

04:06

Total Runtime

57:29
Info for Superheroes

Look! Up on the bandstand! It's a piano! It's a saxophone! It's a trumpet! It's Superheroes, a bold and daring, wall-scaling, day saving, faster than George Benson's blazing guitar, a Chick Corea synth run or Vinnie Colauita drum solo all-star jam session celebrating humanity's global obsession with these godlike beings who have become multi-billion dollar comic book, film and TV icons.
Capturing our jazz-clectic fantasies in the sweet spot between the 80th Anniversary of Superman's first appearance in Action Comics #1 and Batman's debut in Detective Comics #27, this imaginatively arranged, freewheeling 11 track set is the brainchild of Grammy winning pianist/arranger Randy Waldman, who creates a Quincy Jones' size session to execute his vision. In addition to producing and re-arranging some of our favorite TV and film themes ("Batman" and "Superman" get both!), he tackles piano, trumpet and even backing vocals when he's not overseeing the genius of a powerhouse guest list that includes - in addition to Benson, Corea and Colaiuta - trumpet greats Arturo Sandoval, Wayne Bergeron, Wynton Marsalis, Till Bronner and Randy Brecker; legendary clarinetist Eddie Daniels; drummer Steve Gadd; longtime Benson guitarist Michael O'Neill; saxophonists Brandon Fields, Joe Lovano and Chris Potter; and trombonist Steven Szabadi.
And just for Krypton exploding kicks, he includes the voices of other entertainment icons to introduce the opening track, a rambunctious, funk-filled piano, sax and trumpet driven romp through the classic TV theme to "The Amazing Adventures of Superman": James Brolin, Michael Buble, Jeff Goldblum, Josh Groban, Olivia Newton-John and John Travolta. If Waldman wins a Grammy for this extraordinarily ambitious, five years in the making work– and he should! – his thank you speech may go on long enough to raise Andy Kaufman from the grave to extend his "Here I Come To Save the Day" shtick to include swinging along to Waldman's piano frenetic piano solo and the sizzling brass of "The Mighty Mouse Theme."
One of the film, TV and music industry's most prolific behind the scenes forces, Waldman already has a Grammy for no less than co-arranging "Somewhere" for Barbra Streisand, for whom he's been pianist and conductor of over 30 years. His hundreds of credits include seven years touring with Benson and date with a bunch of late greats (Frank, MJ, Whitney, Ray Charles) and living legends Beyonce, Stevie Wonder, Johnny Mathis Celine Dion and Madonna. Yet listening to every darting note, fiery solo and percussive twist and turn on Superheroes, you may get the idea that Waldman accomplished all this just so he could amass the professional wherewithal and proverbial "Rolodex" that he could draw from to create this labor of love.
Following the TV "Superman" and "Mighty Mouse," our next superhero gone jazz is "Spiderman," with the familiar theme sung like never before, in gorgeous harmony before by the legendary gospel/jazz group Take 6. Their wordless vocals appear throughout as Waldman's piano spins a musical web any size and scales walls with over dense percussion and one of Field's trademark burning sax solos. Next, Waldman flies (and swings) high on the "Superman" film theme, creating a jazz masterpiece from John Williams' majestic theme and allowing space for Benson to jump into and out of a phone booth and do his superhuman electric guitar solo thing.
Waldman pays homage to "Batman" twice, first via the punch and pow piano-brass swing and Wynton Marsalis' brash trumpet solo of the familiar TV Theme and later through a slightly moodier arrangement (highlighted by vibrant piano and guitar solos) of Danny Elfman's theme to the 1989 Tim Burton Film. "Batman" is, in essence, the inspiration for the entire project. Waldman got the idea when he had the good fortune to meet Adam West from the campy 60's TV series. Turns out, West loved jazz and their conversation about it stayed in Waldman's mind. West passed away in the meantime, and it's nice to imagine the whole project being dedicated to him, "the" classic "Batman" for several generations.
True to the off the beaten path aesthetic of the project, Waldman includes some nifty surprises along the way, including a soulful, reflective take on "The Incredible Hulk" TV Theme (more mild mannered Bill Bixby/David Banner than angry Lou Ferrigno) that includes a trippy synth solo by Corea; a feisty and whimsical Latin spin through "The Six Million Dollar Man," with the dual drum energy of Gadd and Colauita and a Steve Austin 60 mph trumpet solo by Sandoval; and the inclusion of "Underdog" (not in the Marvel or DC universe but supercool nonetheless) as a playful showcase for Szabadi's trombone. Other highlights are the piano intensive, densely percussive "X-Men TV Theme" and a quirky roll through the much more obscure "Super Chicken" featuring Daniels' clarinet whimsy in full tilt.
Here's hoping the superb "Superheroes" is only the first of many all-star jazz superhero projects to come. Kudos to Waldman and his immense, talented crew for bringing our pop culture musical memories to life in a way that transcends generations, books, films, television and hits our nostalgic minds faster than a speeding bullet!
Randy Waldman, piano, trumpet, background vocals
Carlitos Del Puerto, bass
Vinnie Colaiuta, drums
Michael O'Neill, guitar
Rafael Padilla, percussion
Guests:
George Benson, guitar
Wayne Bergeron, trumpet
Randy Brecker, trumpet
Till Brönner, trumpet
Chick Corea, piano
Eddie Daniels, clarinet
Brandon Fields, saxophones
Joe Lovano, saxophone
Wynton Marsalis, trumpet
Steve Gadd, drums
Take 6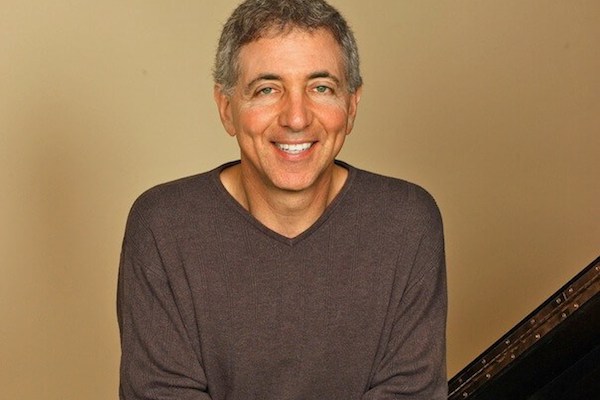 Randy Waldman
Beginning at the age of 5, Randy's future was already set in stone. While all the other children his age were out playing baseball, running around and doing what kids do at that age, Randy was sitting at the piano. From the minute he woke up in the morning, when he came home for lunch, and from the time he came home from school, he did nothing but sit at the piano and play. At the age of 12, Randy was hired for his first professional job, demonstrating pianos at a music store, and from there starting getting hired playing at parties.
After getting through three years of high school, Randy was already a very busy musician, playing for shows, backing up singers and all types of musical jobs. At that point he told his parents that he wanted to quit high school, because it was taking up too much time and getting in the way of his career. After much bargaining, his parents struck a deal with Randy, his high school principle and the head of music at Northwestern University. If Northwestern would let Randy play in their collage jazz band for the next year, Randy agreed to finish high school….which was not easy, since Randy only showed up for his music classes and not much more, much to the dismay of his gym teacher, geography teacher, English teacher…
Somehow with the help of his persuasive father, and an understanding High School principle, Randy received his high school diploma, never to look back. Just after finishing high school, at the age of 21, he was hired to go on tour as the pianist for Frank Sinatra. Not a bad first gig! Shortly after that Randy was hired to tour with The Letterman and that brought Randy out to the west coast, at which point he decided that this was his new home, and he was officially a Los Angeles citizen. Within the first year of moving to LA, Randy was hired to tour with various artists, starting with Minnie Ripperton, Lou Rawls, Paul Anka, and then George Benson. Randy toured with Benson for seven years as his pianist, conductor and arranger. The word started to spread about Randy in the LA studio scene, and he was beginning to get more and more calls to do session work on various records and movie soundtracks.
Randy finally put an end to his touring, and devote all of his time to doing sessions. What followed were ten years of non-stop session work, doing records, movies, TV, jingles, song writing and arranging. Some records that Randy's talents can be heard on are: Celine Dionne, Michael Bolton, Madonna, Whitney Houston, Vanessa Williams, Patti LaBelle, Michael Jackson, and many others. Some motion picture soundtracks that he can be heard performing on are: Forrest Gump, Roger Rabbit, Hoffa, Back to the Future, Bodyguard, Father of the Bride, Beetlejuice, and many more.
In this time, Randy was nominated for "Best Vocal Arrangement for a song that he co-wrote for the Manhattan Transfer. He also co-arranged (and performed) on the hit song "Somewhere" for Barbra Streisand, which won a grammy award for best arrangement. Randy was also voted Most Valuable player during this time, and was nominated Most valuable player three other times, by NARRAS.
Lately, Randy has been wearing the producer hat, having produced Bobby Caldwell, Patti LaBelle, Kenny G, The Stylistics, Mary Wilson, etc., and he has done numerous orchestral arrangements for the team Jimmy Jam/Terry Lewis, Nancy Wilson, Gladys Knight, and others. For many years, all of Randy's peers have been asking "Why haven't you done your own record"? The more he thought about it, the more sense that started to make. This brings us to The Randy Waldman Trio record entitled "Wigged Out", details of which are available on the music page.

This album contains no booklet.