---
Album info
Album including Album cover
Richard Danielpour (b. 1956): Talking to Aphrodite:

1

Talking to Aphrodite: I. Adagio - Animando

04:17

2

Talking to Aphrodite: II. Molto moderato

04:50

3

Talking to Aphrodite: III. Agitated, presto (Ben misurato)

03:07

4

Talking to Aphrodite: IV. Solemn, with Simple Flowing Motion

03:15

5

Talking to Aphrodite: V. Playfully (In the Manner of a Tango)

04:25

6

Talking to Aphrodite: VI. Graceful, Simply Flowing

07:18

Symphony for Strings, "...For Love Is Strong as Death...":

7

Symphony for Strings, "...For Love Is Strong as Death...": I. Moderato e triste - Agitato

10:23

8

Symphony for Strings, "...For Love Is Strong as Death...": II. Presto giocoso

07:07

9

Symphony for Strings, "...For Love Is Strong as Death...": III. Cantabile e sostenuto - Agitato

15:53

Kaddish:

10

Kaddish (Version for Violin & String Orchestra)

17:04

Total Runtime

01:17:39
Info for Richard Danielpour: Talking to Aphrodite, Symphony for Strings & Kaddish

These three recordings cement the bond between the award-winning composer Richard Danielpour and the conductor Misha Rachlevsky, one of the composer's most dedicated and perceptive interpreters. It was Rachlevsky who gave the American premiere of Symphony for Strings, a transcription of the Sixth String Quartet – a work saturated in farewells, complete with a hymn and variations. Talking to Aphrodite is the result of a collaboration between Danielpour and the writer Erica Jong, while Kaddish addresses the eternal issues of life, death and eventual peace.
Russian String Orchestra
Misha Rachlevsky, conductor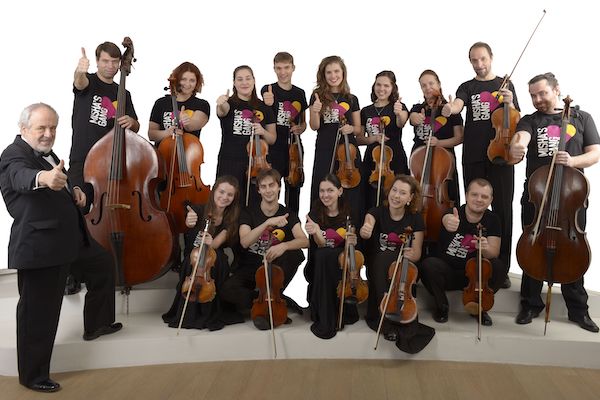 Russian String Orchestra
Founded in 1991, the orchestra, comprised of some of Russia's finest young string players, has carved a niche for itself under the creative baton of its founder and music director Misha Rachlevsky. Whether it is the highly-acclaimed CDs or its mesmerizing concerts, Russian String Orchestra's warmth and high energy create addictive performances that stay with listeners long after the last note has been played.
About half of nearly 2,300 concerts the orchestra has performed to date have taken place in Moscow, the rest were played on tours in 26 countries in North and South America, Europe and the Far East. The orchestra's discography of over 30 CDs has received widespread international acclaim, such as the Diapason d'Or award in France, Critics Choice in London's Gramophone, Critics Choice in The New York Times, and Record of the Year award in Hong Kong.
The signature quality of the orchestra is the depth and variety of its repertoire -- over 1000 compositions from early baroque to works written on commission from Misha Rachlevsky and the orchestra by composers from Russia, Europe and the USA. The orchestra prides itself in offering interesting and often unique programs, not only for its home audience, but on tour as well.
From Frankfurter Allgemeine, summarizing its review of the orchestra's debut at Frankfurt's Alte Oper: "The evening with this ensemble, which boasts to be made up of Moscow's best musicians, completely eliminated any doubts with regard to this statement."
Misha Rachlevsky
Rachlevsky's lifetime affinity for chamber music and chamber orchestra repertoire began at the College of the Moscow Conservatory and the Gnessin Academy of Music. Born in Moscow, his violin studies began at the age of five and continued through the well-traveled path of the Russian school of string playing. After leaving the Soviet Union in 1973, he lived and worked in different countries on three continents, and in1976 settled in the United States, becoming active in the field of chamber music.
Mr. Rachlevsky founded the New American Chamber Orchestra (NACO) in 1984, and led it to international prominence, completing nine European tours in four years.
In 1989, Rachlevsky accepted an offer from the city of Granada, Spain - a two-year project under which NACO became the resident orchestra of Granada while, concurrently, Rachlevsky founded and led Granada's own chamber orchestra. In 1991, in the heady aftermath of Moscow's momentous events of August 1991, Misha Rachlevsky found it impossible to resist an opportunity presented by Claves to record Russian works for this label. When Claves concurred with his suggestion to realize the project with Russian musicians, Rachlevsky called auditions, and Chamber Orchestra Kremlin was created.

This album contains no booklet.