---
Album info
Album including Album cover
I`m sorry!
Dear HIGHRESAUDIO Visitor,
due to territorial constraints and also different releases dates in each country you currently can`t purchase this album. We are updating our release dates twice a week. So, please feel free to check from time-to-time, if the album is available for your country.
We suggest, that you bookmark the album and use our Short List function.
Thank you for your understanding and patience.
Yours sincerely, HIGHRESAUDIO
1

Garra

03:29

2

Danceio

03:20

3

Três Luas

03:25

4

Fuga

04:21

5

Choro

03:24

6

Your Story

04:42

7

Sem Ar

04:38

8

Suspensa

04:43

9

Fibra

04:22

10

Lôro

03:41

Total Runtime

40:05
Info for Garra

Garra is the Portuguese word for claw. It also means – the strength to get things done. Garra is the title song and name of the new CD by DDG4, the nickname of the Dani & Debora Gurgel Quartet, based in São Paulo, Brazil. Dani and her team, between recordings, tours, social media and video productions, certainly get things done.
"I would say it's the happiest album we've ever done with this quartet. All songs are luminous, everything is in a happy mood," says the singer Dani Gurgel.
"All of our DDG4 records are recorded live in the studio, including myself. That's the take. So we usually record it in two days. No overdubs or retuning or correcting or anything. It's as it is. We rehearse a lot before recording and so it flows."
Freshness and lightness of touch are words that come to mind when listening to DDG4. The music is tight and intimate, relaxing yet invigorating. The rhythms are unmistakably Brazilian, with strong Jazz influences, tinged with references to World Music and Pop.
Dani sings, her mother Debora plays piano, Dani's husband – Thiago Rabello – is on drums and a close friend Sidiel Vieira plays acoustic.
Dani explains: "We always feel like a family when on free time during tours. There have been trips on which my father and sister and also Thiago's parents have come with us, and it feels like a family trip. Thiago says, 'look, this is my mother-in-law, who could have a better mother-in-law'. Usually people make a lot of fun of mothers-in-law. But during the show and during rehearsals and producing an album, we are all absolute professionals. We soon figured out, that if we weren't it wouldn't work."
But work it does. Debora Gurgel displays her Jazz based talents on the piano with masterly ease. Thiago Rabello, who is also producer, provides driving but subtle rhythms on drums. Sidiel Vieira caresses and coaxes his double bass with great feel and humour. When Dani Gurgel sings with her quartet, it is as if they are all enjoying an afternoon in their living room, whilst producing accomplished and original music. Dani's voice can be quiet and thoughtful, even coquettish. Then suddenly she is scatting with breathtaking precision.
"When I started I was playing saxophone for a very long time, so I wanted to be able to do everything that I did on a saxophone with my voice. I started to scat with the melodies. It was so natural to sing everything I already played. I scat, not just to have some different melodies, but to add different sounds to the rest of the music."
When scatting Dani makes the sounds relevant to the song. "In Portuguese, I'm looking for something that sounds like Portuguese, but Danceio the second song in the new CD is inspired by African rhythms and there is a very different scatting, with some clicking. That song has a different feel."
Dani Gurgel writes most her songs and music in partnership with Debora. Many come from listening to the stories of the people the quartet meet on tour, "...how they live and what their homes are like, how they pray and everything."
Indeed, Dani loves to tell stories in her songs: "Fuga means being on the run. It's about a person that ran from a town, from a lot of people, because that person had a secret. And if he stayed, would be obliged to tell and it would ruin everyone else's life. He gets out of breath, so the verses get shorter and shorter. Then he decides to go back to the city to tell. That's when I begin scatting.. so nobody knows what the secret is.
Suspensa, for example, which means suspended, is about a moment frozen in time. It's like the moment you are waiting for some very important news, either very bad or very good. It can be about a loved one in the hospital, or if you're getting into college or not."
On stage Dani and the quartet truly engage their audience. "They're not just people sitting there watching something. For me they are like new friends coming into my home, because I'm building part of my home on the stage and I'm inviting them into it. So I want them to have fun, to be happy. Even if we have some more serious, intimate songs, there is going to be a moment for that, but in the end I want people to go home feeling that they have just made new friends. Usually we are playing to people who don't speak Portuguese, so I tell a bit about the lyrics of the songs we are going to play, because our music is more about connecting to the music than connecting to the lyrics, so they have just a hint of what the song is about."
The quartet has been particularly successful in Japan, where they picked up the nickname DDG4. Japanese people adore Brazilian music and Dani Gurgel has recorded albums there of the songs of new Brazilian composers. DDG4 also regularly tours its own music there. During one radio interview in Tokyo the building started to shake.
"There are no earthquakes in Brazil, there are no volcanoes in Brazil, there are no tornados in Brazil. We just have corrupt politicians and poverty. We don't have many natural disasters - we have human disasters. In Japan, we actually had two earthquakes on two trips. The first time, Debora and I were at a radio station on the 12th floor of a building with no windows. We were on air. It's not like you see on movies, like the books are falling. No, nothing happened, it just felt like we were suspended and we didn't realise what was happening. I thought I was dizzy and I didn't have breakfast or something. We didn't know what to do. Do you run, stay put - is this a strong earthquake, is it a light one? And so the song finishes and they go right back on air. Right after that we found out it was 6.9 on the Richter Scale, so it was pretty strong. I've thought about turning it into a song. It was fun but it was terrifying and I was afraid Japanese people would think we didn't like being in Japan, because we loved it."
The new DDG4 album, earth shattering but with no reference to earthquakes, will be released in September in Japan, in October with Berthold Records all over Europe, and in November in Brazil.
Dani Gurgel, vocals
Debora Gurgel, piano
Thiago Rabello, drums
Sidiel Vieira, bass
Romero Lubambo, acoustic guitar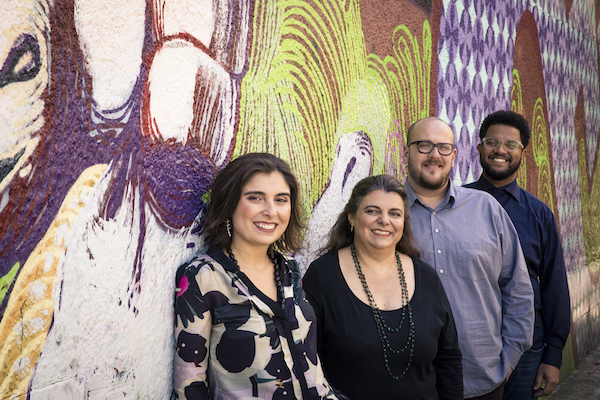 Dani & Debora Gurgel Quarteto
Brazilian rhythms and melodies meet jazz harmony and improvisation. Dani Gurgel & Debora Gurgel present their original compositions and bold arrangements of Brazilian standards.
This quartet is the outcome of the reunion of Debora Gurgel and Dani Gurgel's solo works. They have always been in each other's projects, as composition and interpretation partners, joining their voice and piano into one for the last two decades. Drummer Thiago Rabello and bassist Sidiel Vieira beautifully complete this family style quartet.
Dani Gurgel
is a singer, photographer and video director based in São Paulo, Brazil. She strives to bring together musical talents with common goals, with her award-winning series "Novos Compositores" (New Composers) and her documentary TV series "Outro Som" (Another sound), inspired by her web-series "Música de Graça" (Music for free).
She puts together her experience as a Brazilian jazz singer in the same cauldron as her still ongoing work as a music photographer and cinematographer, leading to her cutting-edge research at São Paulo University (USP).

This album contains no booklet.