---
Album info
Album including Album cover
1

20/20 (Amelia)

04:15

2

Cat's Cradle (Amelia)

04:24

3

We Will Host a Party (Amelia)

06:19

4

Tell the Kids It's Gonna Be Alright (Amelia)

03:51

5

40 Numbers (Amelia)

05:18

6

40 Numbers (Iris)

03:33

7

Tell the Kids It's Gonna Be Alright (Iris)

03:19

8

We Will Host a Party (Iris)

05:42

9

Cat's Cradle (Iris)

04:49

10

20/20 (Iris)

03:57

Total Runtime

45:27
Info for Slowdown

Hannah has been travelling and touring Europe for the past two years and those who have accompanied her sure have experienced more than a few adventures. Every single one of her more than 90 concerts and festivals has its unique and special moments and stories. With her violin, her looppedal and her voice, Hannah has the ability to get lost in her own worlds without ever leaving her audience behind.
Fittingly, her albums are not conceptualized as a mere succession of individual songs: There are two distinct versions of each piece – one extremely reduced and minimalist (Iris), the other a crystal clear pop interpretation (Amelia). Upsweep, which was released in October 2016, is the first album of this cycle. Slowdown, the eagerly awaited second album, will come out in February 2018.
In Epperson's universe, the names Iris und Amelia represent two fictional characters whose opposing worlds coalesce to form the likewise fictional character of a narcissistic and alienated young man with a severe and (potentially) life-threatening obsession. Iris und Amelia stand in clear contrast with each other. The lyrics transport that oscillation between the two characters and merge the real and the surreal, the finite and the infinite.
In both versions, Epperson, the Canadian with a US passport, creates a unique soundscape. Assigning a genre is thus a rather difficult task. Conceptionally, however, Hannah Epperson can certainly be called an avant-garde pop artist. Considering her artistic engagement with images and political issues, Epperson joins ranks with the feminist pop giants of our time. A very straighforward person, she exposes gender inequalities and other social ills and destroys prevalent notions of feminity: "i can't believe they'll have me back after i confessed on air to pissing in a local public park last time… " Epperson said after the second invitation of a radio station – and (subsequently) disappeared for several months to live and work on a friend's farm in Montana. Hannah Epperson's Individuality and restlessness are always met with a profound political and social consciousness.
A Jill of all trades, Hannah is also a successful ultimate frisbee player for Canada's national team. During last year's world championship in Royan (France), she and her team came in a close second. This is only further proof for the (polarity?) of this artist. Moving tirelessly from one project to another, you will hardly find her in a period of rest.
So it is all the more astonishing, how much ambition and love for details one finds in her Album Slowdown. It almost sounds as if she devoted herself with rigor and deceleration to her most important project so far. Slowdown can certainly be called her personal masterpiece – the culmination of an exciting and productive period full of concerts and festivals. With her new album, Epperson will be on fewer, but special stages such as Elbphilharmonie in Hamburg or Silent Green in Berlin.
Born in Salt Lake City, raised in Vancounver – Hannah Epperson is a 'traveler between worlds' both in an artistic and in a biographical sense. So it comes as no surprise that she calls the melting pot New York City her home. Hannah draws her inspiration from her travels as well as from frequent collaborations with other musicians and artists from New York. All of these impressions and inspirations come together to form her very unique and refreshing repertoire.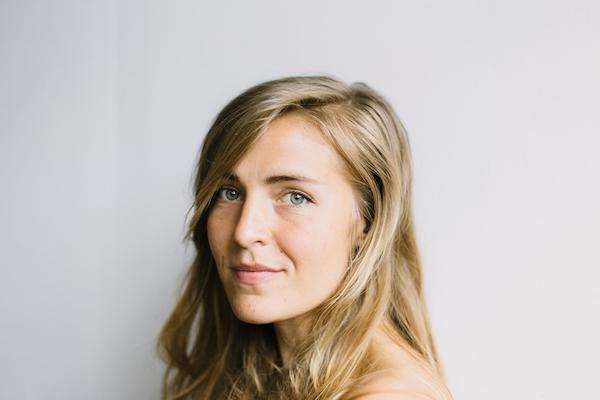 Hannah Epperson
Armed with her violin, loop pedal and voice, sonic weaver Hannah Epperson arranges musical landscapes without indulgence or over-saturation. As a solo performer and collaborative artist, she has joined forces with a versatile cast of collaborators across a spectrum of genres and disciplines. More recently, these creative explorations have included composing and performing for interdisciplinary film and dance projects across the country and in New York, where she now resides. Hannah's breadth as a collaborative and compositional powerhouse stems from from an eclectic experiential and educational background: from learning Appalachian folk tunes by ear with a cowgirl in Utah to travelling through Scandinavia and Europe as an accompanist; or from touring her solo project by sailboat with permaculturists to accompanying Flamenco dancers in Spain, before finishing her Honours Degree in Human Geography and representing Canada at World Championships for ultimate frisbee in 2015 and 2017.
The versatile and collaborative journey of this Salt Lake City born violinist informs the creative compositions she offers in her solo projects. Hannah's unique approach to composition and performance earned her one of British Columbia's Peak Performance Project awards in 2013 and international recognition as a powerful songwriter whose compositions weave classical emotion together with the raw energy of indie music. Her sound crosses genres and will continue to offer various levels of musical and emotional exploration to the same listener at different times.
Hannah Epperson's debut LP - Upsweep - was released in September 2016 as Volume I of a two volume exploration in bifurcated songwriting and production.

This album contains no booklet.