---
Album info
Album including Album cover Booklet (PDF)
I`m sorry!
Dear HIGHRESAUDIO Visitor,
due to territorial constraints and also different releases dates in each country you currently can`t purchase this album. We are updating our release dates twice a week. So, please feel free to check from time-to-time, if the album is available for your country.
We suggest, that you bookmark the album and use our Short List function.
Thank you for your understanding and patience.
Yours sincerely, HIGHRESAUDIO
Anonymous:

1

Veni, veni Emmanuel

04:15

Traditional:

2

Les anges dans nos campagnes

03:17

Camille Saint-Saëns (1835 - 1921):

3

Oratorio de Noël, Op. 12: X. Tollite hostias

02:35

Niels Wilhelm Gade (1817 - 1890):

4

Barn Jesus i en krybbe lå

03:00

Jòrunn Viðar (1918 - 2017):

5

Það á að gefa börnum brauð

01:51

Knut Nystedt (1915 - 2014):

6

En stjerne klar

02:37

Traditional:

7

Gammal Julvisa "Guds Son är född"

03:55

8

Pólnoc juz byla

02:11

9

Mizerna, cicha

03:16

10

Nesem vám noviny

01:48

Sergei Rachmaninoff (1873 - 1943):

11

All-Night Vigil, Op. 37: VI. Bogoroditse Devo

02:54

Pavel Chesnokov (1877 - 1944):

12

Cherubim-Hymnus; Op. 42, No. 9

04:13

Traditional:

13

E la don don, Verges Maria

03:24

14

En Belén tocan a fuego

03:08

15

Sou Cigana

00:51

16

Natal de Elvas

03:26

17

El Noi de la Mare

02:54

18

O suuer maecht van Ysrahel

03:04

Gustav Holst (1874 - 1934):

19

In the Bleak Midwinter, H. 73, No. 1

05:01

Arthur Sullivan (1842 - 1900):

20

It Came upon the Midnight Clear

03:04

Traditional:

21

Dormi, dormi, bel Bambin

04:18

Anton Bruckner (1824 - 1896):

22

Virga Jesse, WAB 52

03:58

Traditional:

23

Es kommt ein Schiff geladen

02:36

Total Runtime

01:11:36
Info for Christmas in Europe

Romantic settings from across Europe: What does Christmas sound like among our European neighbours? It was his desire to explore the variety and beauty of unaccompanied Christmas music that inspired Thomas Hengelbrock to undertake this project. Together with his Balthasar Neumann Choir he sets out on a musical tour of Europe designed to celebrate the most beautiful time of the year with songs both raptly reverential and filled with seasonal joy. With Niels Wilhelm Gade and Jórunn Viðar the Choir strikes a note of Nordic sound not normally found in Christmas music. Traditional carol tunes may be heard in the Baroque settings of Heinrich Schütz and Christoph Demantius. And the festive choral writing of German composers responding to the subject of Christmas may be rediscovered not only in simple folksongs but also in Felix Mendelssohn's and Anton Bruckner's more elaborate compositions. Our Christmas journey culminates in a commissioned work, Hoping It Might Be So, a setting of Thomas Hardy's poem The Oxen by the British composer Simon Wills. It takes its title from the final line of Hardy's poem. Its subject is hope. The voices of the Balthasar Neumann Choir are heard unaccompanied. Its members are unique in their ability to combine musical perfection and emotional intensity on the very highest level.
"The Balthasar Neumann Choir under the direction of Thomas Hengelbrock offered an impressive survey of the various traditions of Christmas music. […] The Choir was remarkable for its dramaturgical refinement, its precise articulation and its expressive verve." (Badische Neueste Nachrichten)
"The Choir sang with crystalline clarity, radiant top notes and a well-grounded bass, performing with a lightness and a flexibility that it would be hard to surpass." (Lübecker Nachrichten)
"Thomas Hengelbrock needs neither a podium nor a score nor a baton. He communicates his own enthusiasm directly to his musicians. […] Whether etching in the most delicate details or pressing ahead with their well-sprung rhythms, the thirty-five members of the Balthasar Neumann Choir reveal all of their vast experience, their textures lean and translucent, their technique compelling right down to the solo passages in the "Deposuit" and the breathtakingly ebullient choral fugues." (WAZ)
Balthasar-Neumann-Chor
Thomas Hengelbrock, Leitung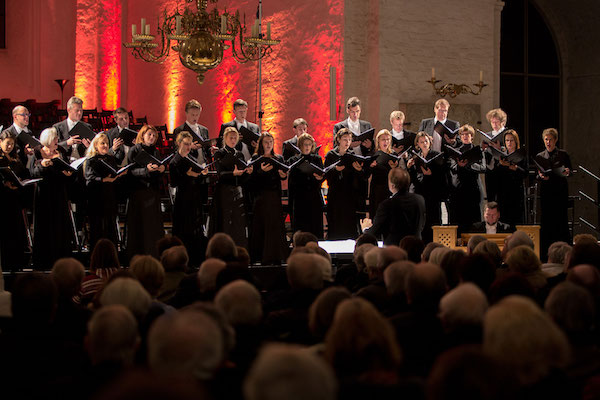 Der Balthasar-Neumann-Chor
Founded by Thomas Hengelbrock in Freiburg in 1991, the Balthasar Neumann Choir is regarded as one of the world's finest vocal ensembles. Its vibrant performances are invariably greeted with enthusiasm on the part of audiences and critics alike. The prestigious British Gramophone magazine voted the Balthasar Neumann Choir one of the "world's best choirs". Whether they are performing music from the seventeenth century or contemporary compositions, repertory works or rarities, Masses, operas, oratorios or pieces that cannot be tied down to a specific genre, these outstanding singers invariably demonstrate not only the highest musical standards but above all passion and a deep understanding of the music, performing not just as members of the chorus but also as soloists in their own right.
Like the great Baroque architect who gave them their name, the Balthasar Neumann Choir and Balthasar Neumann Ensemble that were both founded by Thomas Hengelbrock represent innovative, holistic and interdisciplinary thinking. "Music is life cast in sound": this credo determines their work together, no matter whether they are tackling Baroque music or a brand-new piece. They have successfully excavated many a work that had been buried by the sands of time, while familiar works are performed anew in their original sonorities. And time and again the music is interwoven with other forms of expression. On their CD Nachtwache, for example, a cappella choral works by Romantic composers are heard alongside spoken verse and prose to grant a vivid insight into the soul of the period. The texts are read by the actress Johanna Wokalek, who works regularly with the Balthasar Neumann Ensemble and Choir.
The Balthasar Neumann Choir's artistic quality, versatility and passion have set international standards, with the result that it has been invited to perform in the world's leading concert halls and at major international festivals. Working alongside Thomas Hengelbrock's Cuban-European Youth Orchestra, the Balthasar Neumann Choir gave the world premiere of the oratorio Maria by Jan Müller-Wieland (*1966) at the 2018 Ruhrtriennale. The Choir regularly appears at the Schleswig-Holstein Music Festival and the Munich Opera Festival. Tours have already taken them to China, Mexico, Japan and the United States. They have also increased their presence in Spain, notably in Madrid and Barcelona and at the Festival Internacional de Santander and the Quincena Musical de San Sebastián.
In Germany both the Balthasar Neumann Ensemble and the Balthasar Neumann Choir are currently increasing their presence in Freiburg by working more closely with the Albert Concerts. In Hamburg they are performing a series of concerts of their own in 2019/20, when they will be appearing not only in the venerable Laeiszhalle but also in the city's new Elbphilharmonie. The Balthasar Neumann Choir has also enjoyed great acclaim on operatic stages around the world from Baden-Baden and Salzburg to Aix-en-Provence and from Paris and Madrid to New York. Gluck's opera Orpheus und Eurydike, performed in German with the Ballet de l'Opéra National de Paris in a version choreographed by Pina Bausch, has been revived on numerous occasions and a recording of it has been released on DVD, while Purcell's Dido and Aeneas was likewise enthusiastically received: unusually staged by Thomas Hengelbrock, it featured Johanna Wokalek reciting texts of her own and functioning as Dido's sombre alter ego.
Together with the Balthasar Neumann Ensemble, the Choir also works with other orchestras and ensembles such as the Amsterdam Concertgebouw Orchestra, the Leipzig Gewandhaus Orchestra, the Zurich Tonhalle Orchestra, the NHK Symphony Orchestra and – on a regular basis – the Basel Symphony Orchestra. Among the distinguished guest conductors with whom they have frequently appeared are Pablo Heras-Casado, Ivor Bolton and Howard Arman.
The Balthasar Neumann Choir has received numerous honours and awards, including the Baden-Württemberg Culture Prize, several ECHO Klassik Awards and a Gramophone Award.
The work undertaken by the Balthasar Neumann Ensemble and Choir and their extensive musicological research is made possible thanks to the support of Evonik Industries.

Booklet for Christmas in Europe