---
Beethoven's World - Reicha, Romberg: Concertos for Two Cellos Reinhard Goebel
Album info
Album including Album cover Booklet (PDF)
I`m sorry!
Dear HIGHRESAUDIO Visitor,
due to territorial constraints and also different releases dates in each country you currently can`t purchase this album. We are updating our release dates twice a week. So, please feel free to check from time-to-time, if the album is available for your country.
We suggest, that you bookmark the album and use our Short List function.
Thank you for your understanding and patience.
Yours sincerely, HIGHRESAUDIO
Antonín Reicha (1770 - 1836): Sinfonia Concertante for 2 Cellos in E Major:

1

Sinfonia Concertante for 2 Cellos in E Major: I. Allegro non troppo

21:49

2

Sinfonia Concertante for 2 Cellos in E Major: II. Largo

06:33

3

Sinfonia Concertante for 2 Cellos in E Major: III. Moderato

10:04

Bernhard Romberg (1767 - 1841): Concertino for 2 Cellos in A Major, Op. 72:

4

Concertino for 2 Cellos in A Major, Op. 72: I. Allegro moderato

06:31

5

Concertino for 2 Cellos in A Major, Op. 72: II. Andante grazioso

02:50

6

Concertino for 2 Cellos in A Major, Op. 72: III. Rondo. Con allegrezza

05:44

Joseph Eybler (1765 - 1846): Divertisment für Fasching Dienstag 1805 for Orchestra:

7

Divertisment für Fasching Dienstag 1805 for Orchestra: I. Entrada - Marcia

02:03

8

Divertisment für Fasching Dienstag 1805 for Orchestra: II. Contredanza

06:42

9

Divertisment für Fasching Dienstag 1805 for Orchestra: III. Allemande

03:13

Total Runtime

01:05:29
Info for Beethoven's World - Reicha, Romberg: Concertos for Two Cellos

Bereits das erste Album von Reinhard Goebels Aufnahmeprojekt "Beethovens Welt" mit Violinkonzerten von Franz Clement (1780-1842) erhielt große Beachtung und exzellente Rezensionen weltweit. Die Welt am Sonntag widmete dem Komponisten sogar zwei Seiten als herausragende Entdeckung und urteilte abschließend: "Wenn die Entdeckung Beethoven-Zeitgenossen, die sich gerade Goebel fürs Beethoven-Jahr auf die Fahnen geschrieben hat, so weitergeht, wird es ein feines Jahr." Auch SWR2 lobte das Projekt: "Reinhard Goebel verspricht nach diesen beiden Violinkonzerten von Clement noch weitere spannende Erkundungen aus Beethovens Welt." Jetzt erscheint bei Sony Classical das zweite Album mit zwei Raritäten von Beethoven-Zeitgenossen: Konzerte für 2 Celli und Orchester gibt es nur wenige und noch weniger in der hier gezeigten Qualität: Das Concertino op. 72 von Bernhard Romberg (1767-1841) ist eine Weltersteinspielung. Das Werk ist eine gigantische Tour de Force mit nur den notwendigsten Verschnaufpausen für die beiden Solisten und einem Bolero-Finale, in dem wirklich alle Register links und rechts gezogen werden. Die irrsinnig virtuose Sinfonia Concertante von Antonín Reicha (1770-1836) steckt voller gestalterischer Experimente und weist klare Bezüge zu Beethovens neuartiger musikalischer Grammatik auf. Eingespielt wurden diese Doppel-Cellokonzerte mit den Cellisten Stephan Koncz und Bruno Delepelaire und dem Deutschen Radio Philharmonie Saarbrücken Kaiserslautern unter der Leitung von Reinhard Goebel. Eine weitere entdeckenswerte Weltersteinspielung im Umfeld Beethovens ist das dritte Werk auf dem Album: ein "Divertisment für Faschings-Dienstag" des Komponisten und damaligem Wiener Hofkapellmeisters Joseph von Eybler.
Bruno Delepelaire, Cello
Stephan Koncz, Cello
Deutsche Radio Philharmonie
Reinhard Goebel, Dirigent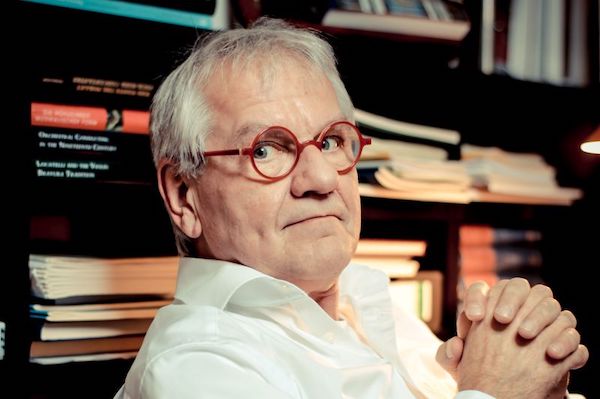 Reinhard Goebel
The Süddeutsche Zeitung reveres him as an 'icon of early music', and the New York Times applauds him as a 'light in a sea of mediocrity'. Reinhard Goebel specialises in the repertoire of the 17th and 18th centuries; As an expounder of period performance practice for both early music ensembles and modern orchestras, and as an endless fount of knowledge about gems of the repertoire, he is a world-renowned specialist.
Reinhard Goebel primarily dedicates the 2019/20 season to his longstanding research and music project Beethoven's World, in which he examines little-known works of Beethoven and the milieu of his contemporaries in order to encourage a relocation of Beethoven within the axis of music- historical coordinates. A five-part CD cycle with Germany's leading radio orchestras (WDR, HR, DRP, MRO), including four first-ever recordings, will additionally be released from November 2019 for Sony Classical and accompany extensive touring throughout Europe featuring a variety of programs orbiting Beethoven.
In the forthcoming season Reinhard Goebel will be the Artist in Residence at the Mozart Festival in Würzburg and looks forward to his musical encounters with the Stavanger Symphony Orchestra, the Bamberg Symphony Orchestra, the Orchestre Festival Bach in Montréal, the Noord Nederlands Orkest, the Tapiola Sinfonietta, the Dalasinfoniettan, the Bournemouth Symphony Orchestra, the German Radio Symphony Orchestras in Cologne and Munich and the Russian baroque orchestra Pratum Integrum in Moscow's newly opened Zaryadye Concert Hall, among others.
In May 2018 he was named artistic director of the Berliner Barock Solisten, a baroque group which emergerd from the Berlin Philharmonic Orchestra.
Their new recording of the Brandenburg Concertos was awarded with the Opus Klassik 2018. In 2019 Händel's Concerti Grossi op.3 were released with Hänssler Classic.
Reinhard Goebel was the founder of the legendary Musica Antiqua Köln, whom he directed for 33 years. As a conductor, his unique way of amalgamating passion for music with meticulous musicological knowledge, inspires, captivates and polarises today's orchestral scene.
Reinhard Goebel is the recipient of the Bach-Medaille of the City of Leipzig, which was awarded to him in 2017 among other things for his pioneering and 'irrepressible exploration of the repertoire beyond the established names'.
In April 2007 the IMA award was conferred on him in London, and in 2015 the BBC Music Magazine chose him to appear on their list of the 20 best violinists of all time.

Booklet for Beethoven's World - Reicha, Romberg: Concertos for Two Cellos