---
Album info
Album including Album cover Booklet (PDF)
I`m sorry!
Dear HIGHRESAUDIO Visitor,
due to territorial constraints and also different releases dates in each country you currently can`t purchase this album. We are updating our release dates twice a week. So, please feel free to check from time-to-time, if the album is available for your country.
We suggest, that you bookmark the album and use our Short List function.
Thank you for your understanding and patience.
Yours sincerely, HIGHRESAUDIO
1

Reblop

08:22

2

Recat

07:15

3

Resvete

11:40

4

Retimeless

04:29

5

Reemergence

09:49

6

Reblazhenstva

07:40

7

Reannounce

06:36

8

Recurrence

07:20

9

Requote

04:06

10

Replob

04:25

11

Reshadub

10:42

12

Rebird

04:34

13

Retikhiy

06:27

14

Rekondakion

06:28

15

Rensenada

10:42

16

Resole

13:25

17

Redetach

10:40

Total Runtime

02:14:40
Info for RE: ECM

Two of the best-known names in contemporary electronica, Berlin-based DJs and composers Ricardo Villalobos and Max Loderbauer share their admiration for music on ECM in a unique double-album of specially-created "sound-structures" - a project that will bring the label's music to a new listenership.
Using original ECM recordings as a starting point, Villalobos and Loderbauer create new music that bridges several worlds, including ECM's world of space-conscious improvisation and composition and the worlds of ambient electronics and minimal techno. Source materials on Re: ECM include recordings of Christian Wallumrød (The Zoo Is Far & Fabula Suite Lugano), Alexander Knaifel (Svete Tikhiy, Amicta Sole & Blazhenstva), Louis Sclavis (L'imperfait des langues), John Abercrombie (Timeless), Bennie Maupin (The Jewel in The Lotus), Arvo Pärt (Kanon Pokajanen), Wolfert Brederode (Currents), Paul Giger (Ignis) and more - looped, sampled, remixed and reworked in evocative new treatments.
Chilean born Ricardo Villalobos – for the last three years voted world's #1 DJ in the Resident Advisor Poll – has been, in his words, "raving about ECM in many interviews". In his club DJ sets he began inserting music of Arvo Pärt and Alexander Knaifel in between the groove-oriented pieces and was encouraged by the enthusiastic response of listeners to go further with the experiment. He enlisted the musical support of Max Loderbauer, known for his work with Moritz von Oswald Trio, Chica And The Folder, NSI and Sun Electric (amongst many others) and they began processing ECM recordings into new shapes, with mixing board system and modular synthesizer as principal instruments.
Manfred Eicher was pleased with the duo's creative response to his productions and gave them carte blanche to carry on experimenting with the ECM titles of their choice in Berlin's Laika Studio. Eicher subsequently supervised the mastering of Re:ECM in Munich, completing a unique sonic experience for ECM listeners, for those just discovering the label, and for Ricardo Villalobos's many fans around the world.
Ricardo Villalobos, electronics
Max Loderbauer, electronics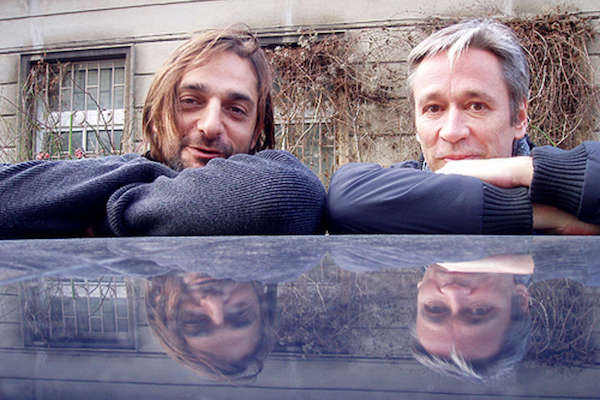 Ricardo Villalobos
was born in the capital of Chile, Santiago, in the year 1970. However, at the age of three he moved to Germany with his family after General Augusto Pinochet overthrew the socialist government of Salvador Allende in 1973.
Ricardo Villalobos is a Chilean electronic music producer and DJ. He is well-known for his work in the minimal techno and microhouse genres.
Villalobos was born in the capital of Chile, Santiago, in the year 1970. However, at the age of three he moved to Germany with his family after General Augusto Pinochet overthrew the socialist government of Salvador Allende in 1973.
When Ricardo was around 10 or 11 he started to play conga and bongos. Though he loved music, he could never see himself as a musician. In the late eighties he began to make electronic music. From a very young age he has been a a big fan of Depeche Mode, even following their tours around Europe to listen to them.
Villalobos takes much of his inspiration from Depeche Mode, as well as other artists such as Daniel Miller, Thomas Melchior, Baby Ford, Daniel Bell and Andrew Weatherall. He has also taken inspiration from rhythmic South American music.
Villalobos began to play his music at parties while he was studying at university, but this was only for his own enjoyment. He started a label, Placid Flavour, in 1993 but this was unsuccessful. His first record was released on the German Playhouse label in 1994 and he began DJing as a professional in 1998, and is in present times regarded as one of the most important minimal DJs in Europe, alongside other talented chilean djs and producers such as Luciano Nicolet (an occasional collaborator) and Dandy Jack.
Max Loderbauer
Active as an engineer, producer, and musician across four decades, Max Loderbauer first came to notice in the late '80s as a member of Fischerman's Friend. Known then as Daimler Max, Loderbauer's associates included Stephan Fischer and Tom Thiel, as well as producer Thomas Fehlmann. Once the group went dormant, Loderbauer and Thiel established Sun Electric; one of the leading sources of entrancing downtempo and ambient techno through the '90s, the duo issued their best work on R&S subsidiary Apollo, including the 1995 live set 30.7.94 and the following year's Present. During the 2000s and 2010s, Loderbauer collaborated in numerous settings, including NSI with Tobias Freund, Chica & the Folder with Paula Schopf, and Moritz von Oswald Trio with Vladislav Delay and von Oswald. Loderbauer was partly responsible for some of the most progressive and experimental electronic music released during these years. In 2011, he and contemporary Ricardo Villalobos assembled Re: ECM, a project that involved radical transformations of ECM label recordings by the likes of Bennie Maupin, Christian Wallumrød, John Abercrombie, and Arvo Pärt.
Re:ECM is a 2011 album by minimal techno producers Ricardo Villalobos and Max Loderbauer. It uses recordings released on the ECM Records label primarily associated with jazz and contemporary classical music as the basis for the tracks.

Booklet for RE: ECM