---
Tomonao Hara & Hiroshi Ikejiri
---
Biography Tomonao Hara & Hiroshi Ikejiri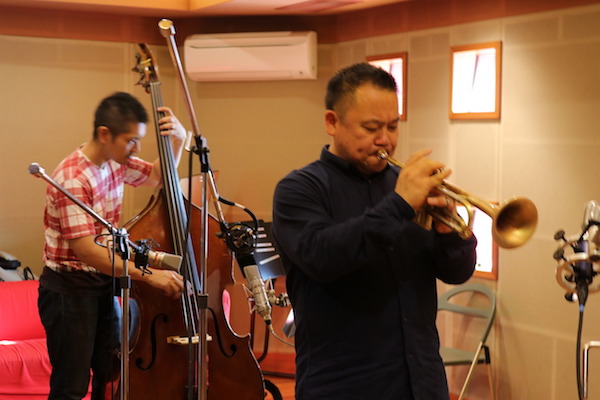 Tomonao Hara
Born in 1966, Tomonao joined in a group of jazz performance while in college, and became professional after the graduation. Tomonao had an active leadership role in the 90's jazz boom in Japan, and released his first leader album "Evidence for My Music" in 1996. He continues to release several leader albums ever since, and participates in many other collaborations.
His recent activity spans beyond playing jazz, appearing in such classical programs as "Beethoven's 9th Concert by 10,000 People" and Yutaka Sado's "Young People's Concert". It gets even wider as the TV program "Passion Continent" featured him to attract the audience attention, and he performed the opening theme of Takeshi Kitano's movie "Brother" as well as the NHK's satellite broadcast program "The World News". He is also involved in Yamaha's commercial music composition/recording, and appeared in their TV program "Music without Titles".
He is featured in various collaborations with foreign top players in the events in the US, Europe and Asia. Currently, his core group is his own unit, Tomonao Hara Quartet, while he himself is active in the education of young generations nationwide. He is a professor in Senzoku-Gakuen Music College.
Hiroshi Ikejiri
Born in Chiba prefecture in 1979. Hiroshi used to play in middle and high schools' brass bands where he acquainted with variety of instruments.
In entering the University of Chiba, he joined the students' Modern Jazz Club. His focus was jazz bass player as he was attracted by the acoustic bass sound, and studied under Professor Kohji Yamashita. He was active in sessions and street performances, steadily brushed up his skills, and stepped up his performances in live spots. In 2010, he gathered some leading young artists in Japan and formed his band, Bungalow: The sound with which you hear the landscape through jazz, improvisation and folklore tastes was received sensational, releasing 4 albums to date. He started composing in Bungalow and offered music to the group of Tomonao Hara.
His performance principle is "to be simple and sturdy". The extended range of notes in the ensemble is the core of stimulation in his music while its foundation is rigid acoustically. He achieved the Grand Prix in Yokohama Jazz Promenade Competition 2007 that is a proof of his music style being widely accepted.
Recently, He joins in such bands as Kei Kobayashi (vocal), Atsushi Ikeda (sax) Quartet, Tomonao Hara (Tp), and Yousuke Konuma with Trio Bungalow.